Article
The Table Creekside's Ila Edwards Creates Infused Cocktails
Ila Edwards, general manager of The Table restaurant in Sarasota, mixes up creative infused cocktails.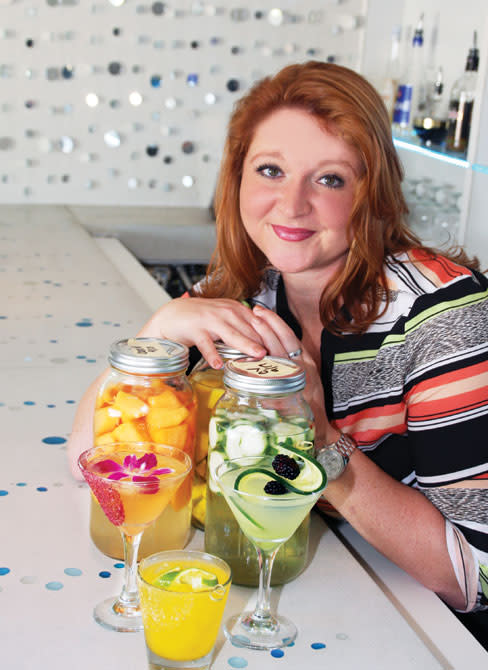 Farm life. Edwards, 34, grew up on a farm in Kentucky where almost everything her family ate came from their land. That meant she developed a taste for fresh flavors at an early age. So it makes sense that after she started working at The Table as general manager and took a sip of an artificially flavored cucumber vodka, she thought, "I can make this." Edwards asked The Table's owners if she could "play around" with a bottle of vodka and some fresh cucumbers, "and three days later I had the best cucumber vodka in the world," she says proudly. "It was half the price and delicious. It tasted fresh." These days, that cucumber vodka is part of one of the restaurant's most popular cocktails—the Tantra—and it was the jumping point for Edwards' other creations.
Endless possibilities. After her cucumber vodka success, Edwards began to infuse more flavors into different liquors. "I got a pen and paper and started writing down combinations," she remembers. "I've done apple and cinnamon, clementine and basil, mango chipotle, fig—everything. Anything and everything I can try, I do." That includes a popcorn vodka martini with a Fiddle-Faddle candy rim and butterscotch bourbon milkshake with Werther's Original candies. And seasonality matters: Because Edwards uses fresh, organic fruits and vegetables, you can expect to see warm autumnal flavors, like pumpkin, cinnamon and fig popping up on The Table's cocktail menu this fall. In fact, right now, she's working on a pomegranate-infused rum.
What's next? "I'd like to take [my creations] farther," Edwards says. "I do think they're good enough to go out on shelves. Instead of the artificial cherry vodka that hurts your stomach, you could have fresh black cherry vodka that's been infused with real cherries. If I could be the first person to get infused liquor on shelves, that would be amazing."
Factoids
Sometimes flavors need coaxing: The pear and vanilla bean vodka—one of the Table's most popular infusions—took Edwards four tries to perfect; she almost gave up on it.
Ila's most popular creation? Cucumber vodka.
Better with bacon: The Table offers a bacon vodka that Edwards says is particularly popular at the restaurant's seasonal brunch.
Recipes
Mix master Ila Edwards shares some of her favorite seasonal creations.
The Dutch Apple and Berries Martini
3 1/2 oz apple and cinnamon infused vodka (recipe follows)
2 fresh strawberries
5 blueberries
1 oz. simple syrup
Muddle diced strawberries and blueberries with simple syrup in shaker. Add apple and cinnamon infused vodka and ice. Shake well. Strain into martini glass. Garnish with thin slice of apple.
Apple and Cinnamon Infused Vodka
Canning jar with tight-fitting lid
4 Red Delicious apples
2 cinnamon sticks
1 bottle of your preferred vodka
Coffee filters
Strainer
Pitcher
Cut apples into squares, discarding core and seeds. Place apples and vodka into jar. Seal with tight-fitting lid and place in cool, dark room. Shake three to five times daily. Taste on fifth day, and if at desired apple flavor, add two sticks of cinnamon and shake. Cinnamon usually takes two days to infuse, but test after one day to see if the infusion has reached your desired flavor.
When ready to filter, place the strainer into the pitcher and the coffee filter into the strainer. Pour infused vodka into coffee filter. The infusion will run through coffee filter and strainer into pitcher, leaving behind any particles. Pour filtered infusion back into empty vodka bottle and enjoy.
Pumpkin Pie Martini
1 Tbsp. pumpkin pie filling (from a can)
1 1/2 oz. simple syeup
1/2 oz. Frangelico
2 1/2 oz. vodka
1 1/2 oz. French vanilla creamer
1 teaspoon ground cinnamon
Crushed shortbread cookies, for garnish
Whipped cream, for garnish
Cinnamon, for garnish
Rim martini with crushed short bread cookies. Combine all ingredients, shake well, strain into martini glass. Top with whipped cream and sprinkle with ground cinnamon.
For more Sarasota dining and restaurant news, click here to read our Foodie's Notebook blog. 
This article appears in the November 2013 issue of Sarasota magazine. Like what you read? Click here to subscribe to Sarasota magazine. >>