Article
Social Eatery & Bar Opens in Downtown Sarasota
Food critic John Bancroft finds First Street's new Social Eatery & Bar in downtown Sarasota an excellent addition to the local restaurant scene.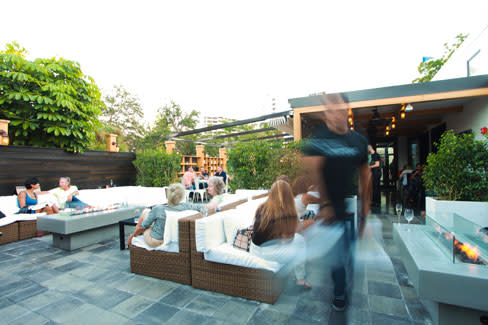 Downtown theatergoers this season have yet another fine option for before or after performance food, drink and conversation in Social Eatery & Bar, a handsome and welcoming postmodern bistro a half block west of Florida Studio Theatre. The vibe is sophisticated, casual and convivial.
The beautifully designed space really is set up to foster social interaction. At center stage as you enter is a long communal table, flanked by the indoor bar (there's an outside bar, too) on one side and banquette seating on the other, perfect for people-watching or striking up a chat with your neighbors. Big glass doors either give on to the extensive patio or stand open to mingle indoors and outdoors, depending on the weather.
Behind the main bar is a chalkboard listing specialty of the house cocktails. We sampled an elderberry and gin martini and a basil cosmo, both $9 and both nice twists on the classics. A bowl of house potato chips ($5) was the perfect accompaniment. Also on offer are craft beers and a good selection of well-priced wines by the glass, including several from organically or sustainably farmed vineyards.
That emphasis on fresh, local, seasonal and, when possible, organic also informs executive chef Sam Hatfield's beguiling menu. Colette was delighted to find that the "butcher's table" meat of the day, for example, was free range (as opposed to milk-fed) veal scallopine ($24), which meant she could order one of her favorite dishes with a clear conscience. In this case, the tender, thin slices were sautéed and finished with prosciutto and fontina and plated with tasty little roasted fingerling potatoes and a veggie medley. I went for housemade gnocchi paired with bits of succulent lobster, peas, fresh tomato and basil ($20). Both delighted us.
The menu offers something for just about every taste and appetite, from small plates and salads to the tempting "meatballeria" offering meatballs ("naked" or in sandwiches) made from beef, chicken, pork or lamb to wood-fired pizzas and an assortment of pastas.
We sampled the meatballeria menu by sharing a small plate called volcano ($7), which serves up a savory beef ball teamed with rigatoni, mozzarella and a toothsome sauce Bolognese. We also shared a small plate of pretzel-dusted calamari plus one fat fresh shrimp ($11) sauteed with artichoke pieces and caper berries.
Other fine options for sharing over drinks are platters of cured meats or cheeses or a combination of the two, all three priced at $15, or an assortment of marinated olives for $10.
The bottom line: Social is well named and an excellent addition to downtown's bustling restaurant scene.
1219 First St. Sarasota.
Information: (941) 444-7072
Hours: 4:30 p.m.-midnight Sunday-Wednesday, until 2 a.m. Thursday-Saturday.
Cards: All major
Parking: Valet or on street