Article
Restaurant Review: The Sandbar on Anna Maria Island
Food critic John Bancroft applauds Anna Maria Island's refreshed Sandbar restaurant.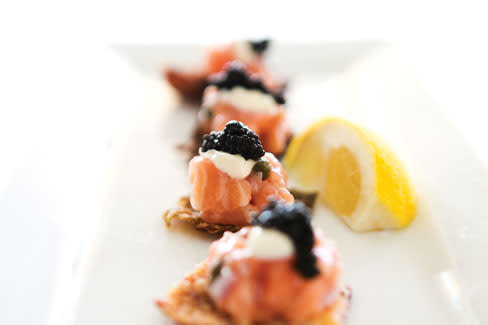 The Sandbar, long a waterfront favorite of locals and visitors alike, is brand-new again thanks to extensive renovations and to a reworked menu that will delight locavores.
The bar and restaurant, gloriously situated on the Gulf at the end of Spring Avenue in Anna Maria, has always been worth a drive to sip something cool on the beachside deck as you admire the sun setting over big water. The transformation has added terrific dining options in a much improved dining room and bar.
The deck is still a magnetic draw at sunset, but there isn't a bad seat to be had inside now, where every table has a fine beach and water view. The decor is spare and fresh and lets the scene outside the big windows do the talking. Like the new bartop, tables in elevated booths along the back wall are topped with terrazzo. Floor-level tables are well spaced and the chairs comfy. Even the ceiling fans are not only cooling but cool.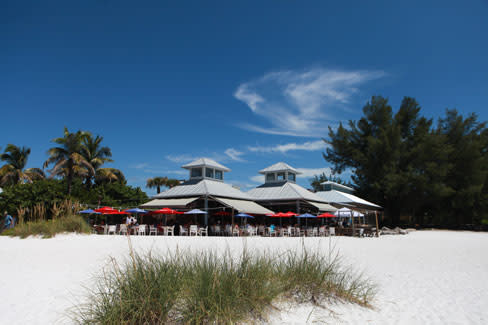 The menu comes in two sections: the standing menu with goodies like conch fritters and grouper tacos and a list of seasonal offerings and specials, including Cortez day boat seafood.
One of the selections that sets the Sandbar's menu apart is bottarga, processed gray striped mullet roe often called Mediterranean caviar and wildly popular on the sea's shores. This bottarga comes from the Anna Maria Fish Company at Cortez and is made in the traditional way: The fish's golden roe are harvested intact, sprinkled with salt, pressed and dried in a sort of fish egg cake, then sold by the ounce at pretty fancy prices.
One fine use of this delicacy is as an accent in a superior version of shrimp and grits ($12.99), in which pan-seared Gulf shrimp are served on a bed of Bradley Store stone ground grits spiked not only with the roe but also with guanciale, Italian cured pork cheek or jowl. The sumptuous result is offered under appetizers but would make a fine light meal on its own.
Gray striped mullet itself also appeared on the seasonal menu when we visited. It was served up filleted on a platter with excellent hush puppies, fries and slaw ($17.99). Some object to mullet's assertive flavor and eat it only smoked or in a spread. When it is perfectly fresh, as it was at the Sandbar, it is delicious fried. The menu also offers it sautéed or grilled, but fried is the way to go with this brash local fish.
Another gem from Gulf waters, again perfectly fresh and firm, is the grouper served sautéed with a lovely lemon caper sauce ($23.99). The portion was generous and savory and was nicely complemented by pigeon peas and rice (a Bahamian specialty) and grilled asparagus.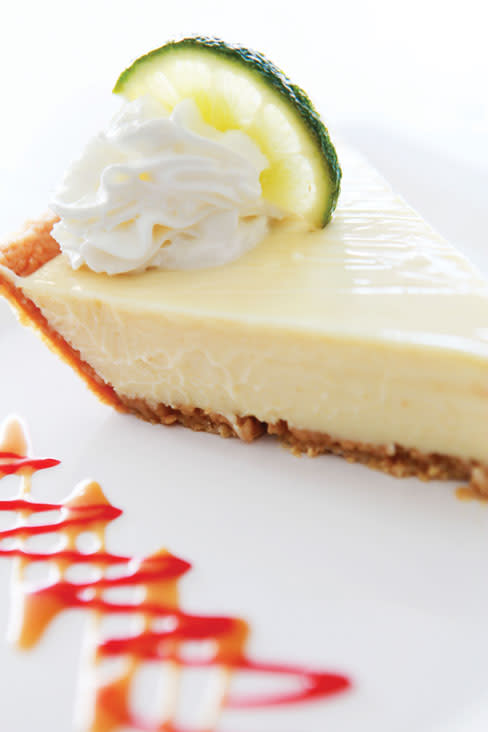 An appetizer that pleased us was a hearty and simple prep of locally farmed eggplant grilled, sprinkled with shaved Parmesan and served on a bed of marinara ($9.99). The freshness came through in every bite.
We finished up with a shared slice of authentic Key lime pie ($4.50) and went home happy, determined to return soon for more.
The Verdict
The venerable Sandbar is brand-new again, thanks to sterling building renovations and a revamped menu calculated to gladden a locavore's palate. Sunset watching on the beachside deck is as addictive as ever.
100 Spring Ave., Anna Maria
Information: (941) 778-0444
Hours: Opens at 11:30 a.m. with final seating at 9 p.m. Sunday-Thursday and 10 p.m. Friday-Saturday
Bar: Full bar, beer and wine
Cards: All major
Parking: On site
Handicapped accessible: Yes
For more Sarasota dining and restaurants news, click here to read our Foodie's Notebook blog.
This article appears in the November 2013 issue of Sarasota magazine. Like what you read? Click here to subscribe to Sarasota magazine. >>