Article
Piled Hi Roast Beef Sandwiches Pops Up on Main Street; Plus, Paleo Diet: Week Two
The Piled Hi food truck opens on Main Street in downtown Sarasota; plus, updates on the paleo diet: week two.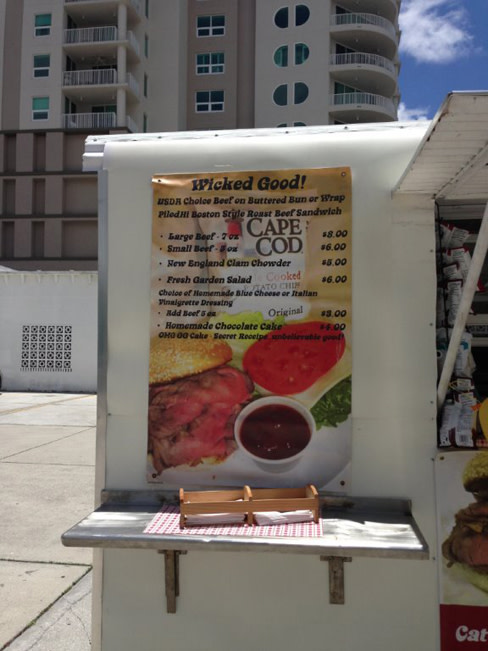 Anyone who knows Revere Beach or Route 1 in Saugus, Mass., knows about Kelly's Roast Beef. It's a bit of an institution. You get a large sandwich piled high with a zesty barbecue, and Kelly's whole-belly fried clams are like no other. That's why my hubby and I took a taxi to Revere while vacationing in Boston. We bought the driver a big roast beef sandwich, and got ourselves one, too, as well as a medium (which is actually a large) box of whole-belly fried clams. We didn't even wait to get back to the InterContinental before we started eating, and soon we had grease and tartar sauce dripping down our shirts from the clams, and the juicy roast beef sandwich was reminiscent of late-night pig-outs of years gone by.
So, imagine the smile I had on my face when I found yet another New England transplant with a new food truck on Main Street. It's called Piled Hi Boston Style Roast Beef Sandwich Co., and the menu offers New England clam chowder (pretty good, but wish they would get rid of the carrots--not authentic) and a good nod to Kelly's Roast Beef with their own version of the sandwich. The homemade chocolate cakes are a must-have, and the owners are just as pleasant as can be--and hey, they have Cape Cod potato chips. So, instead of "paaaaaaaaarkin' the caaaaaaaaaaaaaar in Haaaaaaaaaaarvaaaaaard yaaaaaaaaard," park it on Main Street and let Boston come to you!
And here's an update on the paleo diet! Thank you, everyone, for giving me great suggestions. I've lost seven pounds and continue to be motivated, not only by the weight loss but also by the overall feeling of well-being. There will be some pasta next weekend as I scope out a fairly new Italian restaurant, but honestly, I am not missing most things.
Oh, and big find! Heavenly Cupcakes makes not only delish paleo cupcakes, but also paleo muffins and date cashew clusters--stay tuned!
I am also using ghee--clarified butter--a bit in my cooking and seeking out new cookbooks, like Primal Cuisine by Paula Halstead. (Um, did I read that we can have raw-milk cheese and some duck fat? OMG, my next frittata is going to be special.) Of course, I still need to lose another 19 pounds, so patience, everyone. But wait till my hubby, who's not as willing to go paleo as I am but who is beginning to accept our destiny, tries the poached duck egg with pecorino hollandaise next weekend.
Read about Week One of Chef Judi's paleo diet right here.