Article
Restaurant Review: Downtown Sarasota's Made
John Bancroft finds comfort and cocktails in a prime Main Street location.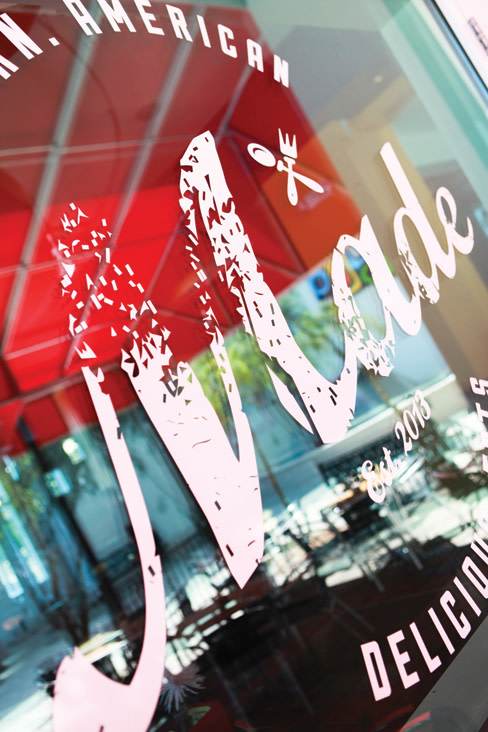 Provided the food is good and the service efficient, we like a restaurant with a sense of humor. At Made restaurant, on Main Street in downtown Sarasota across from the Hollywood 20 cineplex, we were tickled to discover a signature martini garnished in a choice of three olives, including our pick: a queen olive stuffed with a tiny dill pickle. What fun!
The whimsy extends to the menu, which is solidly in the kicked-up comfort food mold, a dining trend that has demonstrated legs over the last several years.
Made's space, last occupied by Brasserie Belge, has had some cosmetic changes, especially in the bar, but seating options remain the same: a comfortable bar room, a fabric-draped side room, a curvilinear main room and a roomy covered patio.
Made also is in line with another trend of recent years—innovative cocktails, an extensive list of spirits heavy in small-batch whiskies and a beer list with some real choices beyond whichever "lite" is currently in vogue. My martini, for example, offered the choice of Hangar One Vodka or Farmer's Botanical Small Batch Gin. The latter went swimmingly with that pickle-stuffed olive and was well priced at $9.
The appetizer list leads off with an item that could have gone terribly wrong if not executed with finesse and top-shelf ingredients: grilled corn dogs ($8). In this case a good dog was chunked, wrapped in bacon, dipped in corn meal and served with both a spicy mustard and savory housemade ketchup. We normally are careful not to get ketchup anywhere near a wiener, but this housemade version is so good we couldn't resist.
We also sampled fried tomatoes ($8) and found them to be a superior take on a Southern staple, the heirloom tomato sliced thinner than in many versions, crusted in corn meal and panko crumbs and plated on a tasty chopped salad, the whole drizzled with a very fine buttermilk green goddess dressing.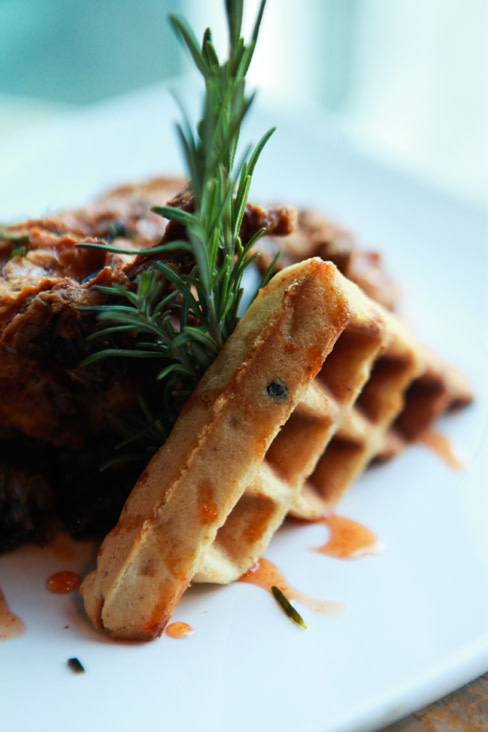 Buttermilk, that darling of Southern home cooking, also plays a starring role in Made's double-dipped fried chicken ($15; click here for the recipe), where it shares honors in the marinade with Cholula, a snappy Mexican hot sauce. Honey enters the mix in the thick crispy breading, the melange yielding a delicious fried chicken that builds a nice slow heat as it disappears bite by bite. A wedge of Gruyere and black pepper waffle garnishes the plate.
My "puffy tacos" ($15) were good, but the way tasty roasted pork shoulder and radish slaw stuffing deserved a better wrapper. Puffy made us think of the Southwestern mainstay called frybread, which is a thick dough fried until it puffs up but remains flexible enough to hold and complement its filling. Made's wrapper more resembled a wonton and was too dry and breakable for the job at hand. On the other hand, the grilled corn on the cob "Baja style" that completed the entrée was nothing short of succulent and fabulous.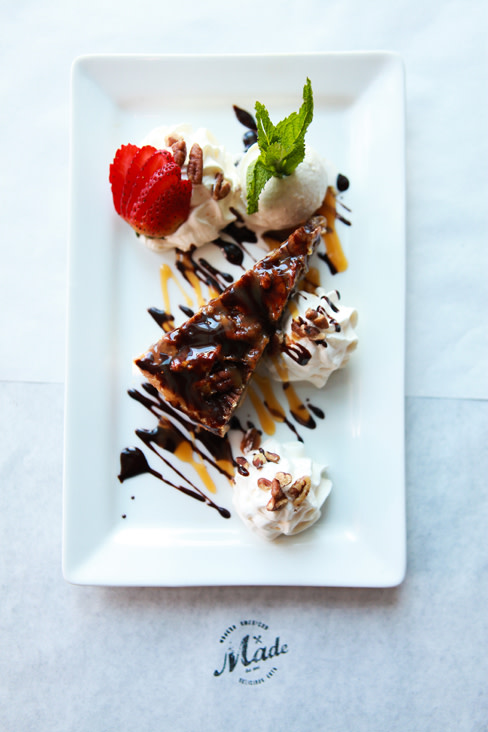 We finished an early dinner with a shared wedge of bourbon pecan pie à la mode ($5) that sent us out the door happy.
Next time, we'll drop in for lunch and sample the duck club sandwich, which promises crispy duck, applewood smoked bacon, brie, lettuce, tomato and garlic mayo, or maybe the mussels in chorizo sauce. Come to think of it, we have no lunch plans today.
The verdict: Made deftly rides the latest restaurant waves, featuring both jazzed-up American comfort foods and a bar that vies with the kitchen for top billing.
1990 Main St., Sarasota
(941) 953-2900
Hours: 11:30 a.m. to midnight, Tuesday-Thursday; 11:30 a.m.-1 a.m. Friday; 5 p.m.-1 a.m. Saturday; 5 p.m.-10 p.m. Sunday.
Bar: Full bar and short wine list
Cards: Major
Parking: On street or in nearby garage
Handicapped accessible: Yes
Get the recipe for Made's double-dipped fried chicken here.