Article
Best of Sarasota 2013
Our editors find 42 fresh new reasons to love this town; plus our annual readers' poll.
Click here to see video from our Best of Sarasota 2013 party.
Click here to see party pix from the Best of Sarasota 2013 party.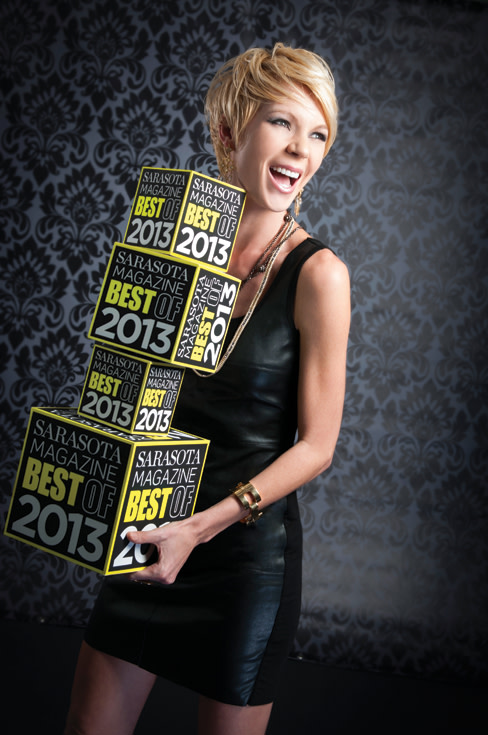 In the last 12 months, home sales rebounded, stock prices rose, tourism skyrocketed and all sorts of new arrivals, from retiring baby boomers to hip young creatives, followed their dreams to Sarasota. That sparked a wave of entrepreneurial and cultural energy that created new shops, restaurants, arts, attractions and more.
Our editors and reporters had lots to choose from in compiling this annual list of the best of the new, from two magnificent new theaters to a downtown bar with a designer line-up of tequila. And a record 3,366 readers mobbed our website to vote on their favorite local hot spots and highlights, from long-established restaurants to hot new controversies.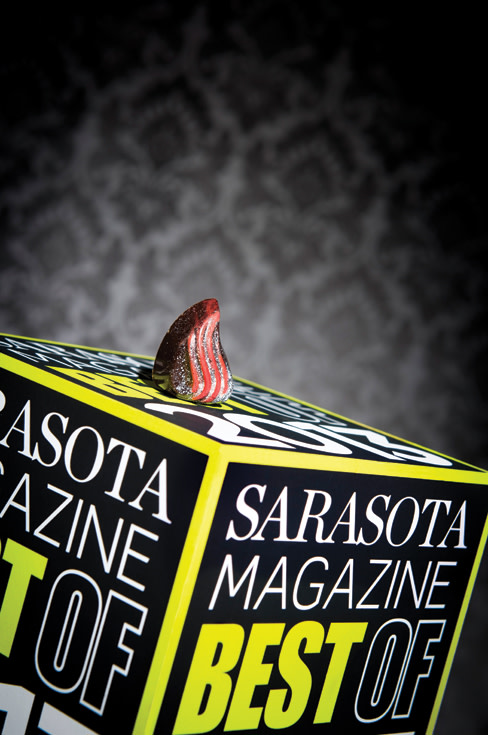 Best New Food & Drink
Best New Late-night Food
The new sandwich counter at Melange, the Main Street restaurant formerly known as Lan, was an instant hit with downtown nighthawks, including restaurant and bar workers famished after their shifts. Stop in from 8 p.m. until 2:30 a.m. any night except Tuesday for a panini on housemade focaccia, soup and salads. Pair it all with an exquisite cocktail from Pangea, the restaurant's tiny lounge. 1564 Main St., (941) 870-5555.
Best New Place for Chocolate
Chocolatier Carol Sirard has had a following around town for years, but when her new Sirard's Chocolate Café added lunch and a coffee/pastry bar—with virtually every item containing chocolate—to her already famous handmade truffles and other goodies, our vehicular GPS started sending us there on its own. 5170 Palmer Parkway Blvd., (941) 923-2462.
Best Total Restaurant Reinvention
Talk about an extreme makeover. The transformation of the Ritz's formal Vernona Restaurant into the hip and happening Jack Dusty seafood eatery, with an open concept and cool tones of driftwood and blue, is a complete jaw dropper right down to the beautiful water views. Stop by the bar for a hand-crafted cocktail and enjoy the scene. 1111 Ritz-Carlton Drive, (941) 309-2266.
Best New Menu Expansion
Phillippi Creek Village Restaurant & Oyster Bar
A family-friendly seafood icon, Phillippi Creek has raised its game with some modern new menu items, from avocado-topped fish tacos in blue-corn tortilla shells to Sarasota's most sophisticated grouper sandwich—with Key lime mustard and avocado on crunchy ciabatta (ask for it special). Plus, there are sensational new salads at lunch, created by the chef at Table Creekside next door. 5353 S.Tamiami Trail, (941) 925-4444.
Best New Addition to Siesta Key
Sean Murphy had a stroke of genius when he created the casual, small-plate centered Eat Here on Anna Maria, and downtown Sarasotans were ecstatic when he brought its clone to north Main Street. Now Siesta Key Village-goers have their own Eat Here to cheer over. Same great formula and almost identical menu. 240 Avenida Madera, Siesta Key, (941) 346-7800.
Best New Stargazing
On a balmy evening, follow the in crowd to the ultra-chic new Shore Diner upstairs on St. Armands. Open and airy, the design recalls the Sarasota School of Architecture, and although there's a lively cocktail lounge and beautiful dining room, we love sitting on the back patio, where on most nights they peel back the retractable roof so you can wine and dine under the stars. 465 John Ringling Blvd., (941) 296-0301.
Best New Grocery Store
For local foodies, Trader Joe's arrival in Sarasota last September was a high point of the year. The specialty store is famous for delicious, healthy groceries at unbeatable prices. Relatively small but brimming with goodies, the store attracts diehard fans who rave about everything from its coffee and wine, including the legendary Three-Buck-Chuck, to freezers full of gourmet fare (don't miss the Indian offerings). 4101 S. Tamiami Trail, (941) 922-5727.
Best New Reason to Try Raw
Forget raw food stereotypes: At Ionie's Raw Food Café, offerings are packed with big-time flavors like garlic, ginger, coconut, cilantro, lemon and many more. The tiny café serves a selection of juices, smoothies and salads, as well as a handful of fascinating entrées—think kelp noodle pesto and even raw lasagna with macadamia cheese and zucchini noodles—that delight your palate and defy expectations. 1241 Fruitville Road, (941) 955-4599.
Best New Sandwiches
Mozzarella Fella quickly earned a legion of fans for its New York-Italian-style sandwiches. Wrapped in deli paper, the sandwiches span classics like chicken/veal/eggplant parm, deli creations like Boars Head ham with pesto aioli, and daily specials like the heavenly, quick-to-sell-out, gravy-soaked braised short rib—and almost all feature the Fella's house-made mozz. 1668 Main St., (941) 366-7600.
Best New Southern Roadhouse
Take the soul of chicken and waffles and the sophistication of a New Orleans Sazerac cocktail, add some Southern catfish, Cajun shrimp and all-American mac 'n' cheese, and you've got the Rosemary District's Blue Rooster, where you'll spot a lively mix of local hipsters and movers and shakers. After you've eaten your fill, don't be surprised if a live bluegrass band gets you up and dancing. 1525 Fourth St., (941) 388-7539.
Best New Place to Study Tequila
Tequila Cantina
With a menu of 101 different types of tequila, you'll find exactly the taste and texture you're looking for at new downtown bar and eatery Tequila Cantina—and if you don't know what you're looking for, the knowledgeable staff will help you navigate the clear, un-aged blancos, wooden barrel-aged reposados, and añejos, aged no less than one year. ¡Salud! 1454 Main St., (941) 554-8586.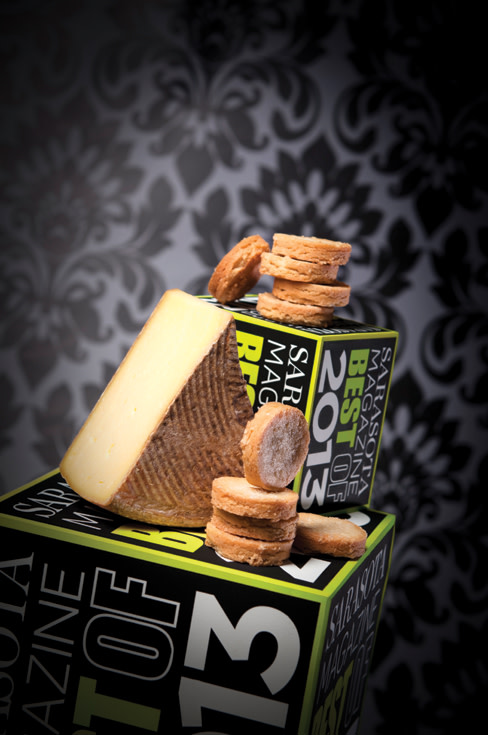 Best New Reason to Celebrate Cheese
Cheesemongers-in-training and cheese novices alike will love downtown Sarasota's Artisan Cheese Company, where owners Louise and Parker Converse source specialty cheeses, gourmet jams, jellies and nut butters and small-batch pastas, crackers, cookies and more. You'll also find a small but excellent lunch menu, including an abundant salad and a grilled cheese to die for. 1310 Main St., (941) 951-7860.
Best New Urban-chic Restaurant
State Street Eating House + Cocktails
With its downtown location and mid-century-modern, industrial-chic décor, State Street Eating House + Cocktails was a hit the moment it opened its doors. Lovers of libations can gather around the bar for craft cocktails and tasty bar snacks; those who prefer to sit and savor can enjoy chef Christian Hershman's sophisticated comfort food. 1533 State St., (941) 951-1533.
Best New Restaurant Tech
Carmel Café iPads
We love Carmel Café's take on modern Mediterranean cuisine, but we love even more its individual iPad menus, which let you browse and select from small and large plate choices, along with the suggested wine pairings. With a swipe of the finger, your order is placed. Quick, easy and fun. 8433 Cooper Creek Blvd.; (941) 893-5955.
Best New Healthy Dining
Table to Farm dinners at King Family Farm
Picture this: A beautiful table set outside, the scent of orange blossoms wafting through the air and the stars shining above you. A collaboration between Bradenton's King Family Farm and event-planning biz The Loft 5, Table to Farm: Redefining Dining dinners (only farm-fresh, local ingredients) showcase the beauty of both local produce and the farm's pastoral environment. Visit theloft5.com or call (941) 779-9801.
Best New Brunch
The insanely creative chefs at The Table Creekside are wowing diners with what they call a "global" Sunday brunch. And globe-trot they do, with served choices like Kobe beef carpaccio, Nantucket scallop risotto, Napa grape salad, Venezuelan king crab quesadilla, Mediterranean lamb frittata—and much, much more. Choose a trio for $19.95 and make sure to order one of the excellent craft cocktails. 5365 S. Tamiami Trail, (941) 921-9465.
Best New Ethnic Restaurant
All you have to do is drive by the parking lot at Yummy House to know the winner here. Before it opened, fans of its Tampa Bay locations were buzzing with anticipation; once the kitchen's chefs started cooking up dim sum for lunch and Hong Kong fare for dinner, they were willing to wait an hour or more just to order the salt-and-pepper tofu or roasted duck. 3232 N. Tamiami Trail; (941) 351-1688.
Best New Sweet Treats
Toasted s'more truffles. Triple fudge chunk cookie bowls. Lemon blackberry cheesecake mousse. The Short Giraffe delights with an array of baked-from-scratch mini confections. Join the growing corps of devotees, including nearby opera and theater staff, who are finding it hard to get through a day without stopping in at the tiny First Street shop, owned by Leigh Growney. 1247 First St., (941) 704-2378.
Best New Reason to Stay Caffeinated
The Coffee Loft not only offers a menu bursting with delicious treats; its locally roasted coffee is just the tip of the iceberg when it comes to its community and cultural awareness. The nonprofit coffee shop provides customers, particularly college students, a safe, comfortable place to interact. And the profits go to both community and international humanitarian projects. Tastes good, feels good. 5025 N. Tamiami Trail, (941) 706-4047.
Best New Shopping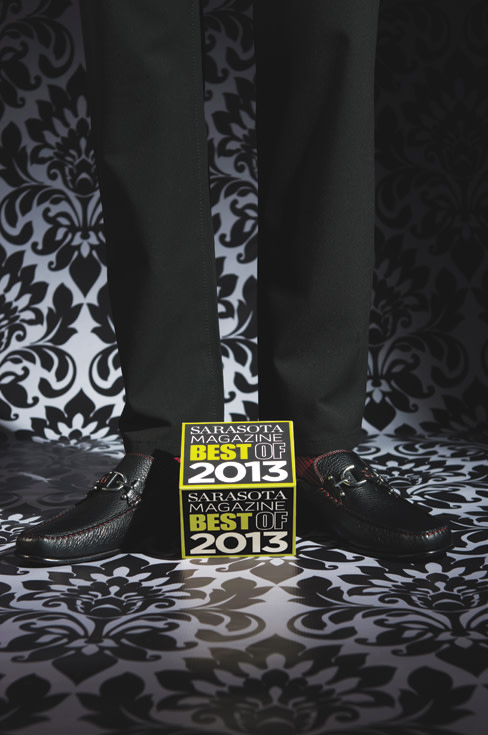 Best New Boutique Design
Reasons left its longtime digs on St. Armands Circle for a luxurious new downtown emporium. The vibe is younger, more fashion-forward and yet far more elegant, with striking artwork, glamorous seating and displays. Reasons also tweaked its mix, keeping the iconic European and American brands adored by its fans while adding hip new lines that will draw new clients into the fold. 20 N. Lemon Ave., (941) 388-1602.
Best New Bed Fashions
Mélange
Palm Avenue's chic new home decor boutique brings a welcome component to the downtown shopping experience: bed fashions. And that's a good thing, since Sarasota lost its primary source for upscale bedding (Square in the Circle) in 2012. Mélange is filling the void with coveted brands and sumptuous ensembles from Yves Delorme, Peacock Alley, Wildcat Territory, Ann Gish and more. 60 Palm Ave., (941) 444-7969.
Best New Men's Specialty Store
Men who thought they'd never recover from the loss of Maus & Hoffman on St. Armands Circle are rejoicing over the service and assortment at Martin Freeman. Proprietors Nelson Martin and Harold Freeman offer impeccable tailoring and head-to-toe dressing. They combine Anglo silhouettes and Italian fabrics ideal for Florida's climate for a look they've dubbed "Britalia." 75 S. Palm Ave., (941) 953-2948.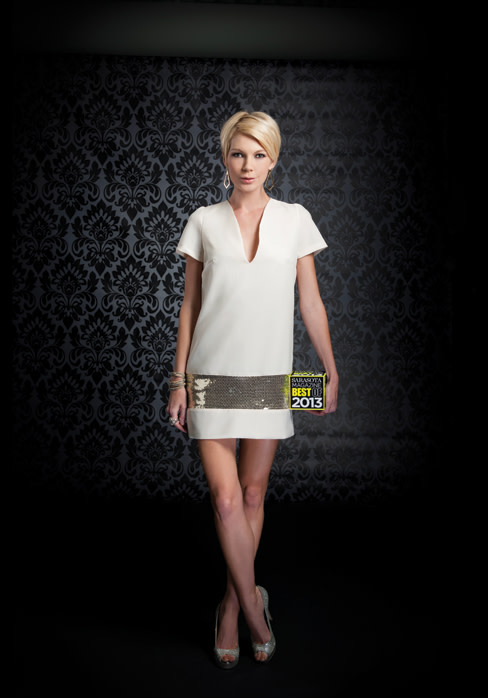 Best New Local Clothing Line
Local designer Camilyn Beth is making a name for herself both here in Sarasota (her designs are sold at Pink & Navy and Influence) and nationally. She mixes classic pieces with current trends (think candy-colored skirts and jackets and flirty dresses with a hit of sparkle), and her clothes easily transition from a day at the office to a night out with friends. This is one to keep an eye on. camilynbeth.com
Best New Outdoor Furniture
Brown Jordan at Home Resource
The best American name in outdoor furniture, Brown Jordan is now in Sarasota—again—at Home Resource. Fans of the line's quality and design when it was a featured brand at now defunct Robb & Stucky Outdoor have had to travel great distances to dress their patios with the stuff, but now its award-winning legacy pieces and fashion intros are here to stay. 741 Central Ave., (941) 366-6690.
Best Addition to Longboat Key
The new Publix
After an eight-month hiatus, last December Longboat Key welcomed back its Publix, now a bigger, better, 49,000-square-foot store. The new building, a prototype for future Publixes, features thoughtful lighting, artistic displays and an even bigger product selection, as well as free Wi-Fi and indoor and outdoor dining for its extended selection of prepared foods. 525 Bay Isles Parkway, Longboat Key, (941) 383-1326.
Best New Figure Flattery
Palm Beach brand Evelyn & Arthur has finally opened an outpost in Sarasota. Conceived by an ex-Northerner who couldn't find the right combination of style and comfort in the Citrus State, the line's contemporary clothes are perfect for leisure and travel. Insiders love the pants and tops that make those who are less than model-thin look slimmer. 1480 Main St., (941) 365-2210.
Best New Shop within a Shop (Tie)
Gleaming fixtures built by Gucci in Italy are the perfect setting for the iconic international brand's exclusive new shop at McCarver & Moser. You'll find classics as well as high fashion pieces in men's and women's watches, women's gold and silver jewelry and chic men's designs from dog tags to cuff links and more. 482 John Ringling Blvd., St. Armands, (941) 388-3666.
Downtown Sarasota's June Simmons Jewelry has opened a shop at the Met with cases overflowing with items hand-picked to complement the store's sophisticated apparel. Look for high-fashion couture brands as well as Simmons' custom pieces. 35 S. Boulevard of Presidents, (941) 321-1737.
Best New Preppy-Chic Fashion
J. McLaughlin is the perfect fit for women who want to go preppy with a chic edge, offering high-end quality, fabrics that are comfortable and travel well, and a corporate commitment to giving back to the community. It's all about easy care, classic styling and fun prints and patterns in fashion colors.1503 Main St., (941) 706-3587.
Best New Venice Store
From shabby chic to chic resort, this new women's apparel store bring a fresh young aesthetic to Venice. Seaside Chic Boutique is the style-setting equivalent of its popular home furnishings counterpart (Seaside Chic) down the street on Venice Avenue. A roster of trendy brands from XCVI to Johnny Was keeps fashionistas on Venice island. 305A W. Venice Ave., Venice, (941) 484-1313.
Best New Fashion Makeover
The transformation is palpable at St. Armands Circle's iconic men's resort wear store, right down to its new name. Taffy's has morphed into Marcello Sport, the brand name of its new owner, Fashion Concepts of Delray Beach. Look for colors and styles with a contemporary fashion edge reflective of a younger, ever more sophisticated golf and leisure clientele. 18 S. Boulevard of Presidents, (941) 706-1357.
Best New Gourmet Shop
Food and wine aficionado Douglas Gourley is educating Sarasota's palates at As Good As It Gets, an intriguing new temple honoring the world's finest foods. The shop is a culinary sampler of irresistible charcuterie, pâté, cheeses, caviar, Swiss and Belgian chocolates, and more. Wine is Gourley's hobby, and he's hand-selected every one of the shop's 172 bottles.49 S. Palm Ave., (941) 373-1839.
Best New Bargain Shopping
Shoppers went bananas when the long-awaited Costco opened its latest wholesale warehouse in August at Westfield Sarasota Square. The draws: top-quality meats and produce, an excellent wine department, jewelry, appliances, even the Kirkland brand men's dress shirts that Mitt Romney swore by. Not to mention those $1.50 hot dogs. 8201 S. Tamiami Trail, (941) 554-2800.
Best New Arts, Entertainment & More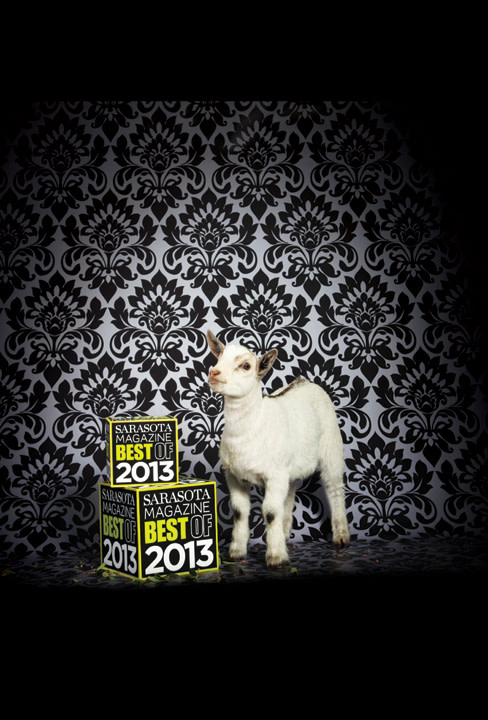 Best New Music Venue
Fogartyville Community Media and Arts Center
Tucked away in downtown's Kumquat Court, the nonprofit Fogartyville Community Media and Arts Center hosts small concerts, often in collaboration with community radio station WSLR 96. The mellow vibe is in tune with the center's mission of promoting peace and social justice, as is the drinks menu, which includes beer, wine and (of course) coconut water. 525 Kumquat Court, (941) 587-6588.
Best New Public Space
Decades in the making, Riverwalk is the crown jewel of Bradenton's revitalized downtown area. Families love the innovative playground and splash area, the skate park is heralded around the country, and the amphitheater and lawn are perfect venues for concerts, films and other community events. 452 Third Ave. W., Bradenton.
Best New Farmer's Market
With its new location at the Old Miakka Schoolhouse, the old Miakka Farmer's Market is a trip to Florida as it once was. Local farmers sell produce, honey, crafts and more—including raw goat milk and cheese and yogurt. Bring the kids—they can coo over baby chicks or pet a baby goat—and enjoy lunch on a picnic table under the mossy oaks and palms. 15800 Wilson Road, (941) 322-1014.
Best New Athletic Challenge
Whether you want to build your own fitness or your corporate team, Tree-Umph Adventure Course offers heart-racing challenges in its treetop courses (sometimes as much as 60 feet high), including rope bridges, dangling nets, tightropes and a 650-foot zip line. Don't worry; you'll be safely harnessed the whole time. There's even a senior option. 21805 S.R. 70 E., Bradenton; (941) 322-2130.
Best New Exercise Class
CircusoulYoga, owned and operated by trapeze artist Kerry Tice, is structured just like a regular yoga class, but with one big exception: Students are suspended in the air in bright-colored fabric hammocks, designed by Tice himself. Don't feel like leaving the ground? Circusoul offers other yoga classes for all levels—but there's something liberating about taking to the air. 1862 Seventh St., (941) 467-5884.
Best New Theater (Tie)
Florida Studio Theatre/Manatee Performing Arts Center
For Sarasotans, it's Florida Studio Theatre's renovated Gompertz, plus its brand-new John C. Court Cabaret, both of which have been welcoming patrons delighted with bigger lobbies, more restrooms and expanded auditoriums. For Manateeans, it's the long-awaited Manatee Performing Arts Center, adding to the luster of the riverfront in downtown Bradenton. Luckily, we can cross county lines to attend both.
Best New Work of Art
Out in Front
Sarasota Museum of Art scored a hit with Patrick Dougherty's newest "stickwork" sculpture, Out in Front, on the grounds of the old Sarasota High School, where thousands pass by every day on U.S. 41. Park your car and stroll around this intriguing fusion of nature and craft. Best part: Eager local volunteers got to help Dougherty create it.
Best Facelift for a Landmark
Bradenton's McKechnie Field was built in 1923 and is often called, because of its charm and history, "Florida's Fenway Park." For more than 40 years, fans have watched the Pittsburgh Pirates play spring training games there. Now a $7.5 million renovation has added new seating, fan plazas and better restrooms, sound and scoreboard—even a tiki bar. Ninth Street West and 17th Avenue, Bradenton, (941) 748-4610.
Reader's Choice Awards
Our contest drew the most votes ever; out of that fierce competition, these winners rose to the top. The top winner is listed first in each category, followed by the two finalists (or more, in the case of a tie). The finalists are listed alphabetically, not in the order of votes received.
Best Amish Restaurant
Yoder's
Der Dutchman (formerly Troyer's Dutch Heritage), Dutch Valley
Best Japanese Restaurant
DaRuMa
JPan, Pacific Rim
Best French Restaurant
C'est la Vie
A French Affair, Miguel's
Best Latin American Restaurant
Selva
Columbia, Darwin's
Best Italian Restaurant
Primo's
Caragiulo's, Carrabba's
Best Mexican Restaurant
Mi Pueblo
El Adobe, Two Senoritas
Best Seafood Restaurant
Owen's Fish Camp
Captain Brian's, Walt's Fish Market & Restaurant
Best Sushi Restaurant
Pacific Rim
JPan, Yume Sushi
Best Vegetarian-Friendly Restaurant
Veg
Simon's, Sweet Tomatoes
Best Restaurant for Breakfast
First Watch
Station 400, Yoder's
Best Restaurant for Brunch
First Watch
Station 400, Yoder's
Best Romantic Restaurant
Ophelia's on the Bay
Beach Bistro, Michael's On East
Best Thai Restaurant
Bangkok
Thailand, Tropical Thai
Best Restaurant/Bar for Craft Beer
Mr. Beery's
Darwin's on 4th, World of Beer
Best Waterfront Dining
Marina Jack
Old Salty Dog, Ophelia's on the Bay
Best Restaurant for Steak (chain)
Longhorn Steakhouse
Fleming's, Ruth's Chris
Best Restaurant for Steak (non-chain)
Michael's On East
Alpine Steakhouse, The Waterfront Restaurant
Best Upscale Restaurant
Michael's On East
Fleming's, Ruth's Chris
Best Restaurant Wine List
Michael's On East
Fleming's, Libby's
Best New Restaurant
State Street Eating House + Cocktails
Darwin's on 4th, Shore Diner
Best Burger
Square 1 Burgers & Bar
Patrick's 1481, Five Guys
Best Barbecue
Nancy's Bar-B-Q
Alday's, Sonny's
Best Caterer
Michael's On East
Mattison's, Morton's
Best Coffee Shop (non-chain)
Pastry Art
The Coffee Loft, Simon's
Best Dessert
Yoder's peanut butter pie
Euphemia Haye's chocolate cake, Morton's peanut butter brownie cake
Best Pizza (non-chain)
Pizza SRQ
Il Panificio, Rico's
Best Sandwich
The Surfer at Anna's Deli
Cuban at Corkscrew Deli, Italian at Main Bar
Best Chef
Paul Mattison
Darwin Santa Maria, Steve Phelps
Best Specialty Food Market
Morton's
Trader Joe's, Whole Foods
Best Place to Buy Wine
Total Wine
ABC Fine Wine & Spirits, Norman's
Best Bakery
Publix
Jim's Small Batch Bakery, Morton's
Best Sports Bar
Miller's Sarasota Ale House
Evie's Tavern, Gecko's Grill & Pub
Best Cocktail
The Bramble at State Street
Bloody Mary at Libby's, Chocolate Martini at The Ritz-Carlton
Best Happy Hour Menu
Libby's Café + Bar
Fleming's, Hyde Park, Roy's (tie)
Best Outdoor Doggie Dining
Old Salty Dog
Mattison's City Grille, O'Leary's
Best Art Gallery (not a museum)
Dabbert Gallery
Clothesline Gallery, State of the Arts Gallery
Best Festival or Special Event
Sarasota Chalk Festival
Forks and Corks, Ringling International Arts Festival
Best Fund-raising Gala
Wine, Women and Shoes
Cattle Baron's Ball, Van Wezel Foundation Gala
Best Performing Arts Group
Asolo Repertory Theatre
Florida Studio Theatre, Sarasota Ballet
Best Place to Hear Local Bands
5 O'Clock Club
Cock and Bull, Mattison's City Grille
Best Free Fun
Beach
Sarasota Bayfront,
Sarasota Farmer's Market
Best Place to Take Your Kids
Mote Aquarium
Beach, Sarasota Bayfront
Best Place to Meet Singles
Evie's
Beach,
Miller's Sarasota Ale House
Best Place to Buy Women's Shoes
Dillard's
Peltz Shoes, T Georgiano's
Best Store for Kids
Children's World, Toy Lab (tie)
Children's Place, L. Kids
Best Place to Work Out
Crunch
Sarasota YMCA, YouFit
Best Hair Salon
Nuovo
Cutting Loose, Yellow Strawberry
Best Skincare
L. Spa
Ana Molinari, Melody's Centre for Authentic Beauty, Neoderm (tie)
Best Spa
The Met
L. Spa, The Ritz-Carlton, Sarasota
Best Men's Clothing Store (chain)
Dillard's
Brooks Brothers, Macy's
Best Men's Clothing Store (non-chain)
The Met
Influence, Jackie Z
Best Women's Clothing Store (chain)
Dillard's
Macy's, Saks Fifth Avenue
Best Women's Clothing Store (non-chain)
L. Boutique
Foxy Lady, Jackie Z
Best Women's Formal/Cocktail Attire Store (chain)
Saks Fifth Avenue
Dillard's, Macy's
Best Women's Formal/Cocktail Attire Store (non-chain)
Foxy Lady
L. Boutique, The Met
Best Swimsuits
Swim Mart
Bealls, Swim City
Best Jeweler (chain)
Kay
Bond, Mayor's
Best Jeweler (non-chain)
Coffrin Jewelers
Diamond Vault, Shrode Jewelers
Best Florist
Beneva Flowers
Bee Ridge Florist, Victoria Blooms
Best Landscaper
ArtisTree Landscape Maintenance & Design
Arbuckle Landscape, Mike Gast Lawn Care
Best Home Accessories Store (non-chain)
Black Bird Home Gallery
Feng Shui Sarasota, Sarasota Architectural Salvage, Wish on Main (tie)
Best Furniture Store (chain)
Rooms to Go
Baer's Furniture, Haverty's
Best Furniture Store (non-chain)
Black Bird Home Gallery
Home Resource, The Pamaro Shop
Best Consignment Shop
Woman's Exchange of Sarasota
Fifi's, Laura Jean's Consignments
Best Retirement Community
The Glenridge on Palmer Ranch
Sarasota Bay Club, Sunnyside Village
Best Veterinarian
Sarasota Animal Hospital
David Watkins (Animal Health Center), Gulf Gate Animal Hospital
Best Home Healthcare
Take Care Home Health
Approved Home Health, Comfort Keepers
Best Controversy
Public art
Homeless, Wal-Mart
Best Tourist Attraction
Beach
Mote Aquarium, Ringling Museum of Art
Best Citizen
Jack Ivins
Gil Waters, Paul Caragiulo
Best Local TV Personality
Scott Dennis
Bob Harrigan, Lauren Dorsett
Best Thing That Could Happen Here
Noise ordinance lifted
More flights out of SRQ, More jobs