Article
Cinco De Mayo Recipes from Chef Judi
Chef Judi shares her favorite recipes for a Cinco de Mayo feast.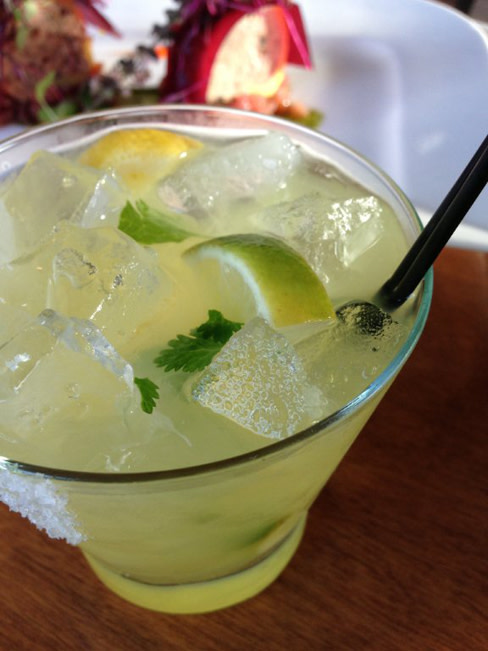 OK, I confess: I don't like Mexican food in general. I have a bad relationship with corn, black and red beans (actually, legumes in general), and forget about jalapenos or chili peppers. However, I do like frozen margaritas and love to entertain, so I am playing around with some reinvented Cinco de Mayo recipes for this weekend. This is Asian-meets-South of the Border, and you will definitely find it in my kitchen. Of course, I am using our friends as the proverbial culinary guinea pigs, but just in case the Asian theme lacks luster, I have a few traditional recipes to coax me back to Cinco de Mayo authenticity (even if I send out for pork fried rice).
Frozen Mango Margaritas
1 (10-oz.) bag frozen diced mango (if you are using fresh mangos, make sure you cut them up and freeze them)
1/4 cup fresh lime juice
2/3 cup tequila (silver, 80 proof or a very good gold)
2 Tablespoons Cointreau or other orange liqueur
2 Tablespoons superfine sugar
2 cups ice water
Combine all ingredients and blend. Serve and enjoy.
[caption id="attachment_26396" align="alignnone" width="488"]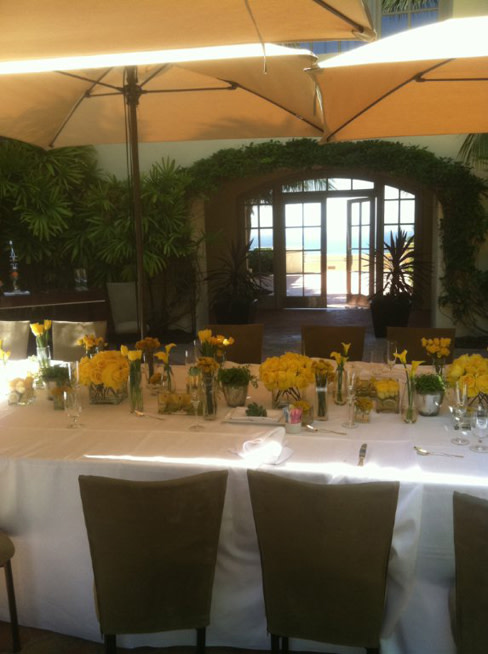 Use citrus elements and colors for your Cinco de Mayo tablescape.[/caption]
Chicken Enchiladas 
Chicken enchiladas are inexpensive and just the right Cinco de Mayo fiesta-style dish. This recipe serves four.
2 Tablespoons olive oil, divided
4 (7-8 oz.) bone-in chicken thighs, skin removed (buy them when they are on sale and you would be amazed how many you get for a budget-friendly meal).
¼ cup cream cheese, at room temperature
2-3 Tablespoons chopped cilantro
Sea salt and fresh ground pepper, to taste
2 cups chopped onions
3 cloves garlic, minced
1 teaspoon chili powder
½ tsp. ground red pepper
¼ tsp. cumin, ground
1 cup low sodium chicken broth
¾ cup water
1 (14.5-oz.) can diced tomatoes
9 (6-inch) corn tortillas, divided
½ cup shredded Mexican cheese
½ cup sour cream
2 scallions, thinly sliced
Preheat oven to 375 degrees.
Heat 1 Tablespoon of olive oil in a large oven-proof skillet. Add chicken to pan and sauté about 6 minutes on each side. Place skillet in oven and bake at 375 for 10 minutes.
Remove the chicken from the pan and let rest 15 minutes. Remove meat from bones and discard bones. Mix chicken with cream cheese, cilantro, sea salt and pepper.
Heat medium sauté pan with oil and add onions. Sauté for about 5 minutes, until tender but not brown. Add garlic, sauté quickly. Add about ¼ cup onion mixture to chicken mixture.
Add chili powder, cumin and red pepper to onions in pan, mix, and add chicken stock, 1/4 cup water and tomatoes. Bring to a boil.
Tear 1 tortilla into small pieces and add to tomato sauce. Reduce heat and simmer for 30 minutes.
Cool slightly, then blend tomato mixture in a blender until smooth.
Spray an 11x7 baking dish (preferably glass or ceramic) with cooking spray. Spread tomato mixture in the bottom of the pan. Lay tortillas out on counter and spoon about ¼ cup chicken mixture down the center of each tortilla. Roll up and place in pan atop tomato mixture, seam side down. Sprinkle with cheese.
Bake at 375 degrees for 25 minutes until bubbly and lightly brown. Serve with sour cream and scallions.
Ancho Chile Soft Pork Tacos
This recipe, adapted from Cooking Light, is a winner. To enhance the flavor, I put a teaspoon of espresso sugar ( available at The Spice and Tea Exchange on St. Armands Circle) into the seasoning.
Serves 4
1 Tablespoon ancho chile powder
1 teaspoon brown sugar
1 teaspoon espresso sugar
½ teaspoon kosher salt or green chili salt (green chile salt is available at The Spice and Tea Exchange on St. Armands Circle)
1 lb. pork tenderloin (currently on sale at Fresh Market)
1 teaspoon vegetable oil
2 cups thinly sliced Napa cabbage
1 cup guacamole (I am hooked on Fresh Market's own brand, found in the produce section)
4 large or 8 small La Tortilla-brand soft tortillas*
1 bunch minced green onions
Garnishes (blend together):
Chopped cilantro
1 cup sour cream
½ chipotle with drizzle of oil from can, mashed (optional)
Preheat oven to 425 degrees.
Place pork on broiler pan and spray pork with cooking spray.
Combine ancho chile powder, brown sugar, espresso sugar and salt in a small bowl and mix. Rub directly on the pork tenderloin.
Place the pork on a broiler pan and bake at 425 for 20 minutes or until the pork reaches 160 degrees.
Rest pork for 12-15 minutes before thinly slicing.
Spread each tortilla with guacamole. Top with 2 oz. sliced pork, Napa cabbage and minced green onions. Serve with chipotle sour cream.
*Note: if you prefer to not have the carbs in the tortillas, you can toss the Napa cabbage with half a head of iceberg lettuce and serve the pork layer on top of the salad with a dollop of guacamole, salsa and sour cream, then garnish with tomato wedges.
[caption id="attachment_26398" align="alignnone" width="488"]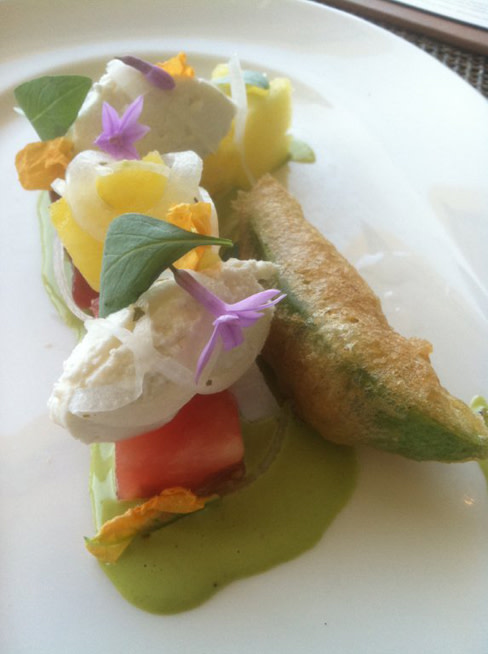 Avocado never tasted this good.[/caption]
Asian-Spiced Pulled Pork Tacos with Asian Citrus BBQ Sauce and Asian Slaw
My "ringer recipe." I consider my son Eric a master of the smoker and grill. He can cook 100 steaks and they will all come out a perfect medium rare. He loves to create his own rubs and sauces, and this batch was out of sight. Since there are so many ingredients, I recommend that you make the rub and BBQ sauce with friends, to share in the price of ingredients, and then everyone can go home with a batch for their own BBQ party. The rub and Asian sauce is also perfect on chicken and duck.
5 lbs. pork butt
3 cups wood chips (maple and mesquite), soaked in cold water for at least 1 hour**
For the rub (this will make enough for several pork butts and ribs):
¼ cup Chinese five spice powder
2 Tablespoons star anise, ground
2 Tablespoons ginger
1/2 cup paprika
1/4 cup chili powder
1/4 cup onion powder
1/4 cup Italian seasoning
1/2 cup brown sugar
1/4 cup garlic powder
1/4 cup kosher salt
1/4 cup cracked black pepper
1/4 cup cumin
1/4 cup coriander seeds
3 Tablespoons mustard powder
1/4 cup dried red pepper flakes
1/4 cup dried chipotle
Add spice mixture to coffee grinder and pulse to make into powder.
Rub approximately ¼ cup Asian Chili garlic sauce all over pork butt, then rub pork butt with Asian BBQ rub.
Heat coals for about 15 minutes in your Big Green Egg or other dome-type grill.
Add wood chips around coals in a spiral motion so flavor will disperse all over the meat.
Add pork butt onto grill rack and close the grill cover. Do not cook over 225 degrees.
Cook one-and-a-half hours per pound of meat at no higher than 225 degrees. Refresh wood chips after 4 hours.
Remove pork when done. Let it rest 15 minutes then pull meat with two forks.
For the Asian citrus BBQ sauce:
3 Tablespoons minced garlic
½ sweet onion, diced
2 Tablespoons butter
2 Anaheim chiles, roasted
1 large bottle Heinz ketchup
1 bottle dark beer
1 1/2 cups brown sugar
½ cup Ponzu sauce (soy sauce with citrus)
½ cup chili-garlic sauce
3 Tablespoons fresh minced ginger
1 cup hoisin sauce
¼ cup soy sauce
2 Tablespoons liquid smoke
½ cup sweet chile sauce
1 Tablespoon allspice
1 Tablespoon Chinese five spice powder
1 mango, chopped
Half a lime, zest and juice (save the lime's "shell")
2-3 cups pineapple juice
¼ cup rice wine vinegar
1-2 Tablespoons lemongrass puree or minced lemongrass
Melt butter in large pot. Saute ginger, onion and Anaheim chiles with lemongrass until soft and translucent. Add garlic and rest of ingredients except the fresh lime juice. Simmer for half an hour. Add lime zest and lime juice to mixture, then add "shell" of lime into pot. Heat over a very low simmer for one to one-and-a-half hours. Remove lime shell, then blend until sauce is smooth.
For the Asian slaw:
1/2 head Napa cabbage, shredded
½ cup red cabbage, shredded
1 Asian pear, julienned
1 bunch cilantro, torn
2 Tablespoons fresh grated ginger
Sliced avocado, for garnish
Lime, for garnish
Dressing:
1 cup Hellman's mayo
2 Tablespoons hoisin sauce
2 Tbsp. sweet chili
2 Tbsp. ponzu sauce
¾ cup pineapple juice
2-3 Tbsp. rice wine vinegar
½ cup honey
Salt and pepper to taste
Mix all dressing ingredients together and toss slaw veggies into the dressing. Garnish with sliced avocado and a squeeze of fresh lime juice.
Assemble the tacos: Lay out the warm flour tortillas. Add two slices avocado and some pulled pork with a drizzle of BBQ sauce to each tortilla, then top with slaw and a squeeze of fresh lime juice. (You can also top with shredded cotija cheese, if you like)
Enjoy the piñatas and tequila and a few Asian tacos for me!
See more from Chef Judi right here.