Article
New Sarasota Restaurant: MADE
Chef Judi Gallagher visits downtown Sarasota's new restaurant, MADE (Modern American Delicious Eats).
By Judi Gallagher
[caption id="attachment_26280" align="alignnone" width="488"]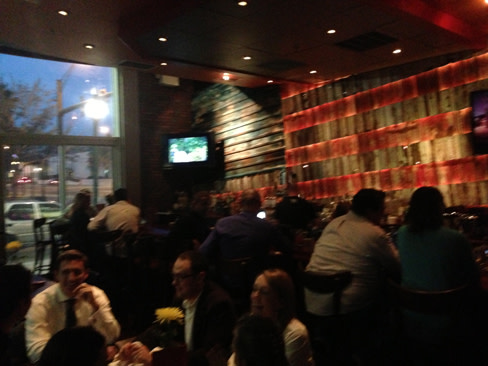 MADE's cool interior.[/caption]
Where once stood a Belgian restaurant that never quite built enough of an audience for Flemish stew now stands Main Street's newest reincarnation: MADE. And if my first experience is any indication of what good American food should be, MADE is going to be downtown's new darling, thanks to its casual, full-flavored comfort dining.
[caption id="attachment_26281" align="alignnone" width="488"]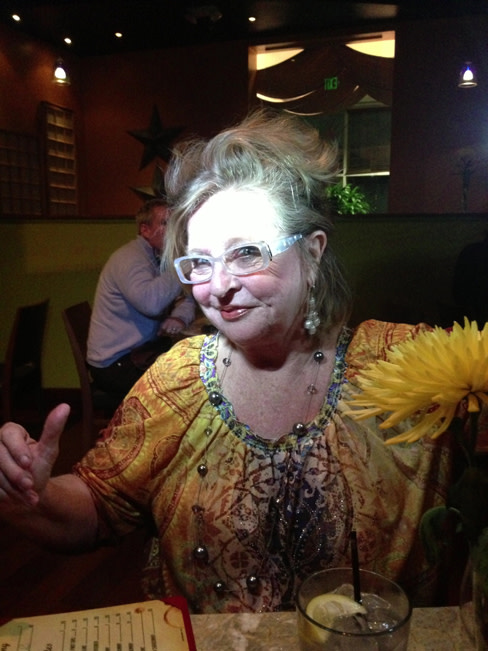 Rebecca Baxter gets MADE.[/caption]
Modern American Delicious Eats, or MADE, is the brainchild of two good friends who have been in the business for quite some time and who have a dream, vision and, dare I say, some bad-ass recipes.
Open only two weeks, the place was hopping and smiling servers carried plates of bacon-wrapped corn dogs, duck confit-fried chicken wings with peach BBQ sauce (watch out, they carry quite a kick) and fried green tomatoes with marinated tomato salad and pan-seared scallops.
The restaurant's menu is a bit similar to a few others in the downtown area, but the twists and play on their comfort food makes their own unique flavor statement. Take the onion soup: MADE doesn't claim to be inspired by any French chefs; their version of the soup is more like a Bravo Top Chef contestant's spin, with smoked shiitake mushrooms, caramelized onions and an ooey-gooey Gruyere crostini. I loved it.
Feeling some guilt about what was to come for our entrees, I chose the MADE chopped salad on the recommendation of foodie Beth Littman Quinn. Delish, and a better version of most, since this was lighter than expected, with roasted pork shoulder tossed into the crisp lettuce, marinated tomatoes and whimsically topped with a deviled egg.
[caption id="attachment_26282" align="alignnone" width="488"]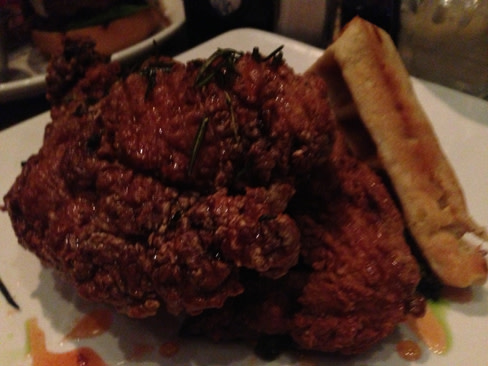 The best fried chicken in Sarasota? It gets my vote.[/caption]
So much for my attempt at healthy eating—next I dove straight into a giant burger and fried chicken. The double-dipped fried chicken was an explosion of juicy, flavorful, crispy goodness. I am ready to anoint this the best fried chicken in town, especially since you can scoop up the honey-laden juiciest parts left on your plate with the accompanying black pepper waffle.
[caption id="attachment_26283" align="alignnone" width="488"]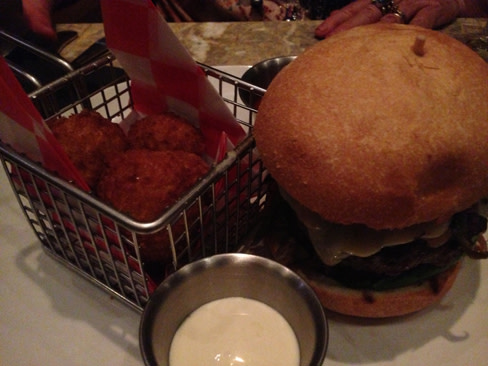 MADE's towering burger and cheesy tots.[/caption]
As for the burger—wow! It's a tower of grilled beef with barbecued peppers and onions, a fried heirloom tomato, pepperjack cheese and aweosome cheesy tater tots with malt mayo. Get the cardiac paddles now, please.
[caption id="attachment_26284" align="alignnone" width="488"]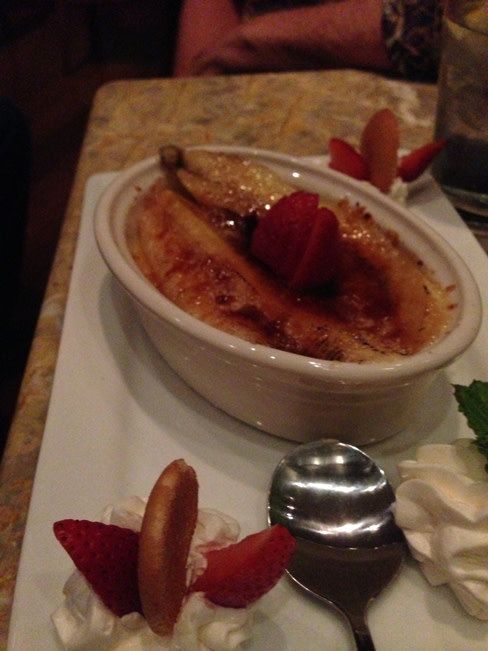 Banana pudding creme brulee.[/caption]
No matter how full you are—and you will be full—I insist you order the banana pudding crème brulee. Based on chef/partner Mark Woodruff's grandma's recipe, this is beyond creamy, with a classic crunchy brown sugar torched banana topping. Going out on another limb—best dessert of the year.
Hats off to designer Kurt Lucas for the restaurant's cool American look, and to the entire staff of friendly and experienced servers, including Joe and Carrie on the bar.
Back to the treadmill now so I can go get MADE again soon!
MADE is closed on Mondays and serves lunch and dinner Tuesday through Friday. Dinner only Saturdays and Sundays. Full bar, specialty cocktails and happy hour.
MADE | 1990 Main St., Sarasota | (941) 953-2900
Full disclosure: I'm a restaurant and hospitality-industry consultant and some dining picks do come from my clients; however, all opinions are my own.
Click here to see our Sarasota restaurant guide.