Article
Foodologist
Foodologist: Pastries by Design's Lyndsy McDonald whips up sweet treats in her Lakewood Ranch bakery.
By John Bancroft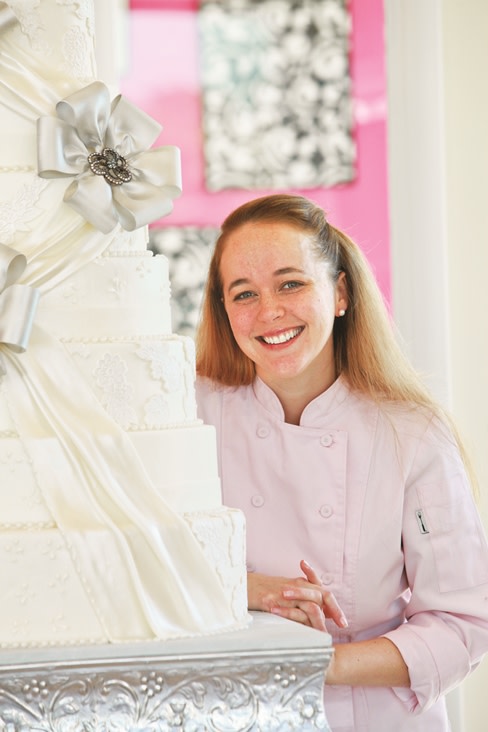 "If it sparkles, I like it," confides pastry chef and wedding cake designer Lyndsy McDonald. We guessed as much from her conversation, which sparkles with enthusiasm for her art and her business, Pastries By Design, located at 10667 Boardwalk Loop in Lakewood Ranch.
For The Record: The biggest wedding cake McDonald has made was an eight-tier wonder for 500 guests that at 5 feet 4 inches was as tall as its 30-year-old designer, a graduate of the prestigious Johnson & Wales University's College of Culinary Arts. "I had to use a step ladder to decorate it," she remembers. She delivered the colossus in pieces and assembled it on site. The weirdest wedding cake? "Our zombie cakes, which are big around Halloween," she says.
Busy, Busy, Busy: You can pop into the shop for cupcakes, special desserts and other freshly baked goodies, but a lot of McDonald's trade is custom work, all of it made fresh and from scratch on the premises. She and her staff of 10 turn out 40 to 60 cakes a week, including the lavish centerpieces for as many as a dozen wedding receptions per weekend. "We cap it at 12 because I want every cake to be perfect," she says.
Trend Spotting: "A wedding cake has to be beautiful, but it had better taste good, too," McDonald says. Classic white-on-white decorative motifs with pearls and swirls and lace are still in demand, but what is under the icing is as diverse as her customer's tastes. "Berries are big and always will be," she says, but anything from peanut butter to grapefruit might show up as an ingredient. Also big are tall cakes with different flavors for each tier.