Article
WEB EXTRA: Chef Judi's Strawberry Shortcake
Chef Judi shares her all-time favorite strawberry shortcake recipe.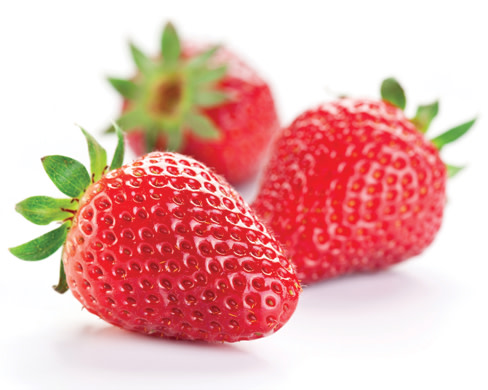 Strawberry shortcake was a treasured summer dessert in New England, where we picked our own strawberries (here are our tips for strawberry-picking at local farms). While I often toss the berries in a pinch of sugar and a splash of Grand Marnier, the recipe below is truly a favorite.
Biscuits
2 cups all-purpose flour
2 cups cake flour
1/2 cup sugar, plus more for sprinkling
2 Tbsp. baking powder
Pinch (1/16 teaspoon) kosher salt
1/2 cup cold butter (1 stick), cut into chunks
1 cup well-shaken buttermilk
1/2 cup cream, plus more for brushing
Finely grated zest from one lemon
Preheat oven to 400°F.
In large bowl, sift together all-purpose and cake flours, sugar, baking powder and salt. Use pastry cutter or fork to blend in butter until mixture resembles coarse meal.
In medium bowl, whisk together buttermilk and cream, then whisk in lemon zest. Add liquid mixture to dry mixture, stirring with fork just until dough forms.
Turn dough out onto floured work surface and knead gently just until dough holds together, about 10 turns. Place dough on plate, cover with plastic wrap, and refrigerate until well chilled, at least 30 minutes.
On a floured work surface, pat out dough to 1/2-inch-thick round. Using 3-inch cutter, cut out biscuits. Transfer to ungreased baking sheet, brush lightly with cream, and sprinkle with sugar. Bake until golden brown, 15 to 18 minutes, then transfer to rack to cool.
Strawberry Topping
2 (1 lb.) baskets strawberries, hulled, halved (or quartered if very large; about 7 cups)
1/2 cup plus 3 tablespoons sugar
2 Tbsp. raspberry preserves
1 cup chilled whipping cream
1 teaspoon vanilla extract
Powdered sugar
Combine strawberries, 1/2 cup sugar and raspberry preserves in large bowl; toss to coat. Let stand until syrup forms, tossing occasionally, about 1 hour.
Beat chilled whipping cream, vanilla extract and remaining 3 tablespoons sugar in another large bowl until stiff peaks form. (Can be made 6 hours ahead. Cover separately and chill.)
Cut buttermilk biscuits in half. Place each biscuit bottom in shallow bowl. Top each generously with strawberries and whipped cream. Cover fruit and cream with biscuit tops. Dust biscuits with powdered sugar and serve.
Click here to read Chef Judi Gallagher's "Foodie's Notebook" blog.