Article
Chef Pino Arrives at Siesta Key's Flavio's; Chef Judi Tastes and Dishes
Chef Pino takes over the kitchen at Siesta Key's Bella Roma Italian Restaurant; Chef Judi Gallagher tastes the menu--and dishes on the experience.
By Judi Gallagher
As a longtime fan of Bella Roma, I'm pleased to tell you that we now have even more to love about this Siesta Key eatery. Get ready for this score: The new chef is none other than our all time favorite Italian chef: Pino Luongo! Yup, you heard it straight from the woman who saw him in the kitchen last weekend--Pino, our god of linguine and clam sauce, the man with a talent to make veal scallopine sing, is now at Bella Roma.
But wait, there's more good news. Tito, former dining room manager of The Colony, is now gracing the Bella Roma dining room. Max--as in Maximo (which recently closed)--is now bartending and helping out on the floor duties, and Arturo, waiter extraordinaire for the past three decades, is there, too. Let's call this group the dream team--and the captains, of course, are Flavio Cristofoli and his lovely wife, guiding them along.
This is a spot you want to dine at twice a week. This is the kind of place New Jersey folk grew up in.
Bella Roma and Flavio's are now connected by a new remodel, where funky colors blend with scenic pictures of Italy (with an extra splash of funky on the bar side at Flavio's). A new wood-burning pizza oven adds the finishing touch in the corner past the Flavio's bar, and authentic pizza is the real deal thanks to the dough.
So, now that I have (hopefully!) set the scene, let's get down to the business of food.
[caption id="attachment_26163" align="alignnone" width="488"]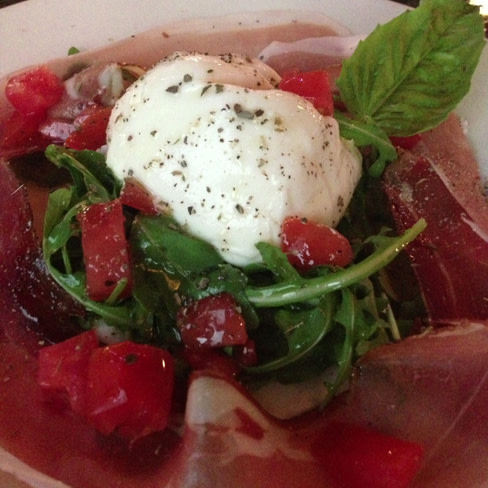 Homemade burrata with speck.[/caption]
We chose and ate:
Homemade burrata chese with salty, thinly sliced speck and fresh arugula. Amazing, simple and a great start with a Chianti.
[caption id="attachment_26167" align="alignnone" width="488"]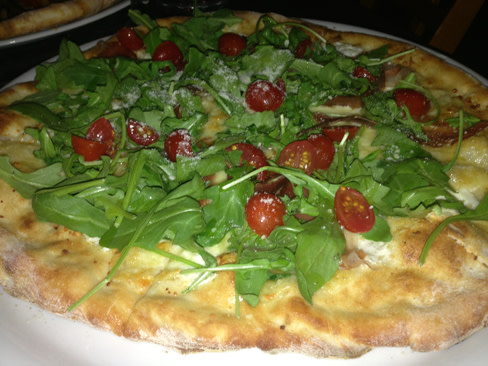 Pizza with gorgonzola, arugula and cherry tomatoes.[/caption]
Next up, three pizzas: vegetable with delicate sliced zucchini, red peppers and summer squash and just the right amount of black olives (I hate when olivies overpower. OK, I hate olives, period); gorgonzola, arugula and cherry tomato--a masterpiece with a thin crust and gooey, creamy gorgonzola, perfect with my glass of Montepulciano d' Abruzzo; and finally, fresh seafood pizza--that's right, calamari and shrimp are loaded on to make this a special, lighter pizza sans cheese.
Now, it's at about this point in the meal that you recognize the spectacular simplicity of perfect ingredients. No one, and I mean no one, has better roasted red peppers than Flavio's and Bella Roma. People dream about these roasted red juicy pieces. My final advice: Do not, I repeat do not, finish ordering until you have at least one, if not several, dishes with roasted red peppers.
[caption id="attachment_26166" align="alignnone" width="488"]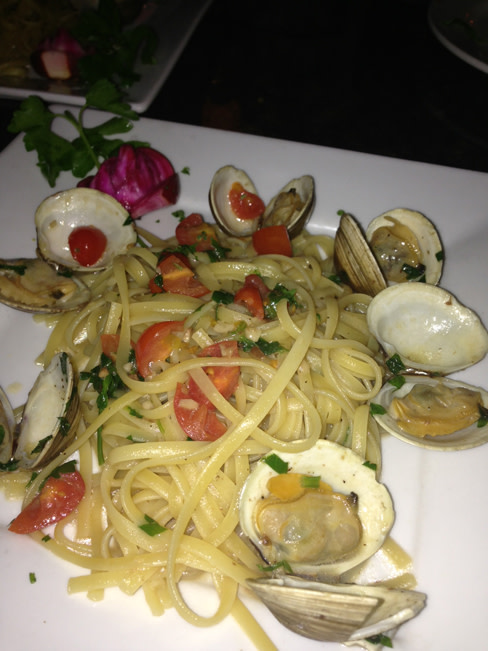 Linguine with clam sauce.[/caption]
We also ate linguine with clam sauce--for the love of garlic, this is the dish that made Pino famous in Sarasota. Seriously, just ask nicely and you'll have a bowl of pasta brimming with fresh, sweet clams, sautéed with loads of garlic, tomato, a little butter, white wine and a whole lotta lovin'.
[caption id="attachment_26165" align="alignnone" width="488"]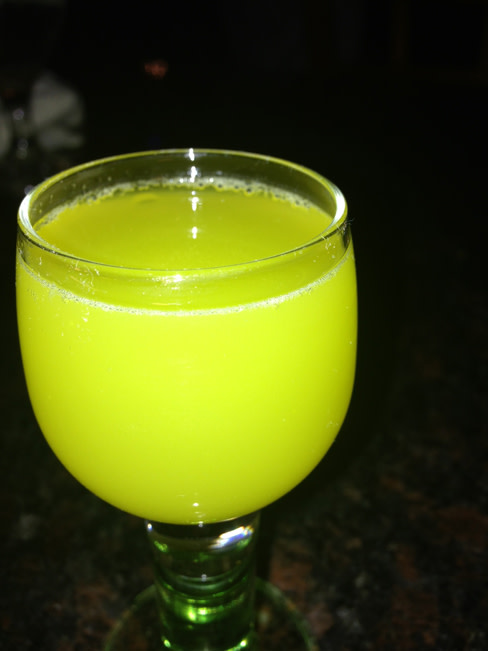 Limoncello.[/caption]
[caption id="attachment_26164" align="alignnone" width="488"]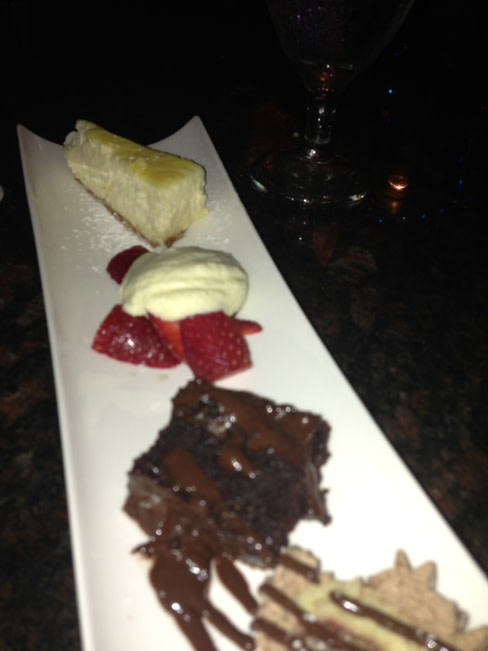 Homemade desserts.[/caption]
The desserts are all homemade by Flavio and his lovely wife, and a cappuccino, full of froth, is at your beckon--along with limoncello.
The final verdict on Flavio's/Bella Roma? Trust me, Mario Batali, you would be proud!
Bella Roma Roma Italian Restaurant / Flavio's Brick Oven & Bar | 5239 Ocean Blvd, Sarasota | (941) 349-0995