Article
The Flavors of Family
Chef Giuliano Hazan prepares treasured Italian recipes with a Sarasota twist.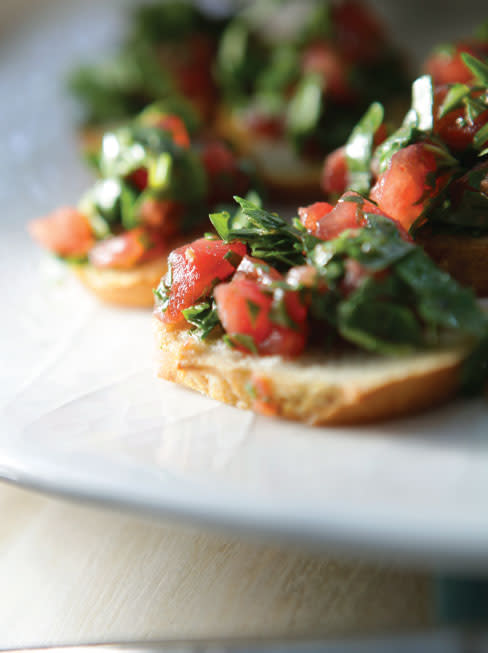 It's one of those warm Florida evenings that make you feel lucky to live here. Temperatures hover in the mid-70s; the sun sparkles off the waters of Sarasota Bay. At the Indian Beach home of Heather Dunhill and Ted Meekma, guests gather for a dinner party they're not likely to forget: a feast prepared by chef Giuliano Hazan, using Sarasota-inspired recipes from his new cookbook, Hazan Family Favorites, and served at a table near the water.
The guest list includes Giuliano's family—wife Lael, daughters Michela, nine, and Gabriella, 13, and his famous parents, Marcella and Victor—along with Dunhill, who writes the Fashion IQ blog and column for this magazine, her husband, Ted Meekma, and attorney Deborah Blue and her husband, mortgage banker George Adley. (Dunhill and Meekma's Boston terriers, Lucy and Rocco, make cameos, too.) Kisses and hellos are exchanged, then the group moves to the covered patio, where appetizers of crostini with tomato and arugula and Key West shrimp are served. Giuliano, who's busy in the kitchen, watches the scene with a smile.
Giuliano Hazan is, of course, no stranger to making Italian food for his family. His mother is Marcella Hazan, doyenne of Italian cooking and author of seven cookbooks, who at age 88 still retains her sophisticated palate and her strong opinions about food and drink. ("I don't drink—except Jack Daniels," she said when offered a glass of wine.) And his father, Victor, is a noted wine expert. But his grandmothers, on both his father's and mother's sides of the family, also helped shape his taste for food and cooking.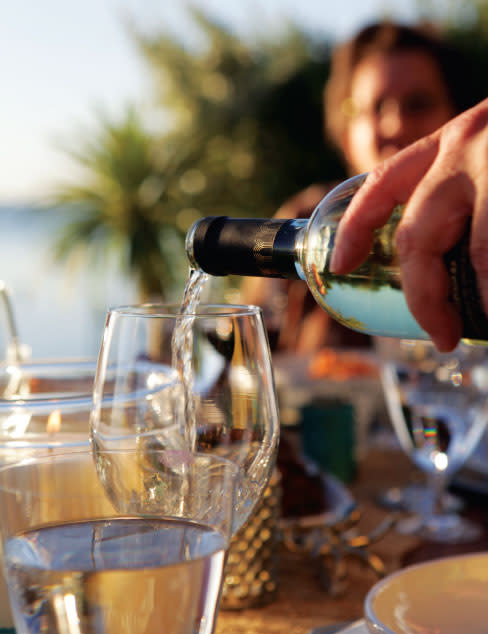 "My grandparents on my father's side, who were Sephardic Jews, were living in New York when I was growing up there," Giuliano remembers. "We would go to their house on Friday nights for Shabbat dinners; that's where I would have the food that my grandmother, Giulia, would make, like baked okra and baklava. And as I always liked to do with my mother, I would hang around the kitchen and watch her cook."
His maternal grandmother lived in Cesenatico, Italy, where Giuliano spent his childhood summers. "But my parents weren't able to stay in Italy the whole time, so I was with my grandmother a lot," he explains. Nonna Mary, as he called her, spent the early years of her life in Egypt, "so there was a Middle Eastern flavor to a lot of the food she made. And then there were her lasagnas and filled pastas—those were my favorite."
After he left home, while at Swarthmore College and then later studying theater at Trinity Rep Conservatory, Giuliano began cooking for himself. "I missed the food I was used to," he says. "I had also been working with my mother at her cooking school in Italy, and once I finished my theater school I began teaching some cooking classes and doing occasional catering, then I opened a gourmet shop with some other restaurateurs. It just got bigger and bigger—and theater certainly wasn't paying any bills." He laughs. "Plus, I enjoyed cooking."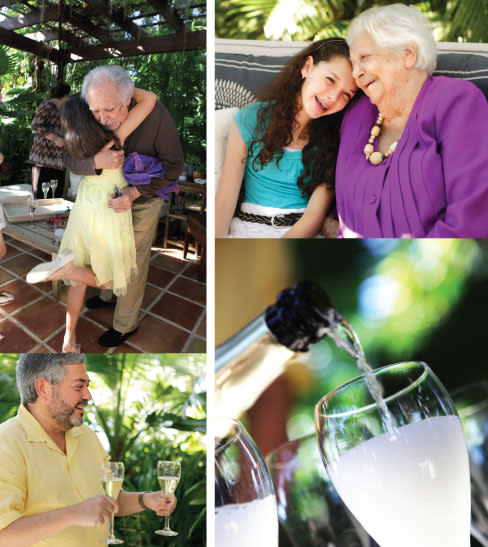 Good thing. In 1993, Giuliano published The Classic Pasta Cookbook, which was nominated for a James Beard Award and earned raves from The New York Times and, best of all, Marcella herself. Later efforts, including Every Night Italian, How to Cook Italian and Giuliano Hazan's Thirty Minute Pasta, were popular as well. He also married Lael, and the couple soon started their family.
For the Hazans, meals are near-sacred interludes, even more about conversation and fellowship than the delicious food. So it's not surprising that family played the biggest role in the conception of Giuliano's newest cookbook, Hazan Family Favorites. "I have a lot of favorite dishes, including those that my grandmothers used to make that my mother and I had never put in any books," he says.
So he began talking to his mother about some of those dishes, "and she pulled out this notebook that was 56 years old!" he says. In it were handwritten notes from Marcella's conversations with Giuliano's Nonna Mary—her mother—about what Marcella should cook for her new husband, Victor. That notebook was the inspiration for Hazan Family Favorites, which includes a collection of recipes from Giuliano's grandmothers and mother, and many that he prepares for his wife and daughters.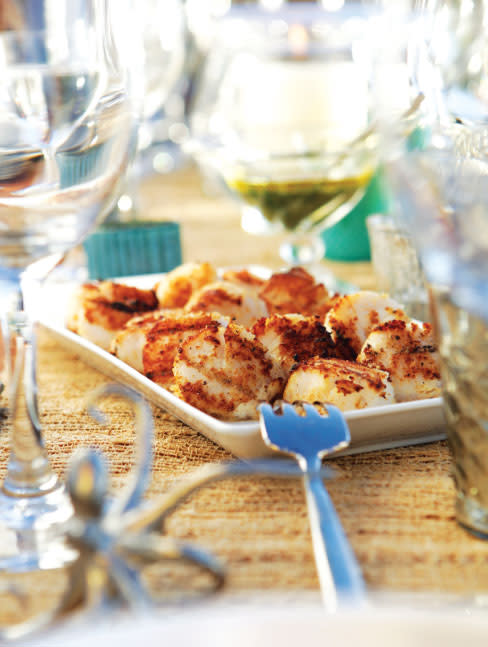 "Writing it was about more than just testing recipes," Giuliano says. "It was about sitting down and reminiscing about those dishes and those foods. The book, in a way, is autobiographical. I'm sharing food memories from my family."
After the appetizers are devoured, Giuliano excuses himself to boil water for pasta and prepare the grill. Meanwhile, Gabriella and Michela dip their toes in the pool and the guests sip glasses of Italian wine as the sun begins to set.
When dinner is ready, they all—including Rocco and Lucy—make their way to the table. On the menu this evening: linguine with mahi and fresh tomato, grilled scallops and green beans stewed with tomatoes—a dish that his Nonna Giulia often made for him. Fresh, local ingredients are the hallmark of Italian cooking, and one of the many virtues of Sarasota, the Hazans say, is the availability of local seafood and produce here.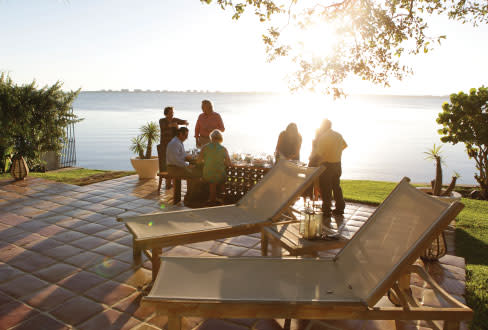 The pasta plates are clean within minutes, and when the scallops are served, Michela tries to guess what's in the sauce that tops them. It's comprised of olive oil, parsley and thyme—simple and flavorful, the essence of Italian cooking. Soon the sun has set and everyone heads back to the patio, where coffee is served and Giuliano brings out one last dish: ciambella (Marcella's mother's recipe), a lemon-flavored hybrid of cake and bread that's served alongside tropical mango, strawberries and kiwi marinated in Kirsch. It's the perfect combination of sweet and light and just the right way to end the evening as the last bits of daylight stain the sky purple and tiny pinpricks of stars emerge in the sky.
As the party winds down, Gabriella and Michela nestle in beside their father, who puts an arm around each girl. "We gather around the table every night for dinner; I did that growing up, too," he says. "I hope Gabriella and Michela have that with their families. Sharing food that you've prepared is an act of love."
Green Beans Stewed with Tomatoes
Serves 4
½ large yellow onion
1 lb. fresh tomatoes
3 tablespoons extra-virgin olive oil
1 ½ lbs. green beans
Salt
Freshly ground black pepper
1 medium clove garlic
Peel and thinly slice the onion crosswise. Put it with the olive oil in a deep skillet or braising pan over medium-high heat. Season lightly with salt and sauté until the onion turns a rich golden color, 8 to 10 minutes.
While the onion is sauteéing, peel and thinly slice the garlic. Peel and coarsely chop the tomatoes. Wash the green beans and trim both ends.
When the onion is ready, add the garlic, stir for about 30 seconds, then add the tomatoes and the green beans. Season with salt and pepper to taste and cook, covered, over medium heat until the beans are tender, about 40 minutes. Check the beans periodically, and if all the liquid evaporates before they are tender, add a little water. Serve hot or at room temperature.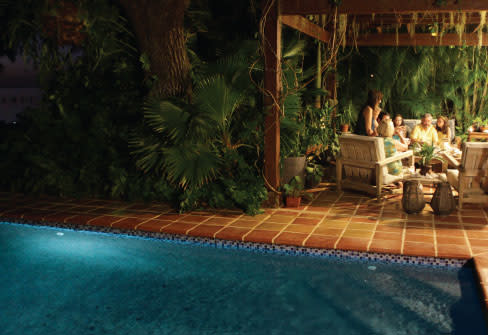 Grilled Sea Scallops with a Parsley-Thyme Sauce
Serves 4
2 tablespoons fresh lemon juice
1 ½ lbs. sea scallops
Salt
Freshly ground black pepper
7 to 8 sprigs flat-leaf Italian parsley
2 to 3 tablespoons fine dry bread crumbs
3 to 4 sprigs fresh thyme
Skewers for grilling
5 tablespoons extra-virgin olive oil
Preheat a charcoal or gas grill.
Put the lemon juice with 1 teaspoon salt in a small bowl. With a small whisk or a fork, mix thoroughly until the salt has dissolved. Chop enough parsley leaves to measure about 2 tablespoons and enough thyme leaves to measure about 2 teaspoons Add the parsley and thyme to the bowl. Add 4 tablespoons of the olive oil and whisk until emulsified.
Put the remaining olive oil in a separate bowl. Add the scallops, season with salt and pepper, and toss until coated with the oil. Add the bread crumbs and toss again. Thread the scallops onto two parallel skewers (this prevents them from spinning around).
Place the skewers on the grill and cook until firm and cooked through, 2 to 3 minutes on each side, depending on how large the scallops are. Transfer to a serving platter and serve with the parsley-thyme sauce on the side.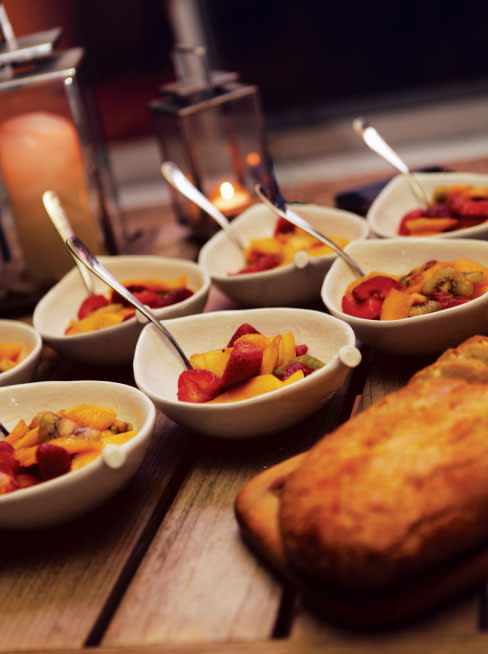 Nonna Mary's Ciambella
Serves 8
3 cups all-purpose flour
¾ cup sugar
2 tablespoons whole milk
2 eggs
1 tablespoon baking powder
¼ teaspoon salt
12 tablespoon (1 ½ sticks) unsalted butter
Grated zest of 1 lemon
1 egg yolk
Preheat the oven to 375 F on the regular bake setting.
Put the flour, sugar, milk, and 2 eggs in the bowl of a food processor. Add the baking powder and salt, taking care not to put one on top of the other or the salt may inhibit the action of the baking powder. Cut the butter into at least a dozen pieces. Add the butter and lemon zest to the other ingredients and pulse until a dough forms.
Transfer the dough to a counter and knead it gently until you obtain a smooth ball. Shape the dough into a loaf about 12 inches long and 3 inches wide. Place it on a baking sheet that has been buttered and floured or lined with a nonstick baking mat. Place the egg yolk in a small bowl. Add 2 teaspoons water, and whisk. Make 4 or 5 shallow diagonal cuts on top of the dough and brush the surface with the yolk mixture.
Bake for 35 minutes. It's ready when it is golden brown and feels fairly firm when prodded.
For a chance to win a signed copy of Giuliano Hazan's new cookbook, Hazan Family Favorites, go to sarasotamagazine.com/hazan.