Article
It's That Time of Year
Chef Judi Gallagher is already thinking about her Sarasota-inspired Thanksgiving feast.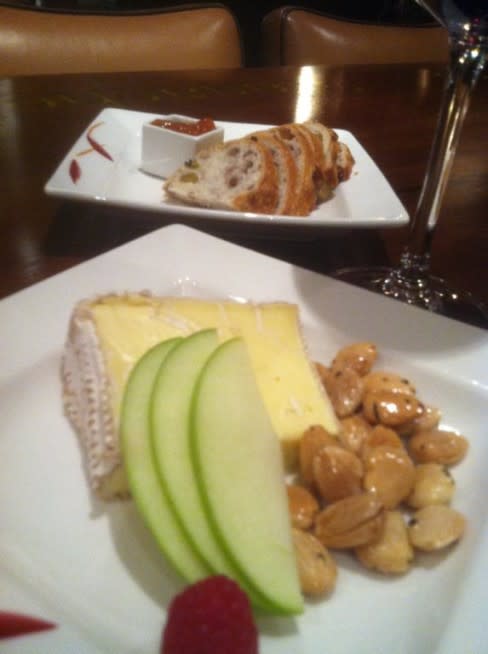 Our Thanksgiving begins with a cheese course. 
Ah…November is here. The days are shorter, the nights are cooler and the turkey brining is beginning--well, at least on ABC's Chef Judi's Dish. By the time November 22 comes around, I will have already prepared 5 turkeys, four different types of stuffing and numerous carbohydrate-laced dishes…not to mention the pumpkin breads, apple desserts and various pies. November is about cooking and the traditional flavors that bring back our childhood memories--and I love it!
I have had Thanksgiving dinners for up to 34 people, as well as intimate dinners of only 12. Sure, in early years the turkey may have been dry, but the importance of gathering with friends and making new food memories is the essence of any holiday food event, is it not?
I'm toying with the idea of setting up a large table on Siesta Beach and having our Thanksgiving fare at sunset –a perfect scenario were it not for the possibility of flies, cold weather, blowing sand or a large seagull swooping down and capturing the 22-lb. bird stuffed with all its glory.  However, it is compelling idea. Didn't you see all those pictures growing up of the Pilgrims and Native Americans gathering with their platters and corningware dishes? Certainly they had a contingency plan, did they not? I mean, how did they keep the sterno under the chafing dishes from blowing out?
Of course we have potatoes...
As I contemplate where the table of "Gallagher plenty" will be set this year, I'm also contemplating a
slight menu change. Is it perhaps time to let go of the green bean casserole with cream of mushroom soup? Sure, I use an elevated version of fried onion slivers and I have at times made my own creamy mushroom sauce, but nothing says traditional than that darn green bean casserole.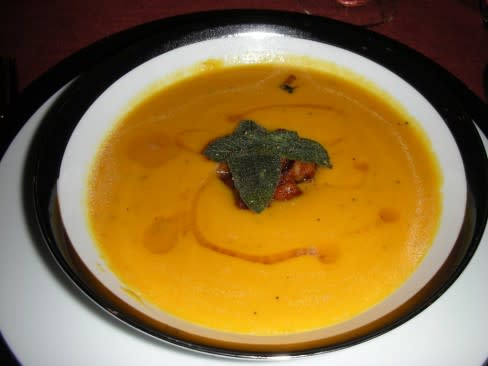 My son's butternut squash with pancetta croutons is full of flavor.
I have finally said no more to sweet potatoes with marshmallows. I now serve an eggnog/sweet potato soufflé and mashed sweet potatoes with candied pecans and bourbon maple syrup.
I have upped the ante to add sweet Italian sausage and fennel to the mushroom and leeks in the stuffing, and my son's butternut squash bisque with pancetta croutons will certainly start the evening off with full flavor. But, when it comes to my Nana's recipe for noddle pudding, now way, no how I am ever changing that! Sure, I'm probably the only one that will dig into this sweet mixture of  cinnamon and raisins baked into deliciousness with a hint of sugar and orange juice, grated apples and pure vanilla, stirred into egg noodles and mashed corn flakes. Most people will fill up on the bowls of mashed potatoes with gorgonzola and crisp chopped bacon. But for me, I sit with the gentle reminder that all is well, whether a turkey dry or juicy, as long as Nana's noodle pudding sits on my plate--and yes, probably next to the green bean casserole.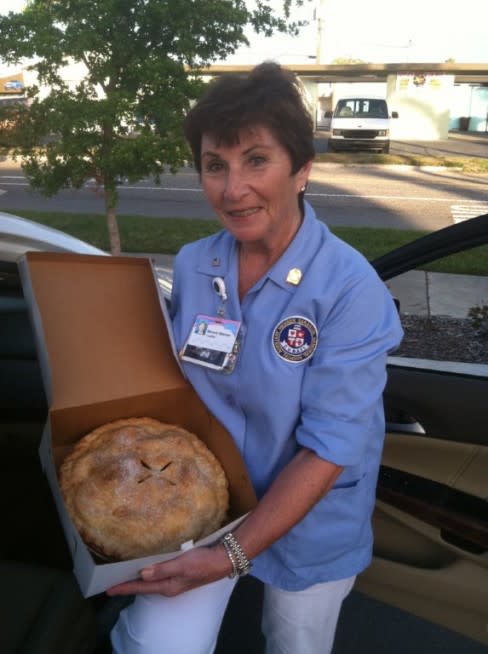 And it's not Thanksgiving without apple pie.
Do you have a favorite Thanksgiving dish that you can't live without? Let me know. And if you love a good noodle pudding, too, here's my nana's recipe.
Pauline Kopper's Noodle Pudding
½ pound egg noodles
2 eggs beaten
¼ cup sugar
3 Tbsp. orange juice
1 tsp. pure vanilla extract
1 medium apple
About 2/3 cup raisins
Crisco solid shortening
Cinnamon
Cornflakes crumbled in hand (Nana never measured, so I guess about a cup); the cornflakes are a binder.
Boil noodles and drain well with water.
Combine eggs with sugar and vanilla and beat well. Add orange juice and grated apple (I use McIntosh).
Stir into noodles. Add raisins and cinnamon
Melt ½ cup Crisco shortening in fry pan. Remove  2 Tbsp. of melted shortening and add to noodles,
mixing into pudding, and add handful or two of cornflakes.
Turn into frying pan. Cook about 10 minutes until noodles are brown, and flip over--I use a plate on top of pan. You can also bake this in a greased glass baking dish and cover for the first 15 minutes, then remove foil and dot with shortening or butter and bake until you think it's done, like my nana did.
For more foodie bits and bytes, follow @ChefJudi on Twitter or become a fan on Facebook.