Article
Sarasota's Best Muffins
Our editors put their stomachs--and gluten tolerance--to the test to find Sarasota's best muffins.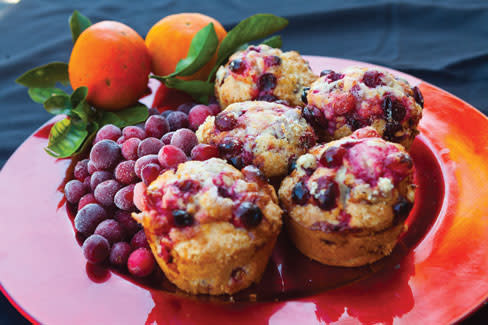 Carb lovers, rejoice: We put our stomachs (and gluten tolerance) to the test to find Sarasota's best muffin. After we asked our 8,500-plus Facebook fans for their opinions, we hit up local bakeries and taste-tested more than a dozen. Here are the results.
Best Overall
Jim's Small Batch Bakery Cranberry Clementine Muffin
Tender and bursting with cranberry and fresh clementine flavor, these from-scratch, small-batch muffins were far and away the judges' favorite. "They taste like Christmas morning!" was a recurring exclamation. (Fun fact: Jim's Small Batch owner James Plocharsky uses the juice and zest of an entire clementine in the batter.)
Best Buzz
Pastry Art's Espresso Muffin
Pastry Art pumps out four dozen of these caffeine-laden muffins daily, and for good reason: Not only are they enormous, the batter has a true espresso flavor (and is studded with chocolate chips), and the powdered-sugar-dusted muffin top is moist, filling and flavorful.
Best Presentation
Fresh Start Café's Chocolate-Orange Muffin
We eat with our eyes first, and clearly Fresh Start Café realizes that: Its chocolate-orange muffin is large, perfectly muffin-shaped and topped with a slice of orange that's been dipped in chocolate, so you know exactly what you're getting.
Best Texture
Oasis Café's Blueberry Muffin
A great muffin has great texture, and we loved that Oasis Café's sugar-sprinkled muffin top added just the right amount of crunch to the muffin's tender, blueberry-filled innards.
Click here to see more Sarasota's best, including French fries, pancakes and cupcakes. >>
This article appears in the January 2014 issue of Sarasota Magazine. Like what you read? Click here to subscribe. >>