Article
FST's One Man, Two Guvnors
Arts editor Kay Kipling reviews Richard Bean's update of a classic comedy.
By Kay Kipling
You don't have to know anything about the Italian form of theater known as commedia dell'arte to enjoy Florida Studio Theatre's current production of One Man, Two Guvnors, but a familiarity with the character types and situations of that tradition might add a layer of appreciation.
Richard Bean's play is based on Carlo Goldoni's 18th-century original The Servant of Two Masters, and the basic storyline—while now set in swinging 1960s England—remains. So we see a harlequin/fool character, here known as Francis Henshall (Connor Carew), frantically and hungrily caught between two demanding employers, neither of whom knows of the other's existence.
That might not matter if it weren't that one of the bosses, Charlie "The Duck" Clench (Wilbur Edwin Henry) is a mobster and the other a public school type named Stanley Stubbers (Montgomery Sutton), who himself has recently committed a crime—the murder of Charlie's henchman, Roscoe. He has a reason, and it involves Roscoe's twin sister, Rachel (Amy Hutchins), who for reasons of her own must appear on the scene as her dead twin sibling.
Throw into this mix the requisite second pair of separated lovers—Charlie's extremely dimwitted daughter, Pauline (Christina King), and her over-emoting would-be actor boyfriend (Tommy Crawford); his father and Charlie's solicitor (Andy Prosky); Charlie's competent bookkeeper, Dolly (Vanessa Morosco); Charlie's parolee buddy (Lawrence Evans); and some necessary waiters, and you have a full complement of comedy types.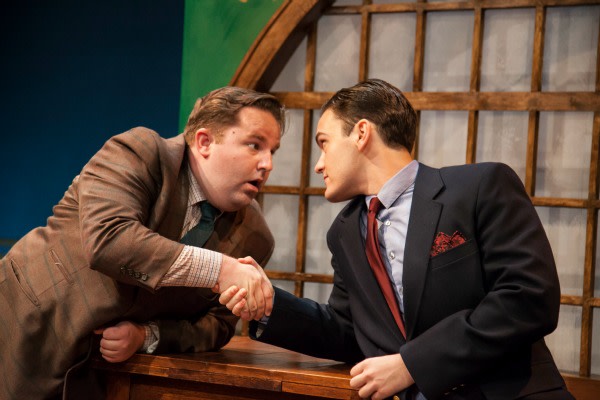 Under the direction of Joseph Discher, the cast intentionally hits those types hard in their performances, aiming for broad laughs and sometimes getting them. While there's plenty of comic shtick here—some of it predictably violent—the most amusing parts of the show are actually the less scripted ones when Carew interacts with audience members, including, on opening night, one young woman whose reluctance to participate only made their scenes funnier.
The show is enhanced by the addition of a band (sometimes including cast members) whose playing ranges from skiffle music to the harmonies of a band much like the Beatles. The music, more than the set or costumes, helps to place us in the time period.
There are some fairly classic comic routines here. I'm thinking of the bits with a superannuated waiter, played by Teddy Yudain, whose doddering ranges from very slow to very fast depending on his pacemaker; this extended scene at the end of Act I also has Carew moving efficiently and effectively to gobble down not one but two meals at the same time.
But while I might have chuckled sometimes during One Man, Two Guvnors, I didn't find myself laughing out loud. Maybe it was all just too predictable for me; but some audience members may disagree.
One Man, Two Guvnors continues through Jan. 10 at FST's Gompertz Theatre; for tickets, call 366-9000 or go to floridastudiotheatre.org.