Article
The Players' The 39 Steps
Arts editor Kay Kipling reviews this fast-paced farce.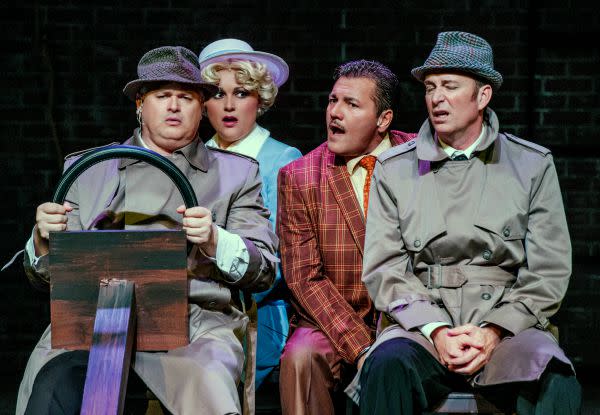 By Kay Kipling
There's a popular form of theater around a lot these days—one involving the adaptation of well-known books and/or films to the stage with high-pitched comic style and featuring a handful of actors essaying a trunkful of characters, who race about the stage at top speeds to carry out the original plotline. (I'm thinking Around the World in 80 Days and The Hound of the Baskervilles for two). If someone hasn't yet coined a term for these pieces, the field is wide open. But in any case, The 39 Steps, now onstage at the Players, is surely one of the best of the lot.
The original in this case, the classic 1935 Alfred Hitchcock film, had a corker of a story (itself derived from an earlier novel by John Buchan) involving one of those innocent bystander types, the urbane Richard Hannay (Jared Walker here), who gets caught up in a spy ring, murder and long chases across the Scottish countryside. There was some humor in the Hitchcock movie, along with the thrills, but in Patrick Barlow's stage adaptation, the humor comes to the fore.
With just four actors in the cast (except for Walker, all of them playing multiple roles), there are a lot of wigs and props and intentionally obvious stage business to help separate one character from another. (Hats are often the key here). Once Hannay meets the mysterious Annabella (Melissa Ingrisano), who later turns up dead in his apartment, he dashes out of London on a train to Scotland to save himself from arrest and figure out the spy plot at work. So the show's other two actors (Walter Price, and, taking the part after another actor had to drop out, Players artistic director Jeffery Kin) are not only fellow train passengers, but a train conductor, a newsboy, a constable, etc. as well.
And once in Scotland, the farce turns even wilder as Price and Kin get to don all sorts of costumes and accents and Hannay (now accompanied by reluctant love interest Pamela—again Ingrisano—whom he also met on the train) faces fog, rain, gunfire and an unexpected speaking engagement while on the trail of the 39 Steps ringleader.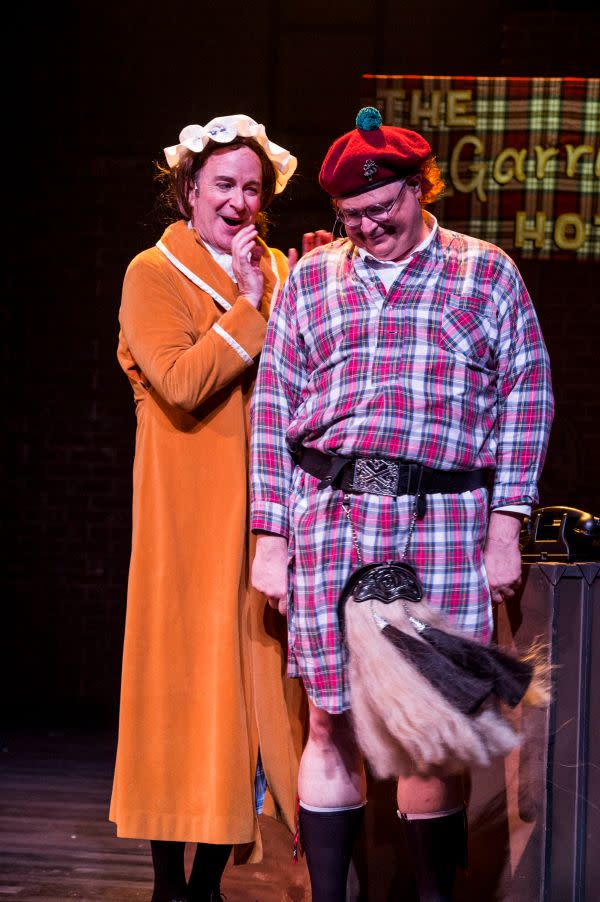 It's all good, fast-paced fun, with a cast that's been deftly directed by Kyle Turoff and manages to keep all the action moving smoothly. Speaking of moving, Walker is seldom still himself, always in pursuit or being pursued while throwing off a dashing smile that ingratiates him even to those who want to hate him. And Ingrisano switches believably from the dark, seductive Annabella to lonely country housewife Margaret to standoffish Pamela.
But the most laughs are garnered by Price and Kin, who pair off like a long-running vaudeville team and seem to be having the time of their lives. Occasionally their physical shtick can be too exaggerated or drawn out even for the admittedly broad hijinks here, but the audience never minds.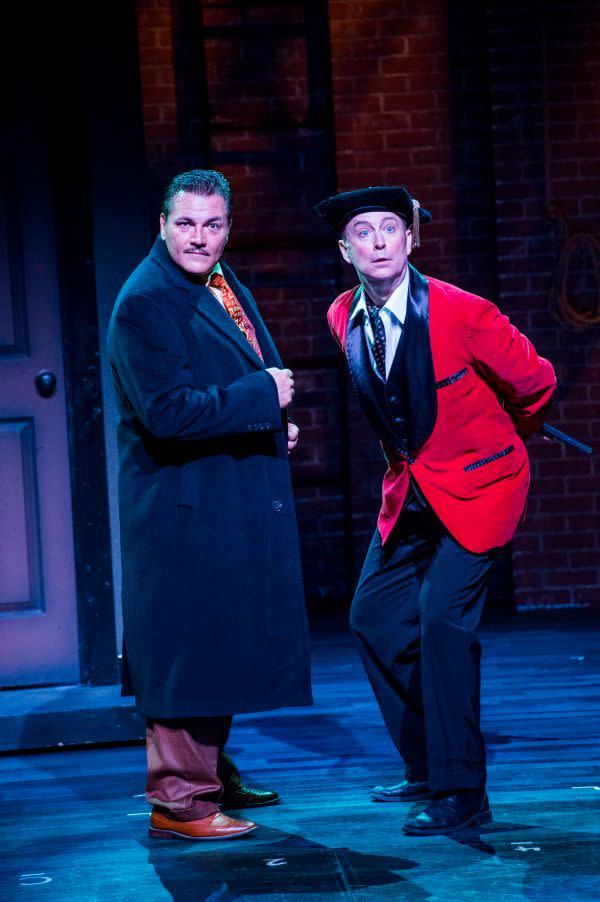 One more thing about shows like The 39 Steps: While every play requires good work backstage, the split-second timing here especially demands it. Kudos, therefore, to stage manager Alyssa Goudy and her team for keeping all those trains running.
The 39 Steps continues through Oct. 11; for tickets call 365-2494 or go to theplayers.org.