Article
The 5 Best Things We Ate This Week - 9/3/15
Our panel of experts share their top five picks on the local dining scene this week.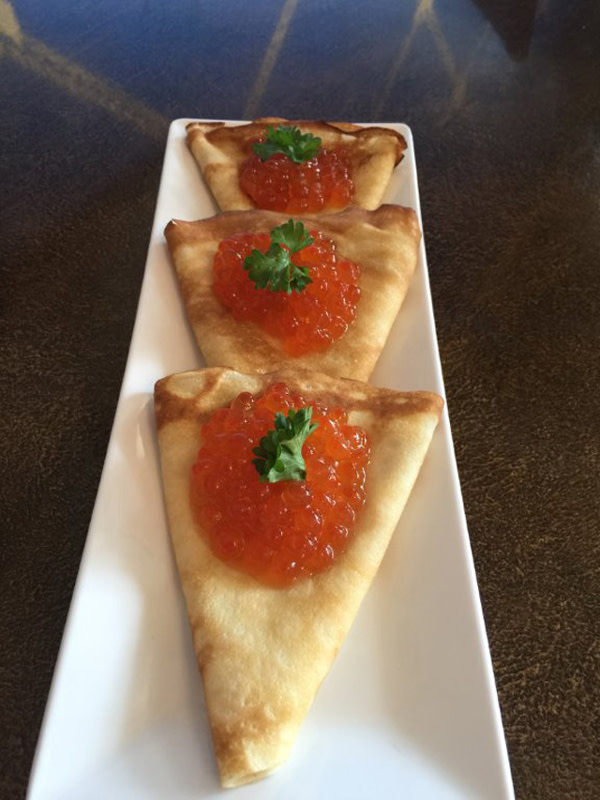 The Russian House now offers full-service dining (and no more paper plates and plastic forks!), and it's added a new, upscale favorite to its menu, too: blintzes with red caviar ($10.99). Tender, freshly made crepes are topped with red caviar and a sprig of fresh dill, making for a dish that's both traditional and light. We recommend following up with cabbage and carrot piroshky (another favorite for just $2.99).
We got a jump on Seasons 52 its fall menu last week when we enjoyed a delicious new flatbread made with figs, Cipollini onions, maple bacon, Laura Chenel artisan cheese and a sprinkling of fresh arugula leaves for garnish ($11). It all unites in a rich layering of flavors and a flatbread that's both creative and delicious.
Wednesday night's Coastal Collaboration Dinner at the Seafood Shack in Cortez featured four delicious courses from Manatee County chefs, and we're still dreaming of the oyster and grilled celery stew that Chef Derek Barnes served. The rich, creamy dish was chock-full of briny local oysters, grilled celery and butter-whipped potatoes, all topped off with salty, house-cured Tasso ham. Bonus: You can get the recipe right here."
It's a sad truth that some restaurant butter chicken dishes taste more like the spicy curry simmer sauce you can buy at the grocery store. We were impressed with Tandoor's version of the dish ($15.95)—you can taste the flavor of the butter, which traditionally is used to sauté the garlic and onion that helps flavor the sauce. The combination of the creamy, buttery tomato sauce and chicken is delicious, especially when you add on a side of garlic naan.
The No. 1 panini ($6.95) at Michelle's Brown Bag has earned that top spot: It features rich, melted aged cheddar; thin slices of tart green apple; leafy spinach; and pesto aioli pressed between two generous slices of focaccia bread. Comforting in its simplicity, it's a great lunch—especially with a side of baked potato chips.