Article
Eat Beat: The Five Best Things We Ate This Week - 8/6/15
Our top five picks on the local dining scene this week.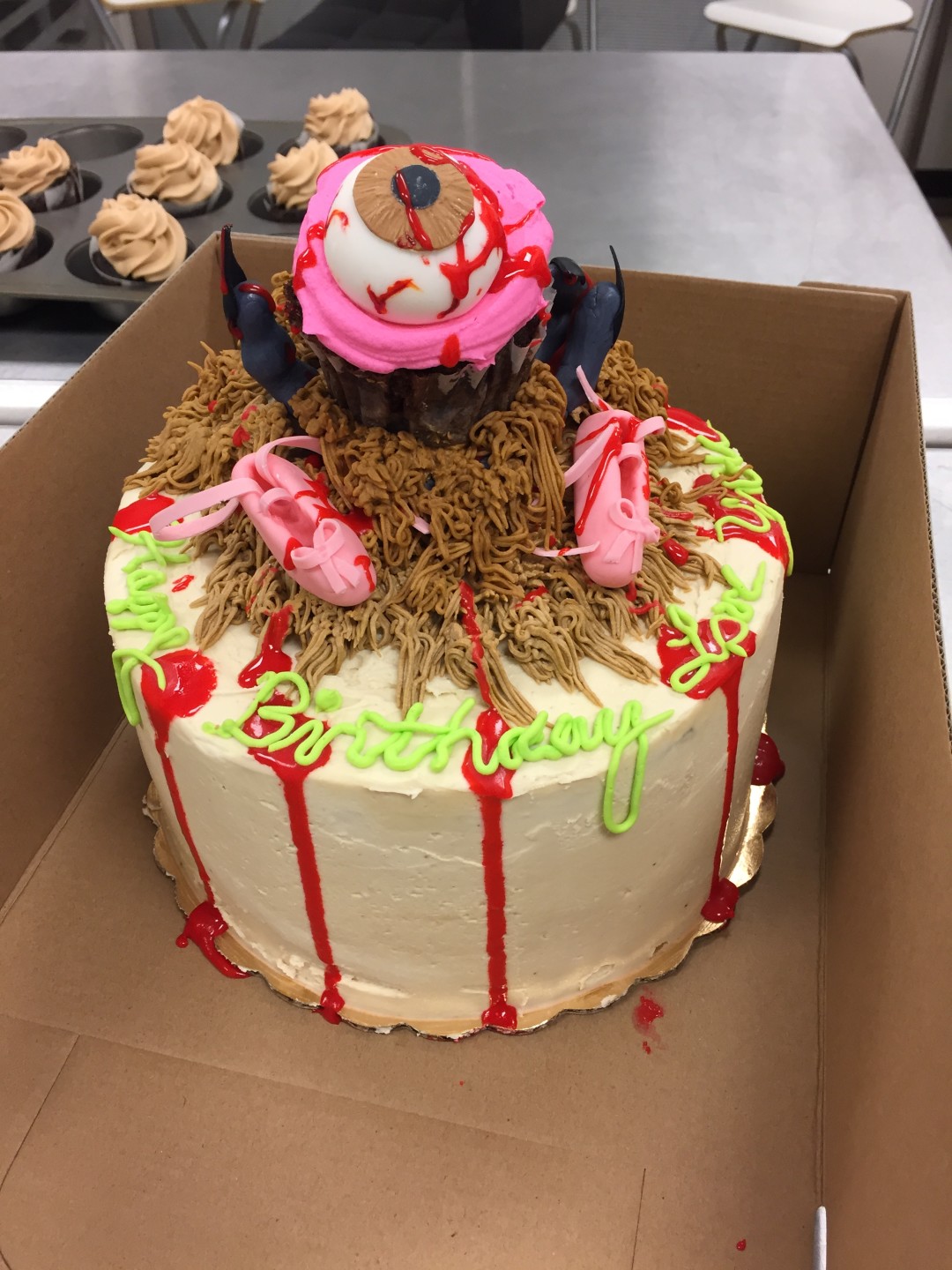 If you're looking for a special treat for a special someone, look no further than The Short Giraffe. This custom zombie/ballet-themed birthday cake (above) was a spin on its popular cookie butter cupcake: rich vanilla cake filled with Speculoos cookie butter and topped with cookie butter/vanilla bean buttercream, topped with a chocolate peanut butter cupcake. At this time, The Short Giraffe is only available for catering, pick-up and delivery...but a very reliable little birdie told us that a new storefront will be opening this fall.
There's lots to love at Curry Station, a local favorite located in an unassuming strip mall on U.S. 301, but you must start your meal with the vegetable samosas ($4.50). An order comes with two generous-size samosas made from tender-yet-sturdy homemade puff pastry and stuffed with vegetables and spices. They're served with a yogurt sauce, but we recommend asking for a ramekin of Curry Station's cumin dipping sauce, which only ups the flavor ante.
The cheesecake from Jim's Small Batch Bakery, located in the Gulf Gate, is a revelation. It's authentic cheesecake for grown-ups—no sugary sauce, just dense, moist plain cheesecake with a delicious golden top. Buy it by the slice at Jim's or order a whole cake for a party. But visit the bakery early in the day because he actually does make small batches of everything and he sells out fast.
For a delicious and reliable lunch, we love Yume Sushi on Main Street. Though the restaurant is known for its sushi and Japanese offerings, its menu also features Thai options; off that menu, we tried the Buddha's Delight with fried tofu ($11.95). The stir-fry dish pops with colorful vegetables—broccoli, carrots, snow peas, cabbage, celery and bean sprouts—and the tofu is light and flavorful. If you like a bit of kick, make sure to ask for it extra spicy.
You may think you know pasta carbonara, but leave it to Chef Fran at Louies Modern to turn the dish on its head. In his ramen noodle carbonara ($20), ramen noodles are tossed with prosciutto, Applewood bacon, peas, bagna cuda cream and topped off with a fried egg. It's perfectly salty and the flavors work surprisingly well together. Yum.