Article
The Eat Beat: The Best Things We Ate This Week
Our top food and drink picks this week.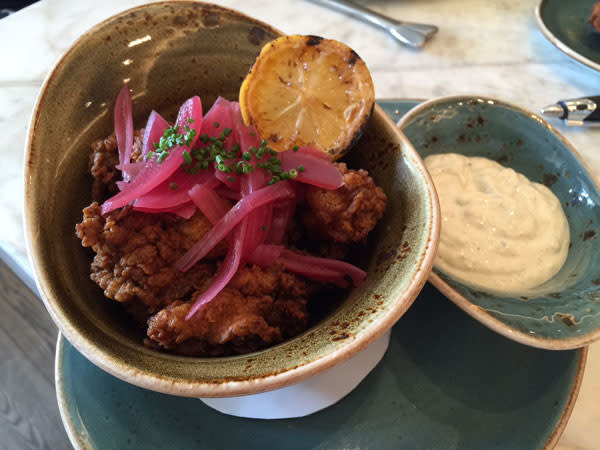 Our panel of food experts share the top five things they ate this week.
1. The barbecue-fried oysters ($12) at Jack Dusty at The Ritz-Carlton, Sarasota (pictured above) are addictively good—they're served with pickled red onions and come with a side of Winter Park "Sunshine Blue" cheese dip. They're totally shareable (although, if we're being honest, we're reluctant to give even a morsel away) and perfect paired with one of Jack Dusty's signature drinks and those gorgeous water views.
2. We swooned over the Michael's On East Savor Sarasota lunch menu, specifically the beautiful-to-look-at and equally tasty Selby coffee-rubbed pork tenderloin salad with organic greens, orange segments, oven-dried plum tomatoes, green apples, toasted peanuts and citrus-ginger vinaigrette. And we just got the good word that Michael's is extending its Savor Sarasota menu through June with a slight bump in price ($18.95 for lunch; $34.95 for dinner).
3. The eggplant rollatini at Piccolo's Italian Market in Gulf Gate is delicious. The sauce is just acidic enough to balance the creamy ricotta cheese filling, and the breaded eggplant is perfectly cooked. This is one of several daily specials at Piccolo's, so call ahead to reserve enough and bring home several pieces.
4. Our new favorite flatbread is the Seasons 52 concoction made with Laurel Chenel goat cheese, artichokes, spinach, balsamic onions and roasted red pepper ($9.95). What a fabulous veggie flatbread—full of flavor and beautifully seasoned. It comes to the table as a long thin, plank with its colorful melty toppings. Enjoy it solo with a drink for an ideal vegetarian lunch. Or share with a friend as an appetizer before dinner.
5. We can't stop ordering the Reuben ($11) at YachtSea Grille on Bradenton's Riverwalk: Their secret is, they coat the whole cut of corned brisket with a house-made dry rub before smoking it for four hours. Only then is it shaved super thin for the sandwich, which is built with the usual fixins' (Thousand Island dressing, sauerkraut, melted Swiss) atop thick slices of locally baked rye.