Article
Florida Studio Theatre's Fly
Arts editor Kay Kipling reviews this drama about four Tuskegee Airmen.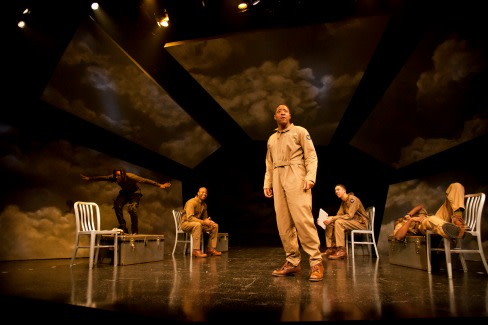 By Kay Kipling
A play documenting the trials of four African-American Tuskegee Airmen training to fly during World War II might sound like a dry history lesson. But in the hands of director Ricardo Khan (who co-wrote the piece with Trey Ellis), the Florida Studio Theatre production Fly is anything but.
In fact, it's frequently thrilling, thanks not only to Khan's direction but to his nimble cast, a terrific set design by Beowulf Boritt (with projections by Rocco Disanti) and sound design by John Gromada. (All designers have associates listed in the program as well.) This is one play that really works with a mostly bare stage (just chairs and foot lockers), because with those looming projections of clouds in the sky, the sounds of WWII planes in flight, and the movements of the actors to simulate piloting, especially when on dangerous missions, the audience is definitely taking that journey with them.
The four airmen we focus on here might seem like standard war movie types at first. There's the young, eager good guy, Chet (Jordan Bellow); the cocky womanizer, W.W. (Robert Karma Robinson); the family man determined to prove his race's worth, Oscar (Terrell Wheeler); and the well-spoken immigrant from the British West Indies, J. Allen (Shane Taylor). Each has his reasons for wanting to fly, despite or because of the segregation of the time—and then there's their white instructor (Greg Brostrom), who has his own reasons for wanting them all to "wash out" of their training.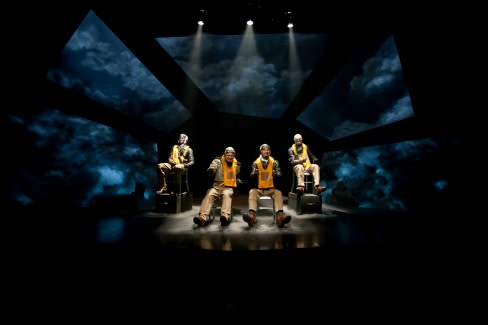 Yes, we see the expected conflicts and eventual camaraderie men in this situation would have, but thanks to an intelligent script—and the addition of a "Tap Griot" (Omar Edwards), who dances out the emotions of the characters for us (trust me, it works)—Fly transcends cliché. Edwards' feet (along with the rest of his body) act as a proxy to express what the men themselves can't always reveal.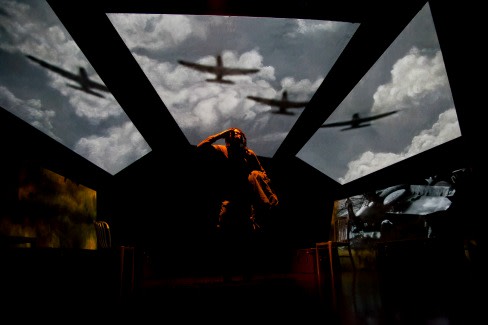 Fly naturally illustrates the prejudices these airmen found themselves facing, in and out of the air, but it's not preachy about it, just factual (and often humorous). A brief beginning scene with the much older Chet (returned to at the play's end) also establishes what he says about stepping into "the river of history," as a significant moment for all Americans takes place in Washington, D.C.
There's a sense of exhilaration at the close of Fly that echoes that which the real Tuskegee Airmen must have felt when ascending into the clouds. The audience the night I attended certainly felt it, rewarding the cast with a standing ovation.
Fly continues through April 4 at FST's Gompertz Theatre, and several panel discussions involving the community are scheduled in conjunction with the production. For tickets and more info, call 366-9000 or go to floridastudiotheatre.org.