Article
New York's Metropolitan Opera GM Relocates to Sarasota
Joseph Volpe, former general manager of New York's Metropolitan Opera, and his wife recently relocated to Sarasota.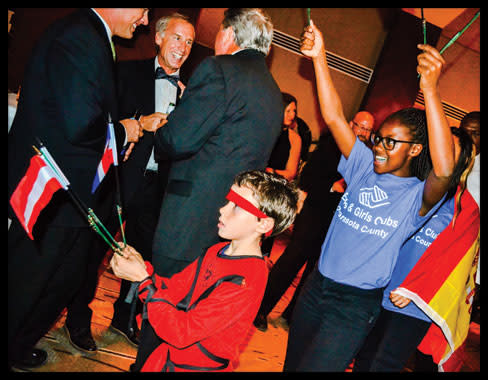 Joseph Volpe, 74, worked his way up from apprentice carpenter to general manager of New York's Metropolitan Opera, a position he held for a headline-making 16 years. Upon his retirement in 2006, The New York Times called him a "famously demanding impresario." Volpe and his wife, Jean, a ballet teacher and former principal soloist with the Metropolitan Opera Ballet, will winter on Longboat Key while he continues his work as a theater consultant, including helping plan a new opera house in Athens, Greece. "He'll never unwind," says Jean. "He's always finding something to do."
We love the water
Joseph: "I can't live anywhere if I'm not able to boat. We just bought a new 32-foot Pursuit. I don't picnic; I like to boat to a restaurant for lunch. And I don't fish; I'm a bit of a perfectionist, and fish are not allowed in the boat."
Many happy returns
Joseph: "My parents brought us to St. Petersburg for six weeks every winter starting when I was 7. I love the west coast of Florida; I love the warm weather, the boating. My wife and I have come to Sarasota for 30 days a year since the early 1990s. It wasn't until last year that we decided the time has come to actually spend the winters here."
"I've joined the board of the Sarasota Ballet."
Joseph: "My wife is not a beach person. My hidden agenda was to get involved with the ballet and maybe Jean would find [moving to] Florida a lot more acceptable. It's all working; we're quite excited about it." Jean: "Iain Webb is building a wonderful company. I came down for the Ashton Festival and there were people there from all over the world."
Do you beach walk and bird watch?
Joseph: "The answer is no. Jean loves to swim for the exercise, and does her one-and-a-half-hour backstroke; I go back and forth once in the pool and collapse."
Any regrets?
Joseph: "I don't miss the Met; I miss the singers and the musicians. But many retired singers from the Met are on the west coast of Florida, and I keep in touch with many of them."
Applause, applause.
Jean: "For a city its size, Sarasota really has a lot of cultural activity." Joseph: "Jean looked at me and said, 'All the artistic people, the people we relate to, are here.' Of course we enjoy and will go to the opera, and [the Asolo Rep's] Michael Edwards used to work for me at the Met."
To read past "My New Hometown" interviews, click here. >>
This article appears in the January 2015 issue of Sarasota Magazine. Click here to subscribe. >>