Article
Behind the Scenes at the 2014 Boys & Girls Clubs Dream Makers Ball
Party Girl Loren Mayo takes us inside Sarasota's 2014 Dream Makers Ball.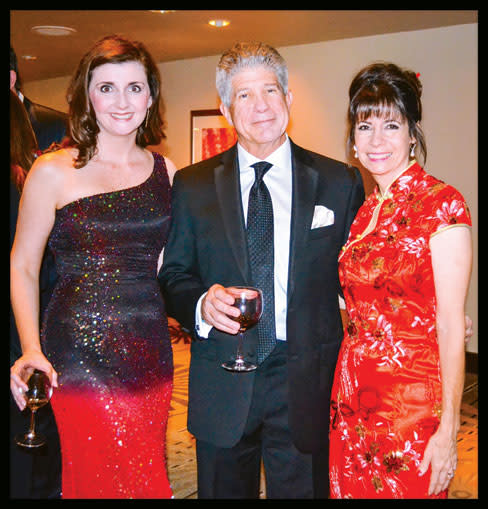 There's a reason the Boys & Girls Clubs call it the Dream Makers Ball. As I navigate through the crowd at the Hyatt Regency in a borrowed, floor-length black gown decorated with sheer mesh cutouts, I encounter dreams of all shapes and sizes and Sarasota's biggest dream maker himself: former state senator Bob Johnson.
My first encounter is with event co-chairs, Tom Shapiro and his wife, Debbie, who ordered her fabulous red geisha dress straight from Japan. Tom, who serves as BGC board chair, explains that the event theme, "It's a Small World," celebrates the club's diversity and vision: to help every child achieve academic success, lead a healthy lifestyle and become a good citizen.
I turn around and feast my eyes on event committee member Bonnie Lancaster and her 21-yard tulle dress. Yep, you heard me correctly. An interior designer by day, this gorgeous powerhouse spent the entire week creating a retro-vintage three-layer tulle gown masterpiece complete with mink cuffs and bugle beads. Her dream was to see her concept come to life for this magnificent Saturday affair, and it absolutely came true.
"I was buried under this tulle nightmare," Bonnie tells me. "It's a labor of love—like  making drapes for your body."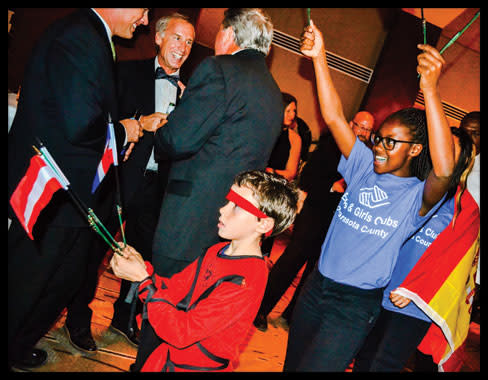 Inside the ballroom, guests are trying their hand at roulette, poker and blackjack, attempting to fulfill their casino dreams of winning big. I'm snapping photos of committee member Nikki Logan Curran and her husband, David Curran—who happens to be wearing the same fancy gray ombré suit he wore to the couple's wedding on Dec. 1, 2013 (happy anniversary, lovebirds!)— when about 15 kids come parading through the party draped in colorful flags from countries across the globe. Each child is also showing off a ginormous glowing smile.
After the parade, I settle down at our table and check out the USA-themed décor—a painted crate centerpiece housing a plethora of daisies and ornamented with two hourglass-shaped Budweiser beer cans, Hershey bars and peanuts. All the tables have the same crate-and-daisy theme, but the décor differs slightly depending on the nation each one represents. I'm trying not to hog every ounce of the cranberry-orange cheddar cheese when the slideshow honoring 2014 Dream Maker Bob Johnson starts.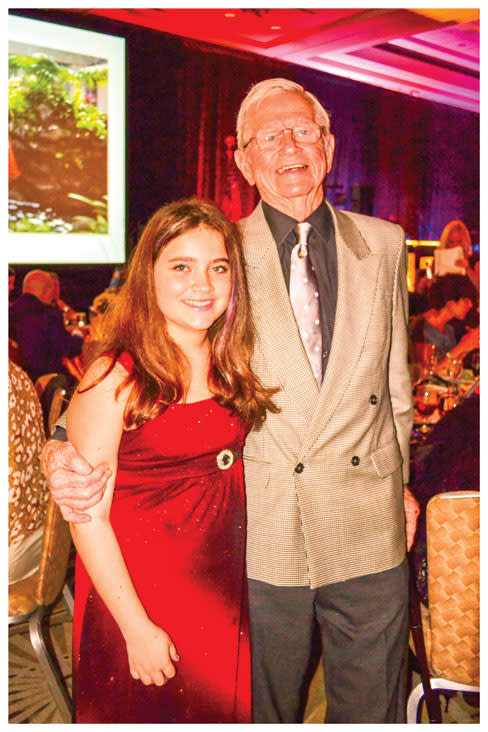 Now, this Bob is many things. Remarkable things. He's a former Florida state senator, an attorney and a founding board member of the original Boys Club of Sarasota. He founded the Sarasota Arts Council and is a co-founder of Florida Winefest. He's served on the board for Tiger Bay Club, Season of Sculpture, Florida State University, Florida Arts Council, New College and the 4-H Foundation, to name a few. He brought the State College of Florida to Venice and has also raised funding for numerous causes, especially education. Is there anything this man hasn't done?
As I'm contemplating how in tarnation I will ever leave my mark on Sarasota, one of my favorite local philanthropists, Betty Schoenbaum, appears onscreen. She's just so cute that I want to reach out and hug her.
"I am thrilled that he's being honored as a dream maker, because he's helped so many people's dreams come true, and he's just a wonderful, wonderful man," Betty says.
Bob approaches the podium and what he says gets a laugh from the crowd.
"I've never been called a dream maker," Bob says. "I've been several people's best nightmare."
Next, Caylee Lombardi is honored as the Robert and Joan Lee Youth of the Year. Caylee joined BGC in 2007 and dreams of becoming a therapist for children who have struggled socially, educationally and financially. The way she describes her dream is so moving that I beg marketing director Tamara Chapman to share some other dreams of kids in the club. When I open my email the next day, I'm transported back to the laughter and tears of this inspiring event. Among the dreams:
"My dream is to be an awesome chef making a lot of money. And also to be a wonderful father to two girls. And also to be a wonderful husband to an awesome wife. P.S. If this doesn't work I am going to be a firefighter."
"My dream is to stop world hunger. No one should ever have to go hungry. I know it is a big dream but that is my dream. I will start small and one day I will reach my dream."
"My dreams are to help my mom pay her bills. And become a teacher. Also, to start a dance studio in New York because they do not have a lot of cheap dance studios in New York. If the dance studio does not go well, I will open a pet store and sell all the stuff for your animals at a cheap price."
To see a gallery of photos from the Dream Makers Ball, click here. >>
This article appears in the January 2015 issue of Sarasota Magazine. Click here to subscribe. >>