Article
Homelessness Shadows Downtown Sarasota's Rosemary District
Hot topics, talk and history.
With an ambitious overlay district sparking plans for more affordable housing and chic new buildings, optimism is cresting in downtown's Rosemary District. Business owners have even given the cluster of streets a new identity: the Sarasota Design District.
But with the city's decision not to build the homeless shelter consultant Robert Marbut recommended, homeless people continue to plague the neighborhood, particularly on the sidewalks and streets right around the Salvation Army shelter. How might that impact the district's future?
"The changes in density and the projects on the board are incredibly good for the neighborhood, but the city, by not taking responsibility for the homelessness situation and the study that they paid for, hinders the Rosemary District [and] the city as a whole."—Marcus Anast, co-founder of The Sarasota Collection Home Store, a Rosemary business
"Right now, the homeless own the sidewalk on Central Avenue. Nobody would dare walk down that sidewalk. And I'm losing everyone from Rosemary Court. My yoga instructors and therapists, they're tough—it doesn't scare them. But the clients, the people with money from the keys, they're getting scared away."—Jon Sheintal, owner of Rosemary Court, directly adjacent to the Salvation Army
"We have not grown our shelter capacity in Sarasota County in the last 10 years. Some people say, 'If you build it, they will come.' We haven't built anything and just this last year we still had an 8.7 increase [in homelessness]. As long as we lack affordable housing [and] jobs that pay a living wage, it's going to continue to be a problem."—Leslie Loveless, executive director of the Suncoast Partnership to End Homelessness
"Any time you see 20 people outside, we have 240 inside. We only serve a portion of the homeless, and the vast majority move into jobs and housing. We actually got the whole street cleaned off in December. If someone is handing out cash and comfort items outside, that hurts our housing efforts."—Ethan Frizzell, the Salvation Army major in charge of the Rosemary shelter
"Barrier islands are dynamic. They accrete and erode; they accrete and they erode. Why do we need to install something to protect a natural system that manages itself? Groins are just not good. They're ugly."—Shafer Consulting Principal Jennifer Shafer, speaking in opposition to the U.S. Army Corps of Engineers' plan to dredge Big Pass at a Sarasota Bay Estuary Program meeting
Vintage Sarasota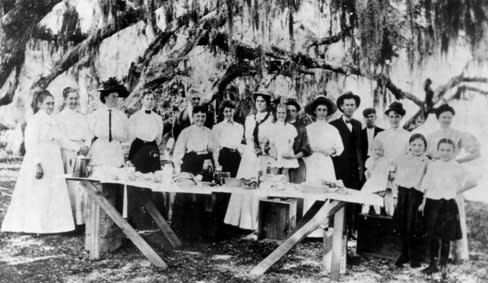 Photo courtesy of Sarasota County Historical Resources
In the early 1900s, before bridges connected Sarasota's keys to the mainland, a favorite place for a picnic was "Uncle Ben" Stickney's home. On the bay side of Siesta Key (formerly Sarasota Key), south of today's Stickney Point Bridge, Uncle Ben's homestead gained a reputation for hospitality. Notable Sarasotans in this photo include Mrs. Carrie Abbe (Sarasota's postmistress) Rose Wilson (publisher of the Sarasota Times) and Thomas Yarbrough (principal of Sarasota's public school). —Larry Kelleher