Article
Banyan Theater's Collected Stories
Arts editor Kay Kipling reviews this production of Donald Margulies' two-character play.
[caption id="attachment_1704" align="alignnone" width="488"]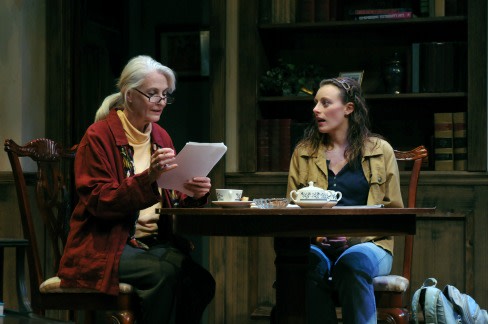 Sara Morsey and Kim Stephenson in Collected Stories. Photo by Maria Lyle Photography[/caption]
By Kay Kipling
How much does or should a teacher give to a student? How much does that student owe in return? And what lines, if any, cannot be crossed when a writer uses another writer's life as material for a novel? These are some of the questions raised by Donald Margulies' Collected Stories, now onstage in a Banyan Theater Company production.
These are issues that have cropped up onstage before, perhaps, but Margulies' two-character play, which first bowed in 1996 and has been revived since, manages to make his take on the subject fresh and compelling. It's given sensitive direction by Howard Millman in the Banyan production, so that the balance between the two women shifts and reshifts subtly and convincingly.
The older woman here is Ruth Steiner (Sara Morsey), a longtime writing teacher in New York who's had a successful career herself as a writer of short stories. One of her biggest fans, apparently, is her new graduate student, eventually her assistant, Lisa (Kim Stephenson), whom we first see as an eager, gushing admirer with a lack of self-confidence in her work and a back story that includes some difficult times in a troubled family.
Clad in typical student wear of blue jeans and sneakers and practically trembling with nerves, Lisa is about to have her first story dissected by Ruth, who's a little intimidating but nevertheless willing to impart what wisdom she can to the neophyte. From those first stumbling moments, we span, in all, a period of six years—years where we see Lisa grow as a writer and a person, and where Ruth eventually confides in Lisa memories of her long-ago affair with an older poet (the real Delmore Schwartz, although the character of Ruth and the affair are fictional).
[caption id="attachment_1705" align="alignnone" width="488"]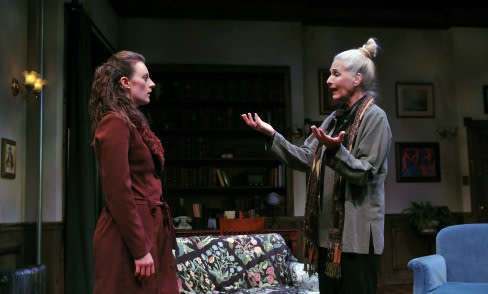 Stephenson and Morsey in Collected Stories. Photo by Maria Lyle Photography[/caption]
Morsey and Stephenson share a believable, changing rapport together as first mentor and mentee and then gradually as friends on a more equal basis, making it all the more poignant when Lisa incorporates aspects of Ruth's affair into her first novel. Is that a violation? Or is Lisa right when, confronted by a wrathful Ruth, she asserts that she is just doing what Ruth taught her to, using what comes to her in terms of story and making it her own?
Audience members may have differing opinions about that, but, in Morsey's performance, there's no doubt of the hurt and betrayal Ruth feels, and some of Margulies' most stinging lines in the play's final scene cut like a lash. There's welcome, sharp humor in Collected Stories as well, but that last scene is bound to leave you with a lasting impression of Ruth's loneliness and pain—and the lingering question of who and what is right here.
Collected Stories continues through Aug. 24 at the Cook Theatre; for tickets call 351-2808 or go to banyantheatercompany.com.