Article
Photographer J.B. McCourtney's Portraits Capture Sarasota's Story
J.B. McCourtney's portraits of Sarasotans tell us so much about our city--and ourselves.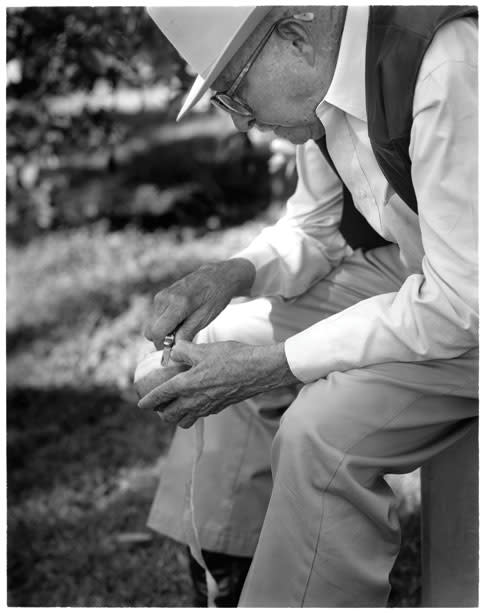 Photographer J.B. McCourtney has been shooting locally and internationally, including for Sarasota Magazine, for several decades now. Some of his most evocative images—black-and-white "Florida Portraits," shot with a large 8 by 10 field camera—are now on display, in a show curated by Heidi Connor, at the Sarasota County Terrace Building, where passersby can absorb the unique history of our area associated with the equally unique individuals, from powerful politicians and famous artists to weathered cowboys and farmers, framed there.
McCourtney has worked on this series of portraits for more than 30 years, and quite a few have appeared on our pages.  Many of the people he shot have passed on. But in McCourtney's photos, they continue to tell us stories of their lives, and of our shared past and present. A few of our favorites are shown here; for the complete collection, stop by the Terrace Building any weekday.
To read a review of this show, click here.
Karl Albritton, citrus grower (above)
In 1993, at the age of 94, Karl Albritton duly was inducted into the Citrus Hall of Fame for his "phenomenal impact on the citrus industry by developing tools, procedures, and resources." On his 99th birthday, Florida state officials declared October 19 as Karl Albritton Day, recognizing the Albritton Fruit Company as the oldest continually operating family business in Florida. "One thing that has not changed in the citrus-growing business," Albritton said, "is that each and every orange is still hand-picked.'"
Albritton peeling an orange in the groves of the Albritton Fruit Company. Sarasota, Florida. 1997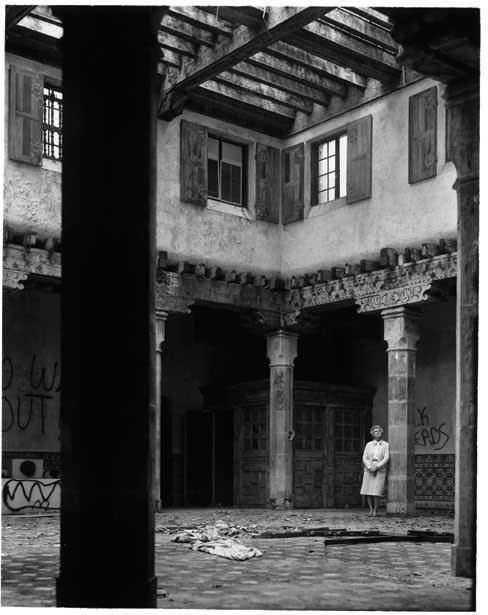 Lillian Burns, local historian/preservationist
Lillian Burns' father, Owen Burns, built the grand El Vernona Hotel, the "aristocrat of beauty," in 1926. John Ringling bought the hotel in 1930, and soon it was featuring live circus acts in the main dining room.
In 1998, the hotel, renamed the John Ringling Towers and home to vandals and vagrants, was issued its final permit—demolition. "It was so well built, it will be hard to tear down," Lillian said.
Lillian in the former main dining room of the John Ringling Towers. Sarasota, Florida. 1988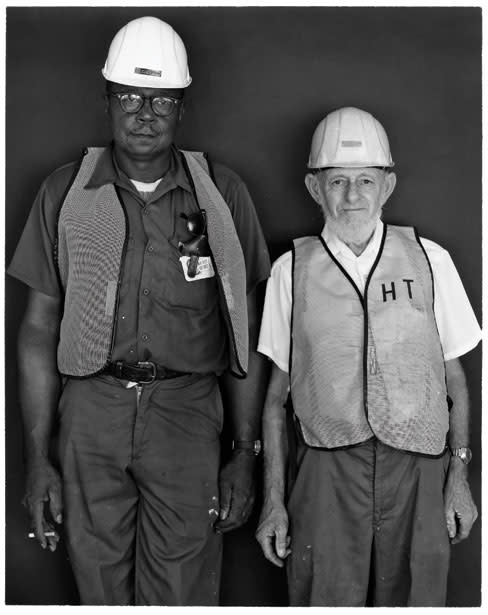 Ed Cochran & Harvey Tice, city maintenance employees
Ed Cochran and Harvey Tice worked side by side for more than 26 years as Sarasota's city street "line-stripers." Ed did the heavy lifting, while Harvey stuck to the finer details. After working together so closely for so many years, theirs was a long, symbiotic relationship.
When Harvey died at the age of 79, he'd proudly raised a large family—58 grandchildren and 86 great-grandchildren.
Ed and Harvey in the studio. Sarasota, Florida. 1977
Mack Doss, rancher
After clearing 1,200 acres near today's Myakka City, Mack and Etta Mae Doss set up their own ranch and cattle business. In the late 1930s, Mack organized his first "ranch" rodeo, showcasing his trick riding and calf-roping skills on his scrub pony, Boney Boy.
Long before the Arcadia rodeo, Mack's "ranch" rodeo attracted renowned locals, like the "up around Parrish" Blackstone Boys. They showed off with their "all-rounder" skills while riding bareback and throwing lassos.
Mack outside his log cabin home. Sarasota, Florida. 1983
Helen Griffith, society columnist
For more than 40 years, as the "main street reporter," Helen was noted as much for her askew wardrobe as for her gossip column in the Sarasota Herald-Tribune. Eccentric yet gracious, she once interviewed Albert Einstein at a local drugstore counter in downtown Sarasota.
In 1985, I photographed Helen for a magazine. She was punctual, but a little disheveled. We spoke of old Sarasota and of all those years gone by. And in her typical fashion, I soon received a handwritten thank you note, on her own personal monogrammed stationary.
Helen in the studio with a magazine art director. Sarasota, Florida. 1985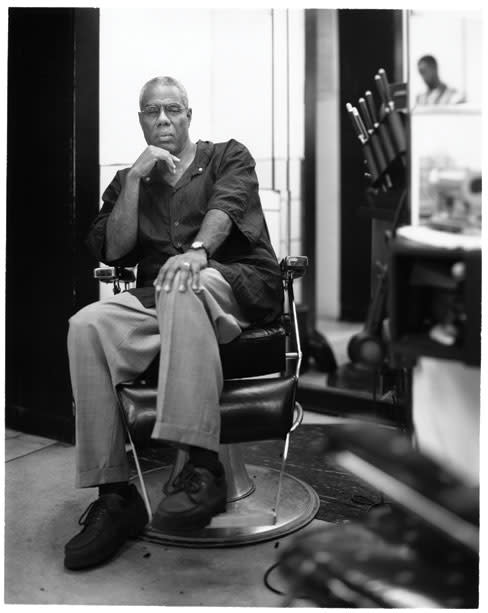 Jetson Grimes, barber and hairstylist/civic community leader
As a young man, Sarasota native Jetson "Jet" Grimes picketed area beaches, movie theaters, and bus stations to end years of hometown segregation. Today, Jetson is still deeply involved with the community, particularly the African-American community of Newtown.
As a barber & hairstylist, Jet has been working on the same street for 39 years. "In the past this city has looked at Newtown as a liability," he said. "We want to change that to an asset."
Jetson in his barber chair at Jetson's Creative Trend Hair Salon. Sarasota, Florida. 1983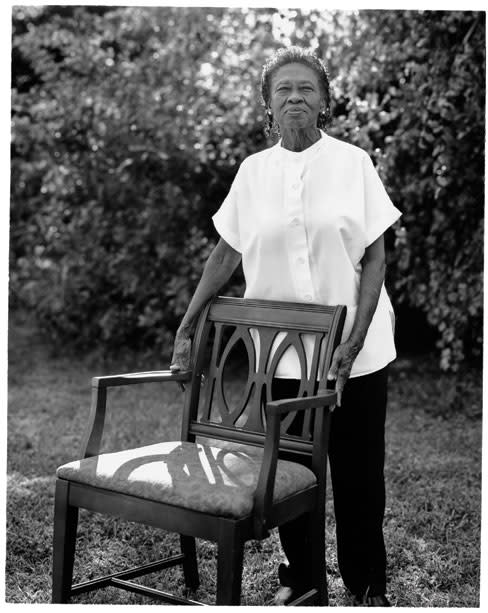 Juanita Hamilton, cook/companion
Juanita Hamilton, quiet and unassuming, never married, which suited her boss, Sarasota philanthropist Marie Selby, just fine.
Recalling a typical evening meal, Juanita smiled. "Miss Selby, she liked her steak rare," she said, or on occasion "turkey seasoned to the bone." While Juanita cleared the evening table, Selby would walk the porch with a cigarette. Washing the dishes, Juanita often would hear Stardust drifting from Selby's beloved piano.
Juanita in her back yard with a dining chair given to her by Marie Selby. Sarasota, Florida. 2000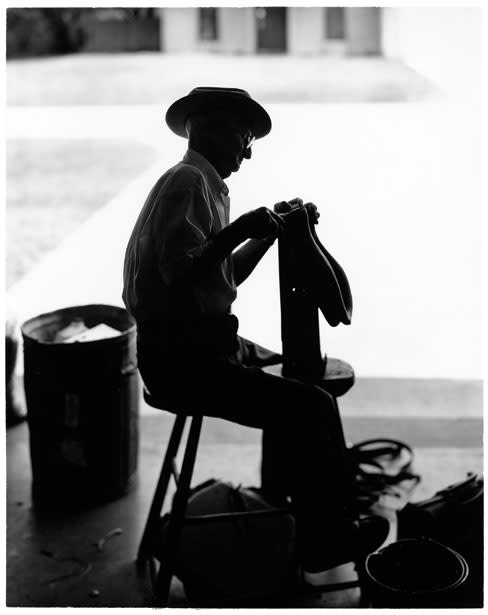 Dr. J.Y. Henderson, circus veterinarian
In 1941, Dr. J. Y. Henderson signed on as a veterinarian for the "Ringling Show," and for more than 40 years, was the chief veterinarian for the Ringling Bros. and Barnum & Bailey Combined Shows.
He shared his life with a lion named Samba; an elephant, Sudan; a "star" giraffe named Edie; and a hand-raised leopard, Sweetheart. One of the most challenging was the great mean-spirited "sweet-toothed" gorilla, Gargantua—and, of course, M'Toto, his docile mate, whose first language was Spanish.
"Doc" Henderson working in his garage. Sarasota, Florida. 1991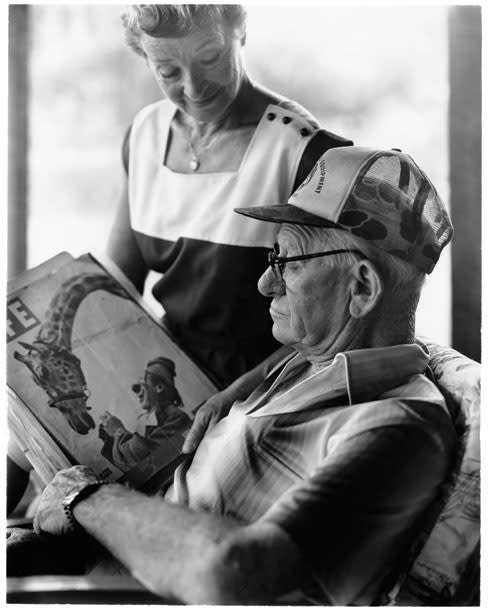 Lou Jacobs, circus clown
German-born Lou Jacobs' unique clown face was to become one of the most famous in the world. He is credited with popularizing the red rubber ball nose and for the host of classic gags he invented during his 64-year career, including the motorized bathtub, midget auto and self-propelled baby carriage. He was the first living person to ever appear on a U.S. postage stamp.
Lou and his wife, Jean, a former aerialist, out on their porch. Sarasota, Florida. 1984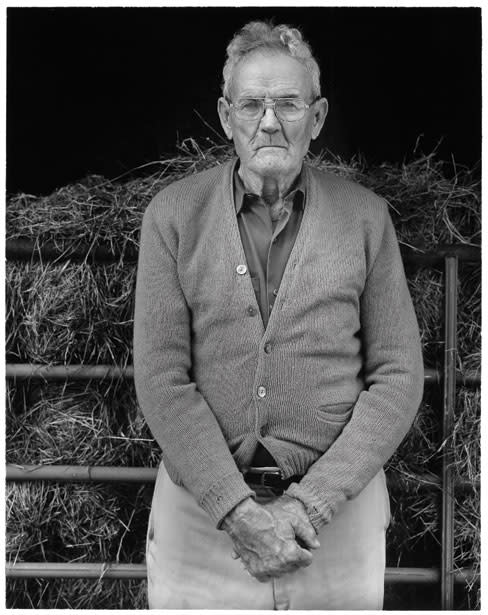 Harvey Keen, pioneer cattleman
As a boy on his pony, Harvey Keen rode a 40-mile mail route, delivering the mail from the early Manatee County seat of Pine Level. Raised up in a pioneer family, Keen witnessed Florida's cattle scrub-land change from open range to barbwire.
"I've been here all my life, and if I live another hundred years, I hope to be here, too," Harvey said. "'Where did ya say you're from, Sarasota?' 'Nope, I don't go there much, the smell of saltwater makes me sick.'"
Harvey outside his barn. Pine Level, Florida. 1977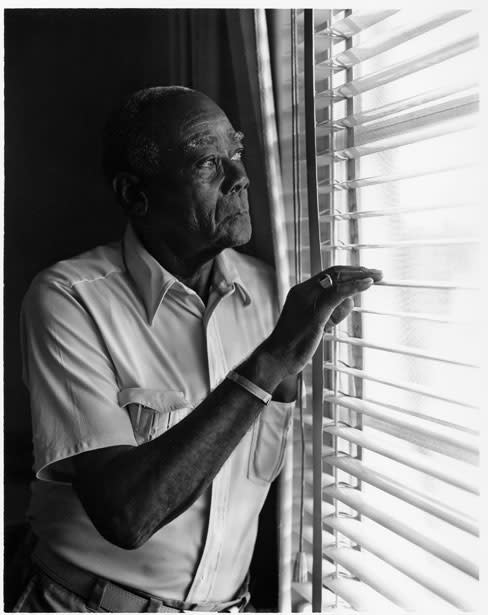 Charles Sanders, a.k.a. Buster Moore, turpentiner
Charles "Charlie" Sanders worked as a "puller/scraper" at Sarasota's Bee Ridge turpentine camp, along with many other black laborers contracted out of Georgia. In 1946, arrested at the Bee Ridge "quarters" for the murder of his stepson, Charlie defended himself against an all-white judicial system and served his time, narrowly escaping the death penalty.
Charlie's story is one of the most difficult to tell because it never ended—and because Charlie was not proud of his past. His nursing-home room was so confined that we would walk outside. Charlie always seemed to enjoy leaving a story hanging—and then he would always ask me when I might return, "and bring me some more of those cookies."
Charlie in his room at Floyd Sunshine Manor. Sarasota, Florida. 1982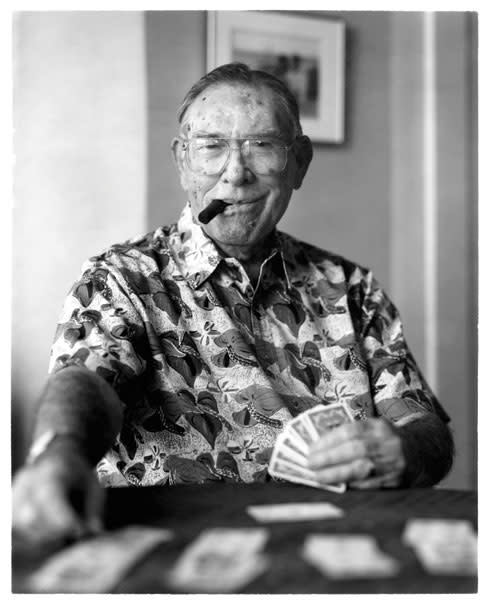 Lynn Silvertooth, circuit judge
When Lynn Silvertooth started lawyering in 1949, there were just two judges and fewer than 40 attorneys in all of Sarasota County. From his appointment as a circuit court judge in 1964 until his retirement in 1989, he had a high-profile career on the bench. Early on, he presided over a head-line-making murder trial, as a young attorney named F. Lee Bailey defended Sarasota physician Carl Coppolino, who was accused of poisoning his wife.
In 2005, the lifelong Sarasota resident saw the county judicial center named after him. With a million-watt smile, a well-chewed cigar stub ever planted in his cheek and a Southern drawl, Silvertooth conceded, "it's a wonderful honor for an old man."
Lynn Silvertooth at home playing cards. Sarasota, Florida. 2005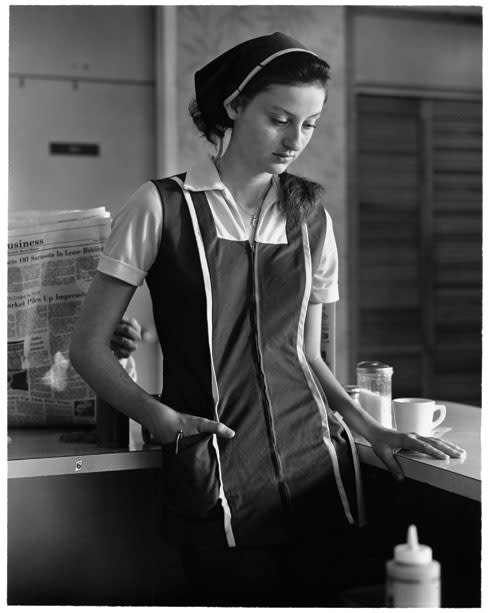 Lori Ann Toole, waitress/sharecropper family
As sharecroppers, the Tooles were one of the last white families in the area to till the soil and pick crops under the watchful eye of a landowner. Along with her mother and five siblings, Lori worked the Manatee county fields of Wimauma.
"We lived out in the country, in a two-room shack—six kids and two grown-ups," Lori said. "We worked for a Mr. Davis. We did some planting, and a lot of picking—string beans, turnips, tomatoes, peanuts and some strawberries. We'd be out in the fields most of the time with Momma."
Lori Ann "waitressing" in a coffee shop. Sarasota, Florida. 1984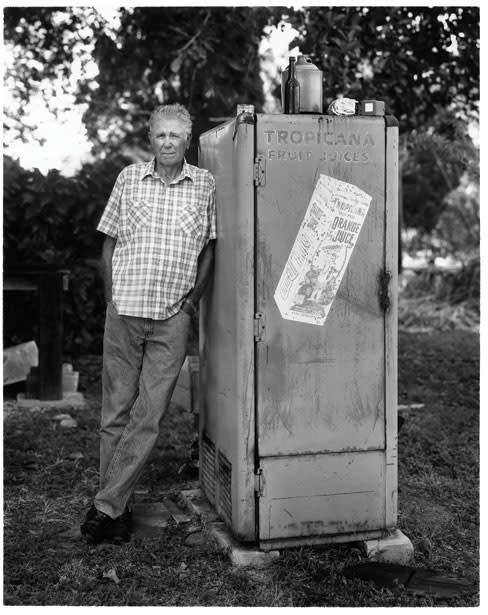 Willis Underwood, commercial fisherman/mullet smoker
At the age of 16, Willis Underwood quit school and built his first fish "smokehouse." "I was sellin' enough [fish] to get money to go to the movies," he explained. In 1932, at age 19, Willis began his commercial fishing career with the notorious "rum runner" Ed Mead. Together, using cotton nets, they fished the bays and backwaters from Tampa Bay south to the Manatee River.
Willis in his yard with his favorite mullet smoker, a converted juice cooler. Terra Ceia, Florida. 1999
This article appears in the August 2014 issue of Sarasota Magazine. Click here to subscribe. >>