Article
Behind the Scenes of The Ringling's Art Conservation Lab
Inside the Ringling Museum's high-tech art conservation lab with new chief Barbara Ramsay.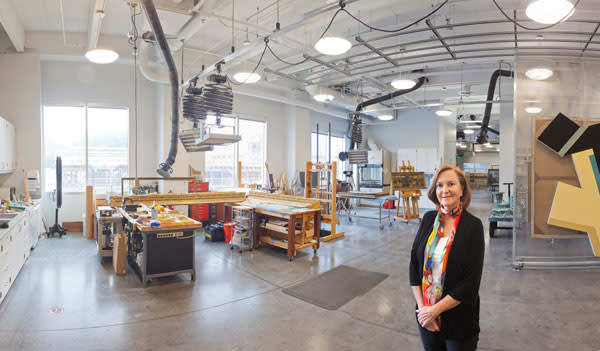 With more than 15,000 paintings, sculptures, decorative objects and more in the collection at the John and Mable Ringling Museum of Art, head conservator Barbara Ramsay has a big job. She's responsible for cleaning, maintaining, restoring, protecting and doing whatever else is needed to preserve the beauty and authenticity of the art. Her office? The Ringling's 4,300-square-foot art conservation lab, which was built in 2006. (Ramsay began her tenure this past January.) Now she's tackling the daunting task of cataloguing the lab's tools and equipment, while preparing artworks for upcoming exhibitions or loans to other museums. "Anything you do can damage a work of art," she says. "And there's an ethical consideration. You have to make it look closer to what the artist intended."
Factoids
Ramsay has a Bachelor of Science degree in biology and a Master of Arts Conservation in Fine Arts. "I had to do something in art, but I didn't want to give up science," she says of her career.
NULITE full-color-spectrum lights are part of the lab's high-tech tools, which also include a vacuum hot table, infrared reflectography and a varnish spray room.
The north-facing windows provide consistent, diffuse natural sunlight—important for color matching.
Eventually, Ramsay hopes for five or six full-time conservators specializing in various media, plus fellows who will come here to learn their craft.
Frames are works of art, too, and may have to be repaired or fabricated to suit the aesthetics and history of the artwork they surround.
Possible damages affecting paintings include bulges, dents, aged or imperfect varnish and even past attempts at restoration or retouching. "You don't automatically remove everything," says Ramsay of modifications added to works over the years. "That's part of the piece's history."
"A lot of work is done with a scalpel under a microscope," says Ramsay.
70 degrees, 50 percent relative humidity: Constant conditions in the room, suitable for a wide range of media.
Artwork travels the short distance between museum buildings by truck in order to avoid harsh outdoor conditions.
In addition to science, art conservation emphasizes ethical considerations; conservationists strive to maintain the artist's original intent.
To see past Freeze Frames, click here. >>
This article appears in the August 2014 issue of Sarasota Magazine. Click here to subscribe. >>