Article
Banyan Theater Company's The Sty of the Blind Pig
Arts editor Kay Kipling reviews this seldom-seen play, set in 1955.
[caption id="attachment_1691" align="alignnone" width="488"]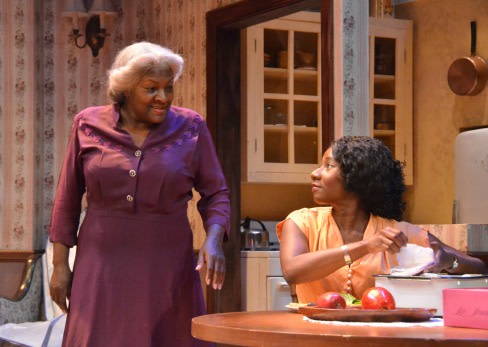 Cassandra Small and Kimberly Webb in The Sty of the Blind Pig. Photo by Gary W. Sweetman[/caption]
By Kay Kipling
The Banyan Theater Company's production of playwright Phillip Hayes Dean's The Sty of the Blind Pig is a pretty rare one; the show has not been seen that much since its debut in the early 1970s, when it received positive reviews. As such, the piece offers a look into a slice of life not often presented onstage, centering on several African-American characters, living on the south Side of Chicago in 1955, before the civil rights movement in this country had really taken hold.
It's potentially intriguing, a mix of comedy and drama that introduces to us the strait-laced, religious Weedy (Cassandra Small); her 30-something daughter, Alberta, oppressed by duty and drudgery (Kimberly Webb); Weedy's free-living brother, Doc, a gambler with a high-flying Beale Street past (Alan Bomar Jones); and, eventually, the catalyst for the play's action, a blind street singer named Blind Jordan (Ron Bobb-Semple), who knocks on the door one day in search of a mysterious missing woman. (That her name is Grace may be something more than a coincidence.)
But the potential isn't fully reached in this production, directed by Mark Clayton Southers. Too often the play feels weighted down by exposition; not much really happens here until well through the second act, and then, in a lengthy sequence recalling a funeral that should move us deeply, we are instead left feeling awkwardly squirmy.
[caption id="attachment_1693" align="alignnone" width="488"]
Cassandra Small and Alan Bomar Jones. Photo by Gary W. Sweetman[/caption]
There's also some hesitation on the part of the cast (with the exception of Jones, who provides some welcome lively conversation and style). Small is often strong as the domineering Weedy, who is wearing down her daughter with constant criticism and demands, but she occasionally stumbles over a line, taking us out of the moment.
More problematic, however, is the relationship between Jordan and Alberta. We can understand, in Dean's script, Alberta's loneliness and spinsterhood as a reason for allowing him into her house and even her heart. But Bobb-Semple (previously seen in a more effective performance at the Banyan in Athol Fugard's A Lesson from Aloes) and Webb, a Banyan newcomer, don't have any chemistry together. (The guitar slung over his back, by the way, feels just an encumbering prop, since he never plays it.) And while one feels sympathy for Alberta's plight, Webb does not really deliver the full complexities and pathos of her character.
That said, Dean's dialogue here is truly reflective of how these people would speak, in this place and time (also well represented by the spare shabbiness of Rick Cannon's set design). Towards the end of the play, we feel portents of what's to come in the lives of people like these, as Weedy returns from a trip to Montgomery, Ala., grumbling about the bus boycott, and Doc mentions, fleetingly and wrongly, that there won't be any of that kind of trouble in Memphis.
But at nearly 2 hours and 30 minutes, The Sty of the Blind Pig requires patience on the part of the viewer, to wait for the best nuggets of the story and these characters to appear.
The production continues through Aug. 3 at the Cook Theatre; for tickets call 351-2808 or go to banyantheatercompany.com