Article
How to Create World-Class Sarasota Cultural District in Sarasota
With other Florida cities building dynamic downtown cultural parks, it's time for Sarasota's plan to get off the ground.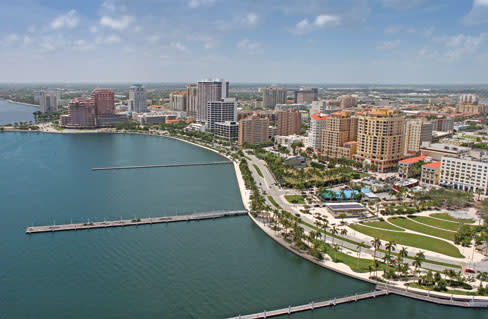 Up and down Florida's coasts, cities are transforming their public waterfronts into lively destinations, from West Palm Beach's $30-million Waterfront and City Commons project, with its mile-long, palm-lined esplanade along the Intracoastal, to our neighbor Bradenton's  popular new 1.25-mile Riverwalk promenade, which has drawn a half-million visitors since opening in late 2012. People throng to these waterfront parks, which often include museums or other cultural facilities along with shops and restaurants, to attend concerts and festivals and to simply enjoy the beauty of their natural surroundings.
Now Sarasota has what Visit Sarasota County board chair Michael Klauber calls "an urgent, once-in-a-generation chance" to create a world-class waterfront destination of our own.
Klauber is talking about the development of a bona-fide cultural park on the 42 acres between Boulevard of the Arts and Centennial Park, an idea that civic leaders have been kicking around since Andres Duany's downtown master plan charrettes in the late 1990s. Today, with an additional two properties to the immediate south in play—the recently vacated G.WIZ science museum and the empty, 15-acre Quay site (back on the market after a deal fell through in April between a would-be Jacksonville developer and its owner, the Irish government)—efforts to make a park happen are being re-energized, spurred on in large part by Klauber and Visit Sarasota County's executive director Virginia Haley.
Klauber and Haley are even throwing into the possible mix the 30 acres just east of Tamiami Trail, site of the ill-fated Proscenium multi-use project. Haley admits that it would be a challenge to incorporate that property into a cultural district. "It's no longer assembled as one piece, there are still a couple of stray lawsuits, and people have been looking at it for different things, a hotel, etc.," she says.  But when you're thinking about a future cultural park, she says, "It's hard not to start dreaming."
That totals nearly 75 acres—45, even without the Proscenium land. "We're not going to see this conglomeration of property again in our lifetime," says Klauber. "This isn't just about the city; it's about the whole region. We call ourselves the cultural arts center of Florida. This is an opportunity to put that on the map in a big way."
He and Haley have been meeting quietly with arts organizations and exhorting city leaders to take a second, deeper look at its Cultural Park Concept Plan, adopted by the city commission in 2007 but sitting on a shelf at City Hall since 2008—yet another victim of the Great Recession. "What killed it more than anything was the economy, not only because the city didn't have any money for infrastructure, but because the performing arts groups [who had hoped to build facilities there] were hurting, too," says chief planner Steve Stancel.
Many of the elements of that 2007 plan, created by the New York-based consulting firm of Cooper, Robertson and Partners after four years of extensive community input, are still relevant and appealing—especially its central vision: "The Cultural Park should be developed as a place for all Sarasotans."
Indeed, when longtime Charleston, S.C. mayor Joe Riley visited Sarasota in 2007 to speak to the Downtown Partnership, he stressed the vital role that citizen access to Charleston Waterfront Park—which has become the city's No. 1 attraction—has played in the revival of his city and the lives of its people. He spoke about a severely disabled man who told Riley that going to the park every day has inspired his life. "The great cities in the world are those that seek to maximize the average citizen's access to public places," Riley said. "If it's one of the nicest places in a city and you give citizens access to it, you're giving them ownership of something that's very special."
The 2007 plan also calls for developing much of the vast 862-space Van Wezel parking lot that borders Sarasota Bay into a lush green public space, with an area for small-scale outdoor concerts and an expanded sidewalk that becomes a true promenade for strolling, jogging, fishing and picnicking along the bay. An 1,800-space parking garage would be built just west of the Municipal Auditorium.
Penciled in on the northern edge at Payne Terminal, the waterfront inlet facing the Centennial Park boat ramps, are retail shops and perhaps a small restaurant with outdoor tables where people could gather for lunch or pre-theater dinner. A new fishing pier would extend out into the bay. The Coast Guard station there would be moved to another location altogether.  The 2007 plan also includes in two buildings it identifies as "major cultural." (Is one of these the concert hall that the Sarasota Orchestra has been dreaming about for more than a decade?)
And now, with the G.WIZ building and Sarasota Quay empty, the park could be even more ambitious and exciting. The G.WIZ building could hold a cultural or scientific attraction—perhaps, as on one county commissioner suggested last spring, Mote could develop an aquarium there, or maybe it could house a community center or one of Sarasota's successful lifelong learning institutes.
Haley goes one bold step further. What if, she asks, instead of the condos and retail that have been talked about for the vacant Quay property, a major corporation with deep pockets and hundreds of employees decided to relocate there, set down roots and invest in the neighborhood's revitalization—like Zappos is doing in Las Vegas, Twitter in San Francisco, and Quicken Loans in Detroit?
A revived economy isn't the only reason the time is right to reconsider a cultural park, says Haley. When the plan was first proposed, some of the arts groups involved began bickering over the size and location of their buildings. But now, she says, arts organizations are less territorial and more open-minded about what the district could become. "In talking to all of them, from the Players to the ballet, Asolo Rep, Van Wezel Foundation, everybody is ready to look at the next step," she says. "They're saying, 'We've survived the last five years, we learned a lot from that, and if we want to thrive artistically, we need to look at our capital needs.'"
Late last December, Visit Sarasota County sent the city commission a manifesto in the form of a "Sarasota Bayfront 20:20 Vision Statement," which calls the effort "an urgent, once-in-a-generation chance to engage in a visionary process that will create a sustainable source of jobs and enhance both economic and cultural development." In March, city planner Stancel updated city commissioners on the 2007 Cultural District plan.  Commissioners voted at that time to put a 120-day hold on the issue until Haley, Klauber and their grassroots group could do further research.
"The city said, 'We love that you're reaching out to people, keep it up, but we're not ready to hire a consultant,' '' Haley says. Meanwhile, Visit Sarasota County retained the urban planning firm HR&A Advisors, an advisor to such successful redevelopment projects as the High Line linear park in Manhattan, for a one-day "intensive community redevelopment 101," as she calls it. At press time, Haley and Klauber were preparing to go to New York to ask the firm, she says, "How did these other communities get these things off the ground?" Visit Sarasota County, she says, will go back to the city commission later this summer to share what they learned and plan the next steps.
"The Sarasota bayfront can be a real driver of economic development and revitalization," says Alex Stokes, a senior consultant at HR&A Advisors. As it happens, Stokes grew up in Sarasota, and knows firsthand how attractive the site of the proposed park is. "Downtown Sarasota and the bayfront are very close to my heart; every time I go home I take the LeBarge bay cruise," he says.
Stokes points to New York City's waterfront, much of which has been transformed in the past several years from industrial use to open public space. On the west side, for example, the five-mile Hudson River Park under development between West 59th Street and Battery Park—with its bike trails, kayak launches, dog runs, art installations and repurposed piers that house everything from batting cages to beach volleyball—has made a huge impact on the surrounding neighborhoods. "There's a lot more energy, restaurants, retail around it," he says. "The whole city benefits as a result of this relatively modest investment in the waterfront."
It's important to realize, he says, that projects like this don't happen overnight. "They'd been talking about Brooklyn Bridge Park [a HR&A project right across the bridge from lower Manhattan] for 20 years, and nothing happened," says Stokes. "It took a creative funding strategy with public-private capital investments, figuring out how the park would support itself over time, to eventually get everyone on the same page."
Getting everyone on the same page in often contentious Sarasota is not the only challenge. Myriad issues make creating a successful cultural park for Sarasota arduous—from establishing what the consultants call "an identifiable front-door image" on Tamiami Trail to creating pedestrian connections to the bayfront across the Trail at 10th Street and Boulevard of the Arts. (For some possible solutions, see "Bright Ideas," below.)
But other communities have surmounted such challenges, and Haley believes we can, too. "It takes a long-term vision," she says.  "This is something we will never see completed in our lifetime. I'd rather take it slow up-front so everyone feels they've had a chance to be involved."
Bright Ideas
Bring in a restaurant and a couple of shops.
Integrating food and beverage adds to the appeal of a cultural park for everybody from downtown workers on lunch break to theatergoers enjoying a pre-dinner drink. Bryant Park, adjacent to the New York Public Library, with its food kiosks and tables, is an excellent example. But it's especially helpful on this property. "If you're creating a park that's a little cut off from the core of the city [like the Cultural Park], having some kind of anchor to draw people there is a great strategy to 'activate' space," says Alex Stokes of New York urban planning firm HR&A Advisors. "And you're generating funds to make the park sustainable." A few shops can also provide entertainment, attract people and provide a revenue stream.
Expand the sculpture garden on the Van Wezel bayfront lawn.
Sure, a few first-rate sculptures are scattered outside around the Van Wezel—among them David Davis's tridentlike "Applause," in the front circle; "Facts of Life," a charming Glenna Goodacre sculpture of three youngsters perched on a wall on the bayside terrace; Sophie Johnstone's metal and glass sculpture, "The Secret," also on the bayside terrace. But wouldn't it add to the excitement of the cultural park if a true sculpture garden were installed on the Van Wezel bayfront lawn? Sounds like a project for those good folks at Sarasota Season of Sculpture.
Crossing the Trail
Four lanes of heavily traveled Tamiami Trail stand in the way of pedestrians comfortably reaching the future cultural park. Roundabouts to calm traffic are planned for the Trail at 10th and 14th streets, but is this time to talk about building a pedestrian overpass? Stokes says they can work, but they're "the second best way to get pedestrians from one way to another. The best strategy would not be a highway in the first place. In Sarasota that's a complicated process." He cites Seattle's current efforts to move its Alaskan Way—a two-story highway that separates the city from its waterfront—underground. "It's a much more ambitious effort to rectify the ills of cutting Seattle off from its waterfront," he says.
Commute by Water
Water taxi networks are coming back to a lot of American cities; Seattle's is part of its municipal transportation system, and in Boston you can even take a water taxi to and from Logan Airport. What about regular water taxi service between the Cultural District and Ken Thompson Park? Longboat Key residents or visitors could avoid the in-season traffic jams around St. Armands Circle by parking their cars at Ken Thompson Park and enjoying a pretty boat ride across the bay to attend a show at Van Wezel or special event at the cultural park.
Headquarters at the Quay
"Younger workers are seeking a different kind of work environment," says Stokes. "They don't want to work in or commute to suburban office campuses an hour away from where they live. They want to live and work in more vibrant mixed-use districts." More and more, it's a strategic move that corporations are making."
To see the City of Sarasota's 2007 Cultural District Concept Plan in its entirety, click here.
For more Sarasota arts and entertainment news, click here. >>
This article appears in the July 2014 issue of Sarasota Magazine. Like what you read? Click here to subscribe. >>