Article
WEDU Celebrates Return of "Downton Abbey" at Cafe L'Europe
WEDU celebrates the return of Downton Abbey with a sumptuous dinner at Cafe L'Europe.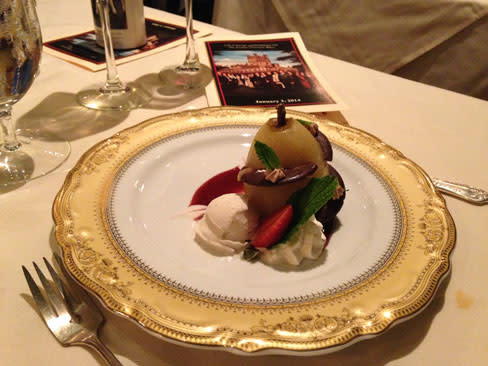 Oh, to live like privileged Lord and Lady Grantham, ensconced in their grand Downton Abbey, swanned over by scads of scullery maids, dressing to the nines for dinner every evening and reaching confidently for their fish forks as platters of Dover sole swam by. 
Of course, as viewers of the wildly popular PBS Masterpiece series know, life is not a bowl of cherries for the complicated Crawley family, or for their tightly knit servants who keep the mansion's more than 200 rooms tiptop.
Excitement has been mounting for the Jan. 5 premiere of Season 4, and WEDU Public Television helped stoke the furor Friday night with a lavish, five-course Downton Abbey dinner at Café L'Europe.
To refresh our memories before the dinner, we went to the PBS Masterpiece website, where we caught a sneak peek scene from the upcoming season, watched a video interview with "historical oracle" Alastair Bruce, and took the quiz, "Which Downton Abbey couple are you?" (Sample question: "Others may not understand, but I'm mad about his: 1. Ex-girlfriend 2. Uniform. 3. Limp")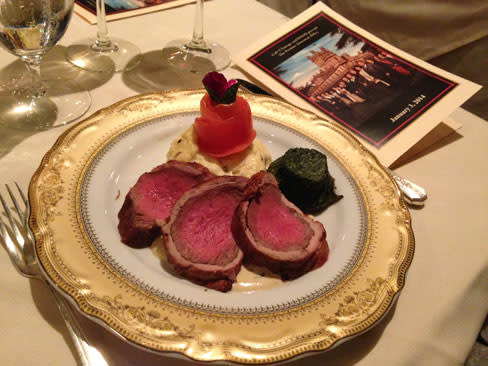 Then it was off to Café L'Europe. After cocktail hour, where sidecars were gaily consumed by the tuxedo and gown-clad crowd, white-gloved waiters served the sumptuous dinner. On the menu were lobster bisque, watercress salad with Stilton cheese, pan-seared North Sea Dover sole, veal-wrapped tenderloin of beef with English mustard sauce and English peas and potatoes, and Pear Melba Surprise.
The evening got giddier as Downton Abbey-branded wines were poured. And in between courses, the most delicious surprises of all: A young soprano serenaded us with period art songs, a bagpiper paraded through the dining room with a rousing God Save the Queen; and classical singer Jeanette Lavoy channeled the great Australian opera soprano, Nellie Melba, whom Kiri Te Kanawa portrays in Season 4.
The good folks at WEDU billed it as "An Evening to Remember," and we heartily concur. – Ilene Denton