Article
Take a Tour of The Ringling's "Living Collections" on Bayfront Gardens Walk
Ilene Denton admires The Ringling's beautiful plant life on its new Bayfront Gardens Tour.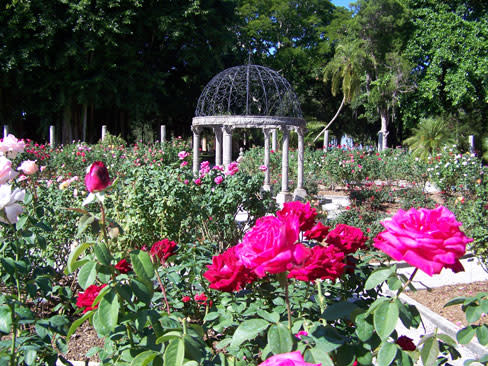 No matter how often you've been to the Ringling Museum, its brand-new guided Bayfront Gardens Tour—leaving from the Visitor Center at 10:30 a.m. Friday and Saturday mornings, weather permitting—is still full of surprises.
We participated in the very first tour this Friday morning with nine other museum-goers, led by knowledgeable and enthusiastic volunteer docents Sheri Philpott and Leone Levy. They promised a look at the museum's "living collections" and an overview of the development of John Ringling's historic estate—"90 minutes to cover a mile chock-full of interesting things," says Philpott. They did not disappoint.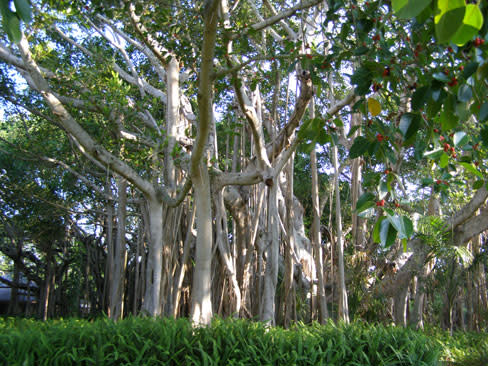 Among the treasures they pointed out that I have walked past a million times without really seeing were an African tulip tree with spectacular bright orange blossoms; a bo tree, the same kind that Buddha sat under to receive enlightenment; a fragrant allspice tree; and a dinner-plate tree. We stopped at a rainbow eucalyptus tree and learned that, as its smooth trunk takes in water, it swells and its bark peels in a rainbow of different colors in each layer.
Mable Ringling's rose garden, of course, was on the tour, and our guides talked about how she created it in a formal Italian wagon-wheel design. When it was completed, Mable could enjoy the rose garden from her Ca d'Zan bedroom window; today, of course, it's blocked by swathes of magnificent banyan trees. Today, more than 1,200 rose bushes make up her rose garden. While there was lots to see—and smell—right now, they're in full bloom in from late March through April.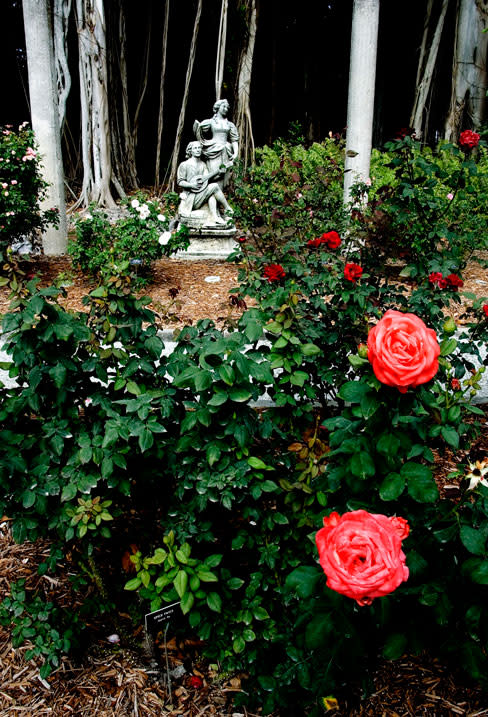 The Bayfront Gardens Tour also stops on the Ca d'Zan's great lawn to marvel at a sausage tree, and winds through the Ringlings' Secret Garden, through the urban forest, the museum courtyard and the dwarf garden.
If you are a plant lover, like me, it's a delightful way to spend a morning.
Bayfront Garden Tours are $20; $10 for members. Tickets can be purchased in the Visitor Center. For more information, visit ringling.org.