Article
Five Questions with Author Kitty Kelley
Bestselling author Kitty Kelley returns to the Women's Resource Center to discuss her new book about the March on Washington.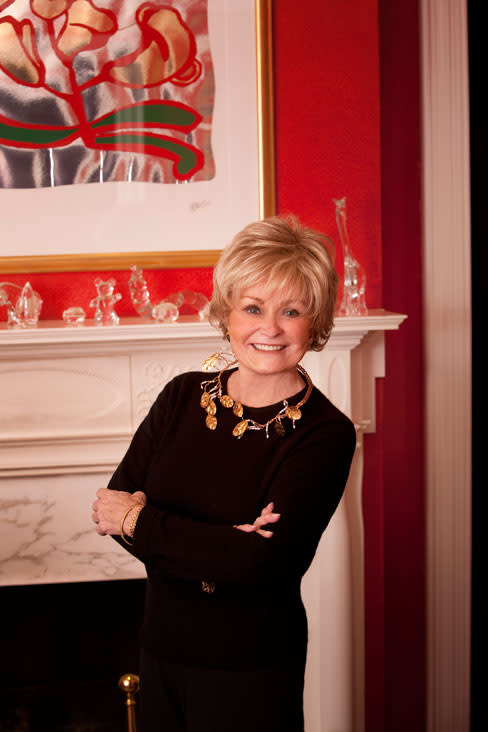 Bestselling author Kitty Kelley—known for her biographies about Jacqueline Kennedy O'Nassis, Frank Sinatra, the Bushes and Oprah Winfrey—will return to the Women's Resource Center next Monday, February 3, to share her thoughts on writing her latest book, Let Freedom Ring: Stanley Tretick's Iconic Images of the March on Washington.
We asked Kelley what inspired her to write Let Freedom Ring, what the research process was like and what's next for her.
What made you decide to write this book?
Years ago, I inherited the photo archive of Stanley Tretick, and when I was going through it, I found all these wonderful photos of the Kennedys, and with them I put together my [last] book, Capturing Camelot. When I was doing that, I came across 100-200 pictures of the March on Washington that had never been published before.
So I went to my publisher and said, "The 50th anniversary of the march is coming up. I think these pictures need to be shared, and I'd love to do this book."
What was the research process like?
It was much more difficult [than Capturing Camelot]. All of the speakers at the march, with the exception of Congressman John Lewis, are dead, so I had to deal with their estates. But each one, including the estate of Martin Luther King Jr., was so generous. In fact, I had never seen a photograph of Martin Luther King Jr. smiling or laughing, and there is a picture of him smiling on page 144 of the book—that in and of itself was almost worth doing the book for.
And when it comes down to it, the book is not just a biography of a day in our lives; it's also about the tussle between John F. Kennedy and Martin Luther King Jr. about whether the march would take place, and how. Kennedy had made a wonderful speech—the most noble of his presidency, I think—in June of 1963 in which he talked about civil rights being the moral right, and how the country had to back civil rights. So it surprised me how against the march the Kennedys were, and it was fascinating to see how they finally came together.
Did anything else surprise you?
Martin Luther King Jr. was a visionary, of course, and that came across as I did the research for this book. At the time they were planning the march, the six major civil rights leaders were all African American, but King said they needed a broader base—that these weren't just black rights, they were human rights. He reached out to churches and schools and encouraged everyone to embrace Muslims, Jews, Catholics, Protestants of all denominations, and that's what they did.And they made the march an international event. People marched in unison in Paris, Berlin, Amsterdam…everyone came forward. There were 1,600 press passes issued, and most of them were international. It was a huge event in Washington.
What do you hope people will take away from this book—especially readers who weren't alive during this time period?
I hope they'll see that the March on Washington was a seminal moment in history, and that even though it was 50 years ago and yes, there has been great progress, there's still so much more to do. And I hope readers will feel a debt that they owe to the foot soldiers in the early days of the civil rights movement, and that—in a sense—they'll still keep marching. They don't have to band together and bring 300,000 people to the foot of the Lincoln Memorial; they just have to realize there's still a cause that hasn't been fulfilled.
What's next for you?
I don't know! I truly don't. I'm thinking about a couple of things, but I haven't decided yet—although I will. I want to keep working the rest of my life. I love the idea of reading and learning and writing about it, but I just don't know what the next project will be yet.
To purchase tickets to the Women's Resource Center "Let Freedom Ring" luncheon, click here. >>