Article
Sarasota Chalk Festival Artist Julie Kirk Follows Her Passion
Julie Kirk, a 20-year street painting veteran, will make her Sarasota debut at this year's Chalk Festival, Nov. 13-18, 2013.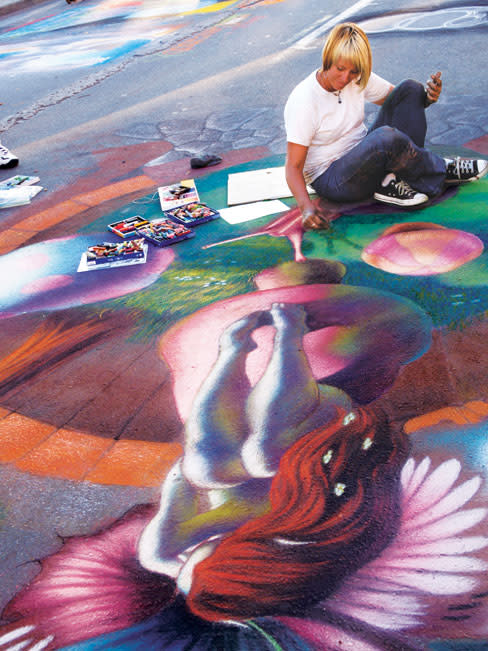 Julie Kirk, a 20-year street-painting veteran, works all over the world. She'll be making her Sarasota debut during this year's Chalk Festival, Nov. 13-18. We asked her about her process—and passion.
"There's a romanticism in street painting. It's physical and mental—and sometimes environmental—and as an artist you're trying to overcome all of that to get something done, and then it has such a temporary existence. Having an ephemeral piece of art doesn't make me sad, though. Most cultures have some sort of ephemeral art, whether it's sandcastles or street paintings; these things are meant to be enjoyed in the moment."
"When I get an idea, I usually do some rough pen work. I prefer to design the drawing separately and avoid working straight from photo references. This takes the painting away from simply being a copy of a photo."
"One of my favorite experiences was at the 2004 Tebesir Street Painting Festival in Istanbul. It was the country's first street painting festival, put on for charity because there was so much poverty after the devastating earthquake a year beforehand. I don't even know how many people came by and thanked us for bringing them something so beautiful. You could see how much it meant to them."
"If the weather's miserable, it can be really hard. In the heat you have to worry about the asphalt burning your fingers, and your sweat dripping down onto your painting. In Denver, I spent three days on a painting that I loved, and it was washed away before I could finish and get a picture of it."
"It's important to not walk through the paintings or the borders separating the artists. The artist only gets this one square, this one boundary. Also, watch your dogs! I was working on a large collaborative picture of Michelangelo and a dog walked right into the middle of the painting!"
"A good street painter should have an open mind. One should be willing to make mistakes. It can be difficult for some people to do that because they're creating art in front of everybody; they're not in their studio where they can just trash the piece if they don't like it. Sometimes you can know by the crowd reaction that you kind of bombed something, and it's not the best feeling. But it's the only way to learn. If all you want is the glory then you're never going to grow, because you won't take chances."—Interview by Taylor Meredith
Factoids
Teamwork >>
Street painters often collaborate on large pieces. "I really enjoy working together to create one thing with different techniques and skills," says Kirk.
Teaching >>
Kirk teaches drawing and painting at Irvine Valley College. "I enjoy passing on knowledge and watching it click," she says.
History >>
Street paintings originated in Southern Italy 500 years ago. Traveling artists would create small paintings—typically the Madonna.
The Festival >>
Artists will spend about 12 hours a day for three days in order to complete their pieces. The theme this year is Legacy of Valor.
Inspiration >>
"I've admired [painter] Kurt Wenner for 25 years," Kirk says. Wenner will present an original composition at the Chalk Festival.