Article
Go Inside Asolo Repertory Theatre's Costume Shop
A look inside Sarasota's Asolo Rep costume shop.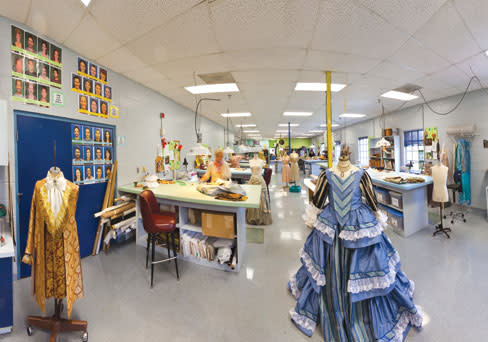 The big, immaculate Asolo costume shop has an air of Zen-like calm, but it's actually a hive of activity, where a small team will create 600 costumes this season for multiple productions, each with unyielding deadlines and directors and actors—and often guest designers—with strong opinions about every garment. The workers stitch together thousands of different fabrics and trimmings to create costumes for many different historical periods. They can also pull from an astonishing inventory that includes tens of thousands of costumes dating back to the 1960s. It could be a recipe for chaos, but under the direction of longtime manager David Covach, the place is as meticulously organized as it is creatively inspired.
FACTOIDS
8: Number of employees working in the shop. Their backgrounds range from master's in theater to home sewing.
At every show, there's a backstage costume person to sew on buttons, repair zippers, iron, oversee laundry and address other emergencies.
A creation for School for Lies employs intricate textural embellishments, including custom-dyed and stitched ribbons on the bodice.
Covach's sketches and fabric samples for the costumes in the foreground. Fabrics were purchased locally and in New York.
A "Rogue's Gallery" of Conservatory students helps workers know the students they'll be clothing.
Here and at right, man's coat and vest and a bustle day dress, designed by Covach for the Conservatory's School for Lies, set in the 1770s, on stage through Nov. 17.
Biggest challenge? Creating costumes for 1996's Nicholas Nickleby, an eight-hour production requiring 400 period costumes.
It can take up to a month to create an elaborate period costume.
$30,000: The costume budget for this month's Show Boat.
A storage area holds hundreds of costumes and bins—135 bins just for different styles of hats! Many thousands more costumes are stored offsite.
$500: The cost of materials for the average costume made by the shop.
Vintage dresses for The Grapes of Wrath. They'll be "aged" further for the Dust Bowl era, a process that can employ everything from cheese graters and industrial sanders to detergents.