Article
Anna Paquin Screens Her New Film, "Free Ride," at Ringling College
Actors Anna Paquin and Stephen Moyer, writer/director Shana Betz and producers Cerise and Mark Larkin screen their new film, Free Ride, at Ringling College.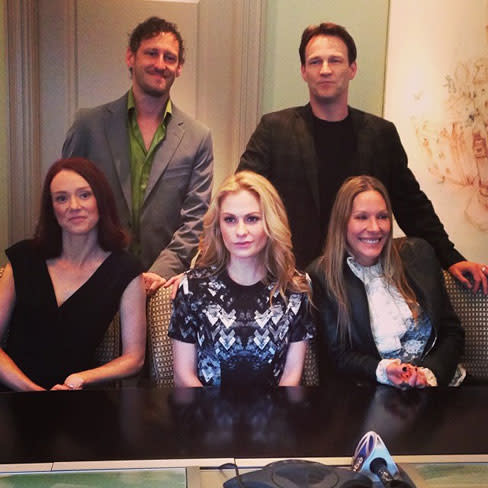 What do you get when you combine A-list movie stars, Ringling College of Art and Design students and Sarasota's abundance of resources? You get Free Ride, the new film from writer/director Shana Betz that stars True Blood's Anna Paquin as a mother of two young children who happens to be a drug runner.
Based on Betz's own life—she was the youngest of her drug-runner mother's two daughters—the film was shot entirely in Sarasota County with tremendous help from both Ringling College and the local community. Though the story is set in the 1970s in Fort Lauderdale, where Betz grew up, she and her team found Sarasota to be the perfect location because, she says, of "how well it's been preserved."
And after a meeting with actor Stephen Moyer, who suggested his wife—that would be Paquin—for the lead role, things really started to come together, especially after Paquin, Moyer and producers Cerise and Mark Larkin were introduced to Future of Films co-founder and Ringling Digital Filmmaking Studio Lab partner David Shapiro.
"We were introduced to David by Anna's manager," remembers Cerise Larkin. "And within minutes, David was asking how he could help our film and introducing us to [Ringling College president] Larry Thompson. Within a couple of days, we'd been provided with so much."
The kicker: Moyer and Betz met in early September 2011; they quickly realized they'd need to be finished filming by Nov. 24, because Paquin and Moyer (who worked on the film as a producer) had to start filming True Blood on Nov. 28.
So with an almost unheard-of three weeks' prep time, just 24 days to shoot and a tiny budget, the team descended on Sarasota and set to work. And the support they got from Ringling College and the community far exceeded their expectations.
"We came here and people were like, 'What can we give you? How can we help you?'" says Paquin. "It was like, 'Are you kidding me? Thank you!'"
"It was almost innocent, in a way," adds Moyer. "When you first start in this business, all people want to do is be a part of it. And as any of us can attest, it's not that simple—people put obstacles in your way. But here, it was all about opening doors in a way that would never happen anywhere else."
Paquin also notes that the way the film was made reflects the movie's story itself. "There's something beautiful about the fact that we're telling a story about a mother who was doing as much as she could with as little as possible," she explains. "That's the way we shot the film. There's a sort of symmetry to that."
And even with their small budget, where it may have been easy to overlook the little details, Paquin notes how important those things are to a period film. So that meant the Free Ride team had to find costumes, scout locations (like the old Sarasota High School, soon to be the Sarasota Museum of Art) and, notably, corral 29 period vehicles—including boats—for less than $5,000. (They did it all.) And once again, Paquin, Moyer and the Larkins say, the community came through on all of it.
"A lot of times you go into a city to shoot and you have this experience of people being like, 'Yeah, sure, come shoot here—how much you got?' as opposed to what we got, which was, 'We'd love to be a part of your story, we believe in this creative process, this story, these filmmakers,'" Paquin says.
"I've heard stories about films where someone will go park his car on a street on a set just to get paid $5,000 to move it!" says Moyer. "Or leaf blowers who suddenly show up when you're shooting in L.A., or ice cream truck drivers who decide they need to play their sirens over and over again," Paquin says with a laugh. "So when you walk into a community like this, that a school like Ringling has obviously organically grown out of, it speaks to its attitude towards the arts. We couldn't be more grateful."
Read past interviews with Ringling College Digital Filmmaking Studio Lab guests Martha Stewart, Dylan McDermott and Justin Long. >>