Article
Actor Justin Long Kicks Off 2013-2014 Ringling College Digital Filmmaking Studio Lab
Long is the first guest in this year's 2013-2014 Ringling College Digital Filmmaking Studio Lab lineup.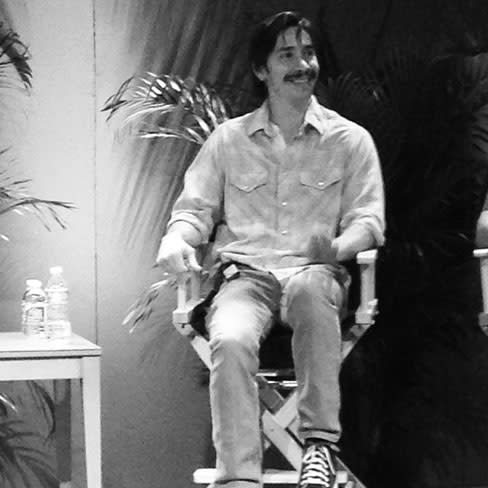 Here's the thing about Justin Long: He's much more than just the guy from the Mac vs. PC commercials. His filmography—which ranges from the TV show Ed to the comedy Dodgeball to rom-coms like Going the Distance and He's Just Not That Into You—is impressive, and he can now add "screenwriter" and "producer" to his resume, thanks to his new film, A Case of You.
He's also incredibly nice. Case in point: "I'm happy to stay longer and answer questions if you guys have more," he told the packed crowd after his Q&A following a screening of A Case of You at Ringling College on Saturday night. And you could tell he meant it.
Long kicked off this year's Digital Filmmaking Studio Lab at Ringling College, a program he was already familiar with after visiting the college last year with Studio Lab guest Sam Rockwell. And like other visiting actors, he was immediately impressed with the work Ringling students are producing. "I'll be asking them for jobs one day soon," he jokes.
As for his own work, A Case of You will be released on November 6, and Long is proud of the film, which he began writing with his brother, Christian, and actor Keir O'Donnell in 2008. "We sort of holed up in my cabin in Massachusetts and listened to a lot of Joni Mitchell, Joan Baez—a lot of '60s folksy rock," he says, laughing. "We got together just to see what would come of it. And then when Evan [Rachel Wood, the female lead] read the script and responded positively to it, we thought, 'This could get made.'"
[iframe][/iframe]
The film centers around a struggling writer—Sam, played by Long—who meets his dream girl, Wood's character Birdie, and then cyber-stalks her via her Facebook page, changing his whole life so he can become the man he thinks she wants. Vince Vaughn, Busy Phillips, Peter Dinklage, Brendan Fraser and O'Donnell also make appearances.
Long admits that some of the action in the film is indeed autobiographical, but is quick to profess that he's reticent to use social media or new technology much himself, and he has never dabbled in online dating (although he is active on Twitter). "I'm not really into it," he says. "Even with texting—you think, 'How many exclamation points should I use? What does it mean?' And emoticons are an entire Pandora's box. It's a world that scares and intrigues me, mostly because I'm unfamiliar with it."
But the irony of filming more than 200 commercials for Apple (about 60 of which actually aired, according to Long) isn't lost on him. "It's funny, because of the Apple commercials, people used to come up and ask me questions about computers," he recalls. And though he says these days he can tell which of his movies fans recognize him from based on "certain superficial qualities," he laughs when he recalls a "terrifying, enormous biker kind of guy" coming up and saying he recognized him from the movie He Just Ain't Feelin' You No More (aka He's Just Not That Into You).
Next up for Long: A Kevin Smith-directed horror film called Tusk in which his character turns into—wait for it—a walrus (and which is why he's sporting a mustache these days). He's also voicing the lead in F/X's upcoming animated series Unsupervised and the third film in the Alvin and the Chipmunks series.
And he's definitely planning on writing another script. "I've grown to love writing," he says. "And I'd love to direct."
We're certainly looking forward to seeing what's next.
This year's Ringling College Digital Filmmaking Studio Lab guests include Anna Paquin, Matt Dillon, Forrest Whitaker, Roman Coppola, Werner Herzog and Luke Wilson; Sarasota Magazine is proud to be the magazine sponsor for the program.