Article
An Interview with RIAF Performers Belarus Free Theatre
Belarus Free Theatre, a group of performers currently in political exile, will perform at the 2013 Ringling International Arts Festival in Sarasota.
[caption id="attachment_1775" align="alignnone" width="488"]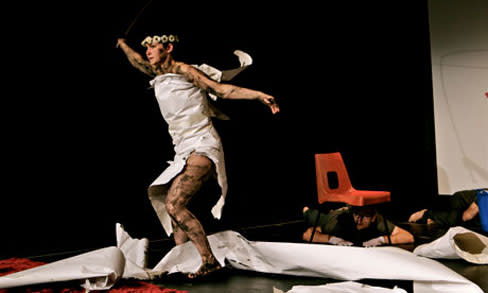 Belarus Free Theatre will perform Minsk '11 at this year's Ringling International Arts Festival.[/caption]
Founded in March 2005 by Natalia Kaliada and Nicolai Khalezin, the Belarus Free Theatre hails from a republic that's been overwhelmed by political exploitation and public fear. Due to the group's edgy performances, which are looked down upon by the Belarusian government, Kalida and Khalezin were forced to seek political asylum in the United Kingdom in 2011 following a national broadcast labeling them as public enemies.
Still, despite threats of imprisonment—or worse—Kaliada and Kahlezin continue to persevere for the sake of drawing attention to the corruption happening in Belarus under a president dubbed "the last dictator in Europe." The group holds teaching and directorial sessions via Skype for Belarusian theater students, and continues to help Belarusian thespians put on clandestine performances held in private homes, cafes or even in the forest.
Belarus Free Theatre will be performing at this year's Ringling International Arts Festival, which kicks off next Wednesday, October 9. We talked with Vladimir Shcherban, one of the founders of the Belarus Free Theatre, to find out more about the group's mission and what it hopes to accomplish with its performances.
What are some of your favorite productions or roles?
Although the Belarus Free Theatre will be nine years old next year, for a theater it is still young. Therefore, each performance is important and unique to us because in each we are taking on an important topic for us, as well as developing new performing practices and methodologies.
Any memorable performances that come to mind?
Of course Psychosis 4.48, based on Sarah Kane's play, which was the first performance of the BFT. From that performance we developed a system of show runs and a gathering of spectators. Also important was Nicolai Khalezin's Generation Jeans in Hradecek, presented in a country house (dacha) of our theater's patron, Czech president Vaclav Havel. Gradechek was a symbolic place for the democratic Czech Republic, where the performances were held underground during the Soviet occupation. It was also very exciting when Harold Pinter came to see Being Harold Pinter in London. With that performance we formulated our creative and civic creed, so Pinter became for us not only a playwright but a conscience in art. It was especially nice to receive praise from him for the performance.
But there are bad memories, too. For example, a performance in 2007 in Minsk ended without even starting because all of the actors and the audience were arrested. Additionally, we recently experienced unexpected emotions after the live stream of our performance King Lear from London's Globe Theater. Not only was it our first reference to the classic, but we played Shakespeare in the Belarusian language, which is essentially banned in Belarus. It was a very important event for Belarus.
Tell us about your method. Your website discusses "total immersion" and "the Universal Artist" techniques—can you describe these?
We are engaged in topical theater that works with documents, personal experiences and statistics. It's almost impossible to replace a participant of a performance because he is simultaneously a character, an actor, a playwright and a director. At the same time, our theater exists in extreme conditions, meaning you need to be always on guard and have very good organization. The Universal Artist is a person who is equally qualified for all the crafts in the theater, for whom the main task is to make topical theater acutely sensitive to the surrounding reality.
Total immersion is the result of our professional experiments, creative searches and developments. Four years ago, Natalia Kaliada, Nicolai Khalezin and I organized a theatrical laboratory (Fortinbras) for BFT, which became a real source of manpower for our theater. Today we have a two-year agreement with Falmouth University that takes our method of total immersion as a core program for education of theater professionals.
What are the main messages you hope to send through your work?
All we want to say is that a theater can be a very important place, not just one for empty entertainment. We say that art has no taboo subjects. A theater can be truly significant in responding to a reality. Any socio-political problem placed in the space of art goes beyond a particular case and obtains a powerful public importance. That makes theater emotional and passionate. We talk about what the audience would prefer remain silent.
Who or what are your inspirations?
Most of all I am inspired by our viewers in Belarus. Despite regular pressure from the authorities and a risk of arrest or expulsion from school and universities, we have the best audience in the world and their number is constantly growing. It is for them that we are performing, because we have not seen such a reaction in any other country.
Can you provide some insight as to the conditions in Belarus, and what has your experience in exile been like?
After the so-called presidential elections in 2010, which resulted in many democratic candidates in jail, our theater was seriously threatened. Many of the participants were unable to return home and became political refugees. Those who came back could not perform on a regular basis. In fact, we were scattered all over the world. Since then, we have found a method to maintain our theater's existence: Sometimes we all gather together abroad to create a show, but the main work has been done on Skype. We always find ways to work together, so nothing can stop our process. This is the idea of The Universal Artist in action.
The fact that the BFT still holds secret weekly performances and teaches uncensored theater to willing students in Belarus is promising. Do you think this has the potential to overthrow the dictatorship there?
Yes, we continue to perform, and no one can stop us. We are doing everything possible to bring information not only to our viewers in Belarus, but to the world. Attracting the world's attention to the violation of human rights in the heart of Europe is our main goal. Change starts there.
Read a preview of what you can expect at this year's Ringling International Arts Festival right here. >>