Article
Vintage Sarasota: Sarasota High School
This week's Vintage Sarasota photograph: Sarasota High School, circa 1940.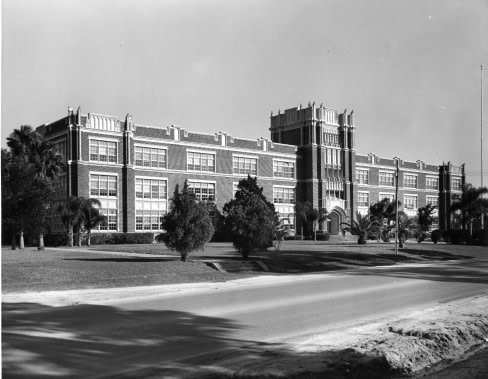 Sarasota High School (ca 1940). Though it is difficult to pinpoint the exact founding date of Sarasota High School, many sources point to September 15, 1913, when classes opened to a student body comprised of 200 girls and 153 boys. Prior to this, several other makeshift schools had been built, moved, and demolished since the first school in 1878. Growing population in Sarasota forced the location and size of the building to constantly shift, with additions made to accommodate multiple disciplines and grade levels. In 1927, the school was "recognized as one of the most modern and up-to-date in the entire South," according to the Sarasota Herald, with steel lockers, an internally regulated clock system, and laboratories that met the needs of the 1,000 person student body. -- Chelsey Lucas
Photo courtesy of the Sarasota County Department of Historical Resources.