Article
Ringling Museum Will Open New Asian Wing in 2015
From a new Asian wing for the Ringling Museum to a center for Chinese studies, Sarasota is embracing a diverse and exciting culture.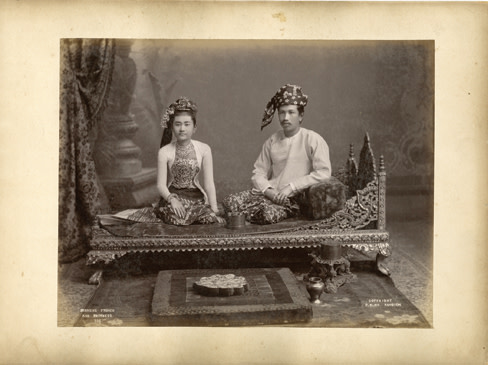 When you think of the Ringling Museum of Art, you probably tend to think of its famous Baroque collection, especially those magnificent Rubens works that overwhelm you when you enter the galleries. But that may change soon, as the museum embarks on a project that will shine the spotlight on its collections of Asian art.
Of course, museum founder John Ringling did collect some Asian art himself back in the day, including, says museum executive director Steven High, "the single largest collection of Cypriot pieces outside the Met," which, he adds, has been "totally uncelebrated." But the push behind an upcoming expansion of the museum's current West Galleries—and the addition of a jade pavilion also devoted to Asian works—comes because of the donations of one woman: Dr. Helga Wall-Apelt, a well-known Sarasota physician and collector who in 2006 agreed to give the museum a little over $4 million to construct the Wall-Apelt Center for Asian Art—along with making a bequest of her collection in her will.
The project was put on hold for several years because of the poor economy and the State of Florida's suspension of a matching grants program that was crucial to funding it. At risk of defaulting on Wall-Apelt's gift, the museum leadership eventually worked with its partners at Florida State University and the Ringling Museum Foundation to receive a bridge loan to make up the rest of the approximately $8.5 million budget for expansion and construction. Groundbreaking is set to take place later this summer; the exact date is pending until the return of Wall-Apelt from an extended trip to—where else?—Asia, so she can be here for the long-awaited moment. Completion should take about 18 months, with the new wing probably opening in early 2015.
"Currently we have a series of world-class collections, including the Baroque, Renaissance, circus and the James Turrell Skyspace," says High. "What we will do with the new Asian wing is tell a story and build a collection that's also world-class. It won't be encyclopedic, but it will have definite areas of strength, including 19th and 20th-century Asian work—niches where less research has been done."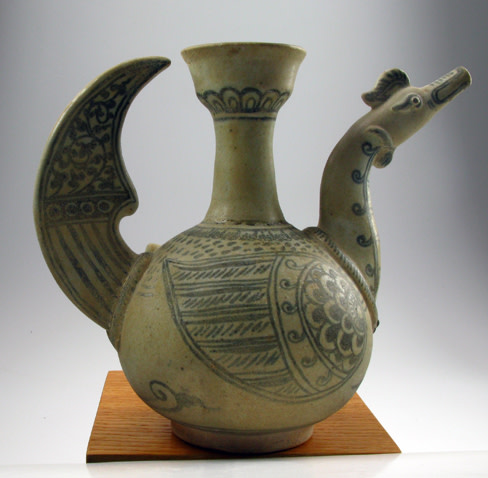 The new wing will house not only Wall-Apelt's collection of jades, furniture and sculpture (the 600-plus objects also include photographs; a Picturing Ceylon exhibition of those images opens at the museum Aug. 16) but the museum's Koger collection as well. That collection consists of about 1,000 Chinese ceramic pieces dating from more than four millennia and assembled over 40 years by Ira and Nancy Koger, with a strong emphasis on blanc-de-chine (white china).
Some of those pieces have been seen in past shows, most recently in a Mythic Creatures of China exhibition that closed July 28 and focused on animal motifs ranging from the third century B.C.E. to the 19th century, but the expanded space should allow for more objects from the Koger collection to be seen regularly.
Although the museum was not ready to release design details, planners envision a beautiful, 2,200-square-foot, jade-green cube-shaped pavilion at the west end of the south wing. It will come from the architectural firm of Machado and Silvetti, based in Boston, with Rodolfo Machado serving as the design architect. The firm's other work includes the Chazen Museum of Art at the University of Wisconsin and the Wellin Museum of Art in Clinton, N.Y., as well as the Getty Villa in Malibu, Calif.
While waiting for construction to begin, the Ringling has prepared itself and its audiences with a number of Asian-related exhibitions over the past few years. They included some displaying objects from the vault along with traveling exhibitions, such as the popular Deco Japan show of 2012 and Treasures Rediscovered: Chinese Stone Sculpture from the Sackler Collections at Columbia University prior to that. That exhibition schedule is sure to receive a boost with the arrival here this September of Fan (Jeremy) Zhang, the new Wall-Apelt Curator of Asian Art for the Ringling. Zhang is a native of China with a Ph.D. in Asian art history from Brown University and most recently was a curatorial fellow at Smith College Museum of Art in Massachusetts.
"I feel very lucky to find a young, talented curator with strong ties to China," says High. "He's connected to institutions in Asia, and that's where we have the greatest opportunities" to add to the museum's current collections.
All of this news is welcome to the museum's small but dedicated cadre of Asian art enthusiasts, known as the Friends of Asian Art. The group, with some 25 to 30 members, enjoys attending special Asian art lectures and tours as well as gathering occasionally to view each other's collections.
Patrick Hennigan, a former investment banker with Morgan Stanley, is a member who traces his own interest in Asian art back to his childhood days spent on Okinawa and in Tokyo, where his father, who was in the Army, was posted. "I started collecting in the 1970s, mostly Chinese and Japanese exports like ceramics and carpet," he recalls. Eventually he decided to focus on the late Ming period of the 16th and 17th centuries; and he has developed a collection, largely of ceramics, with some furniture, that he enjoys sharing with his fellow Friends of Asian Art members.
Beyond his own collecting, Hennigan, who's a Ringling board member, has been involved with trying to expand Florida's trade programs with Asia. He says the Ringling's new Asian center could be an educational resource for businesspeople wanting to travel and trade in Asian countries—especially since China, Japan and India are three of the world's 10 major economies.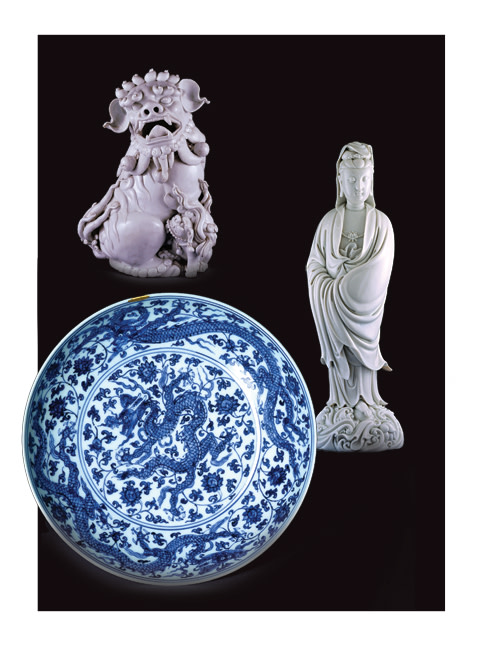 For fellow Asian collector Ned Chang, porcelain has been a passion, especially since his family is from a region of China that has been a porcelain capital for 2,000 years. Collecting porcelain objects is "in the family blood," he says. It's an avocation that has sent him on numerous trips to Hong Kong, a center of Asian art auctions twice each year. (New York and London also remain auction destinations.) "I have some very good 18th-century porcelain," he says. "What I like is that porcelain has a story connected with it." Asian art, like its Western counterparts, can tell the viewer much about the ever-changing history and politics of its time, as dynasties come and go and avid collectors and scholars study it in depth. And many pieces that may have been hidden during China's Cultural Revolution have since come on the market.
But, Chang admits, "It's hard to buy right now." The strong Chinese economy is driving the market, with newly affluent Chinese buyers outbidding those from other countries. Don Elder, a longtime area dealer as well as collector, agrees. "The Chinese market is eclipsing the American and European markets," he says, with auction houses in mainland China as well as Hong Kong serving as a hub.
Fortunately, the Ringling already has a strong foundation with the Wall-Apelt and Koger collections. High sees an opportunity for the Ringling's new Asian center to take a leading position in the Southeast, not only for museum goers but for scholars who might participate in a residency program (especially if a synergy is developed with the soon-to-come Elling O. Eide Library; see story on page 52).
"In the region, there's the Morikami Museum in Delray Beach, but that's only Japanese art," he says. "The Norton [in West Palm] has a really fine but small collection of Asian work, but it's not the focus of their overall collection. The Harn Museum [in Gainesville] just launched a new Asian wing; they're about a year ahead of us, but their collection is not huge. Based on the comments received about past exhibitions, like Deco Japan, I think there's a real appetite for Asian art here, and there are not a lot of places to see it in the South."
As far as the new wing, High adds, "We want the Ringling to be not only a collection of wonderful works but a collection of wonderful buildings, with a real sense of place. The new pavilion is not a huge footprint, but it's a jewel of expression of Asian culture. I think it will be quite spectacular."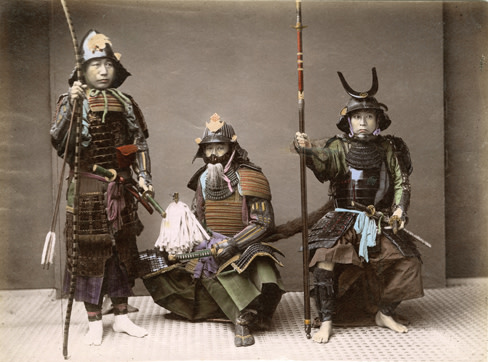 Picturing Ceylon
You may need to wait a while to view the full glories of the Ringling Museum's Asian collections, but if you visit from Aug. 16 through Jan. 5, 2014, you can take in Picturing Ceylon, an exhibition of 19th-century photos of that tropical paradise from the promised gift of Dr. Helga Wall-Apelt. Now called Sri Lanka, the Ceylon of that era was largely a place of tea plantations and palm trees but was also facing social change in the form of railways and urban spaces—a scenario playing out all over the British Empire. Call 359-5700 or go to ringling.org for more details.
Click here to read more about Dr. Helga Wall-Apelt and here to read about Sarasota's new Elling O. Eide Library for Chinese studies.