Article
Banyan Theater Company's Time Stands Still
Arts editor Kay Kipling reviews the Banyan's production of Donald Margulies' latest play.
[caption id="attachment_975" align="alignnone" width="488"]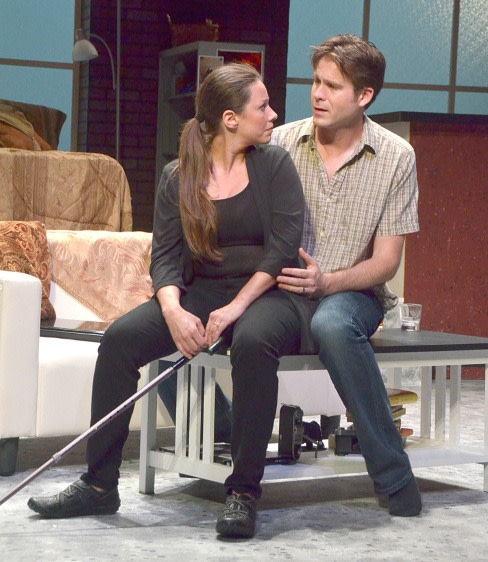 Katherine Michelle Tanner and James Sorensen in Time Stands Still. Photo by Gary Sweetman[/caption]
By Kay Kipling
The Banyan Theater Company is closing out its 12th season of summer theater with what is the best-written of their three shows this year at the Cook Theatre: Donald Margulies' Time Stands Still.
Margulies has demonstrated before, with plays including Dinner with Friends and Brooklyn Boy, the ability to take what might seem fairly formulaic situations and deliver fresh insights into them that make us ask questions of ourselves after we leave the theater. That's the case with Time Stands Still as well, which presents two very different couples at turning points of their lives.
The first couple is Sarah (Katherine Michelle Tanner), a photographer just back home in New York after being wounded by a bomb while covering the war in Iraq, and James (Jim Sorensen), her longtime boyfriend and himself a journalist used to covering horrendous stories. Her wounds are obvious—facial scars, a shattered leg requiring a crutch—as is her determination to remain independent and strong. His wounds are psychological ones; he's seen too much carnage and needs a break from the travel and trauma that have helped bind them together.
The second couple consists of Richard (Tom Aposporos), Sarah's photo editor, and his new, much younger girlfriend (Chelsea Gonzalez), whom he brings along to visit Sarah and James. Mandy's relentlessly upbeat demeanor and seeming triviality makes her the odd man out in this group, but as the play unfolds she asks some searching questions that cause Sarah and James to take another look at their options in life. Could they settle down like Mandy and Richard and have a normal life and family? Or is the work Sarah does so in her blood that she must return to the danger of the battle?
Margulies is a playwright capable of presenting a rounded view of all these characters, no matter where they start or end. No one is necessarily right or wrong in the choices they make here; it just matters that the choices they make are right for them.
The production, directed by Don Walker with an eye for nuance, is satisfying if at first rather subdued. Tanner, who's done nice work at the Banyan and other area theaters in the past, doesn't seem to fully inhabit the role of Sarah yet; perhaps she's just a shade too young for the role of a seasoned veteran, and she could use a drier tone when delivering certain caustic lines, but you do care about her as she faces life-altering decisions. The same is true for Sorensen as James, who doesn't want to have to feel bad about wanting to feel good. Gonzalez is fun as Mandy, but she has her touching moments, too; and Aposporos breathes some energetic bonhomie into his suddenly, unexpectedly happy Richard. Overall, this is a production with both intelligence and heart.
Time Stands Still continues through Aug. 25; for tickets call 351-2808 or go to banyantheatercompany.com.