Article
Florida Studio Theatre's The Underpants
Arts editor Kay Kipling reviews FST's production of this comedy adapted by Steve Martin.
[caption id="attachment_953" align="alignnone" width="488"]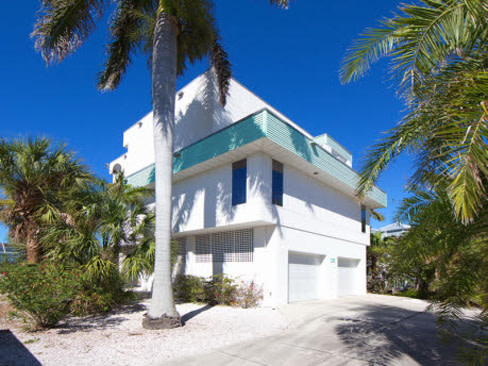 Jennifer Joan Thompson in FST's The Underpants. Photo by Maria Lyle[/caption]
By Kay Kipling
If a German Expressionistic comedy dating from a century ago doesn't sound like your cup of tea, consider it more delicious when it's flavored by comedian-writer Steve Martin.
That's the case with The Underpants (currently onstage at Florida Studio Theatre's Keating Theatre), which Martin adapted from a work by German playwright Carl Sternheim. I haven't read the original, but while the situations and characters in this comedy may have come from Sternheim, it's not hard to guess from the dialogue what inspirations might have come from Martin.
The setup is this: Young housewife Louise (Jennifer Joan Thompson) has attended a parade featuring the king himself with her husband, the stuffy and smug bureaucrat Theo (played by Gil Brady, who makes Theo the man you love to hate but can't help laughing at) when an unfortunate incident occurs: Her underpants fall down! Theo's overriding concern is that his wife's notoriety will cost him his job; he cares much less that Louise's revealing accident has caused two would-be lodger/lovers to turn up at the house, drawn there by lust after witnessing the mishap.
One is a gentleman/poet (played by Danny Bernardy with accented flair and theatricality); the other a trembling, twitchy rabbit of a man named Cohen (with a K, he says, to disguise his obvious Jewishness) made hilarious by Daryl Embry. Both have amorous intentions toward Louise, and she's not averse to receiving them, since her domineering husband has left her untouched since their wedding night. She's also prodded toward adultery by her helpful neighbor, Gertrude (Mary Ann Conk, a natural comedienne), who longs to live vicariously through Louise's affair.
[caption id="attachment_954" align="alignnone" width="488"]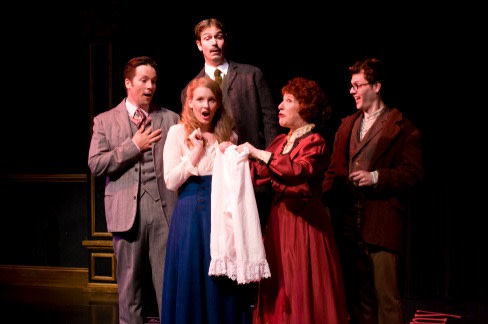 Cast members of The Underpants. Photo by Maria Lyle[/caption]
Sounds like naughty fun, and it is, directed to a fare-thee-well by Bruce Jordan (the original director of the comedy hit Shear Madness) and taking place on a set (designed by Bob Phillips) that places us in the conventional home of a young, lower-middle-class couple circa 1910. (Martin throws in a couple of sly references to contemporary happenings, like Einstein's theory of relativity or a hunt for the Loch Ness monster, to help with context.)
I've seen The Underpants before, but I laughed more this time, thanks undoubtedly to the sterling cast and director Jordan's skill at extracting every comedic opportunity here. If you haven't seen it, you'll likely enjoy it much more than you might have thought considering the play's origins.
The Underpants continues through July 28; for tickets call 366-9000 or go to floridastudiotheatre.org.