Article
Vintage Sarasota: Henry Behrens and A.B. Edwards
This week: Henry Behrens and A.B. Edwards sitting atop Sarasota's first fire engine in 1915.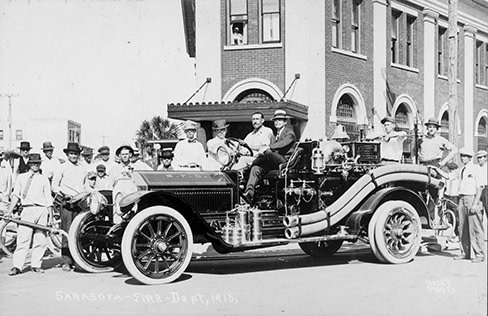 Henry Behrens and A.B. Edwards (1915). Sitting atop this fire engine is A.B. Edwards (founder of the Edwards Theatre which later became known as the Sarasota Opera House) and Fire Chief Henry Behrens. Elected as chief in 1908, Behrens' department held twelve active members split into two teams: six to respond to the first alarm and six held in reserve as needed. The fire engine was purchased in 1928 and repossessed in 1932, but with the growing population in Sarasota came increased funds and the fire department was able to expand. This photograph was taken on Pineapple Ave near present-day Patrick's. -- Chelsey Lucas
Photo courtesy of Sarasota County Department of Historical Resources.