Article
Vintage Sarasota: Edwards Theatre
This week: The historical Edwards Theatre--currently the Sarasota Opera House--in 1926.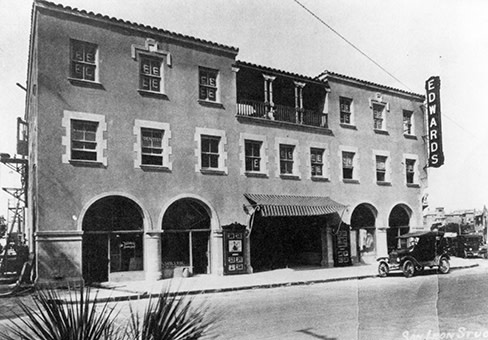 Edwards Theatre (ca 1926). Look familiar? This is the Edwards Theatre, what is known today at the Sarasota Opera House. Designed by Roy A. Benjamin through local man A.B. Edward's vision, the building contained shops, apartments, and an auditorium for performances. The auditorium housed a large Robert-Morton pipe organ, which was damaged in a hurricane. The theatre underwent management changes in 1936 and became known as The Florida Theater until it closed in 1973. In the desire to bring opera to Sarasota, the Asolo Opera Guild purchased the building in 1979. Renovations occurred in 1982 and again in 2007-2008, expanding seating and bringing out some of the original aspects of the structure. -- Chelsey Lucas
Photo courtesy of Sarasota County Department of Historical Resources.