Article
NPR Correspondent Ari Shapiro: A Man of Many Talents
NPR correspondent Ari Shapiro speaks in Sarasota, plus news on Patrick Dougherty's "Stickwork" sculpture in front of Sarasota Museum of Art.
By Charlie Huisking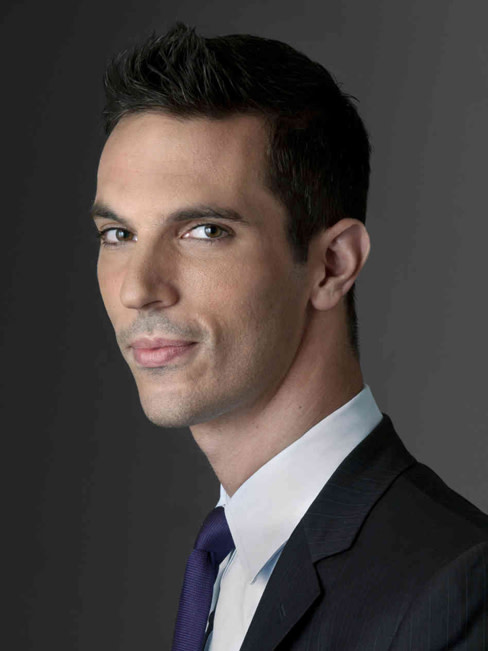 When NPR White House Correspondent Ari Shapiro stepped to the podium in Sarasota last week, he looked out at his audience and smiled.
"You all look nothing like I thought YOU would, either," he said.
A funny line from a reporter who is heard but not seen by millions on such National Public Radio programs as "All Things Considered" and "Morning Edition."
In an appearance sponsored by The Lifelong Learning Academy at the University of South Florida/Sarasota-Manatee, the 34-year-old Shapiro offered a perceptive look at the current political scene. He was fresh from covering President Obama's second inauguration a few days earlier.
"You know, political reporters have a reputation for being cynical, but I would challenge anyone of any political persuasion to come away from that ceremony not feeling so proud of the country we live in," he said.
"You get so consumed by the problems America faces that you lose sight of the progress America has made. That was brought home to me when I realized that Aretha Franklin, who sang the national anthem four years ago, was born in 1942 in segregated Memphis. Beyonce, who performed this year, grew up in a completely different America.
"And Myrlie Evers-Williams, whose civil rights-leader husband, Medgar Evers, was slain 50 years ago, delivered the invocation. This was a testament to the course America has charted."
Shapiro doesn't expect the gridlock that grips the political system to end anytime soon, though he does look for some movement on issues such as immigration. He noted that fewer congressional seats are in "swing districts" these days. Because so many lawmakers come from safe seats, he said, their only threat is in a primary, and they have no incentive to compromise or appeal beyond their base.
"And because they spend so much time out of Washington fundraising, they don't build relationships with one another any more," Shapiro said. "Do you know that Joe Biden spoke at the funerals of [Republicans] Jesse Helms and Strom Thurmond? That was a different time."
Shapiro also faults the president for his failure to schmooze with the opposition.
"Susan Collins [the moderate Republican senator from Maine], said she only heard from Obama once or twice during his first term," he said. "She should have had a direct line to the White House. I think his distaste for wanting to play the 'inside Washington' game did hurt him."
The first NPR reporter under 30 to be promoted to correspondent , Shapiro covered the justice department before moving to the White House beat.
"NPR is smart in that they have three White House correspondents," he said. "So you spend one week in the White House, going to daily briefings, covering the news of the day. But then you spend two weeks doing bigger-picture stories that are substantial and engaging and different from covering the daily treadmill."
Shapiro, who received a warm reception from the overflow audience, is tall, dark and as handsome as a Broadway crooner – which he actually could be. Shapiro's off-the-air passion is the genre-crossing musical group Pink Martini, with which he sings at such prestigious venues as the Hollywood Bowl and Carnegie Hall.
He was a fan of the band while growing up in Portland, and became friends with group members after interviewing them. "They heard me sing at a party at a time they were looking for a male voice for their next album," Shapiro said. "They invited me to do it, and one thing led to another."
Laughing, Shapiro said NPR "had no idea what to make of it when I asked them if I could record the album. But they've been very supportive."
Last summer, Shapiro performed with the band for two weeks in Europe, "where they are treated like rock stars," he said. "It was amazing. But I'm not ready to give up my day job."
Sculpture is Literally "Out in Front"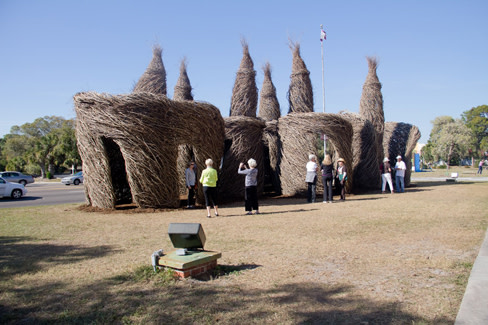 Forget what you read recently in the Herald-Tribune, which quoted Patrick Dougherty as saying the tentative title of his fanciful stick sculpture outside the old Sarasota High building was A Circus Above, A Funhouse Below.
Indeed, the sculpture has six peaks that do resemble the poles of a circus tent. But on Saturday, at a celebration of the project's completion, Dougherty announced that the title is Out in Front.
That's clever and appropriate on many levels. The sculpture, which has been stopping traffic and drawing curious crowds for weeks, is literally right in front of the historic high school. But the building will soon be transformed into the Sarasota Museum of Art, a cutting-edge center of contemporary art. "So Out In Front also refers to what will be happening at this museum," said Dougherty.
After a champagne toast, Dougherty asked all who had volunteered to help construct the project, or who had supported it financially, to sign his work gloves. He also noted that a lighting system will soon be installed to illuminate the sculpture at night. You can see pictures from the exhibit right here.