Article
Seven Questions with Clay Aiken
American Idol alum Clay Aiken will perform at the Van Wezel as part of his Joyful Noise 2012 tour.
By Megan McDonald
The former American Idol star brings his Joyful Noise 2012 tour to the Van Wezel on Nov. 24.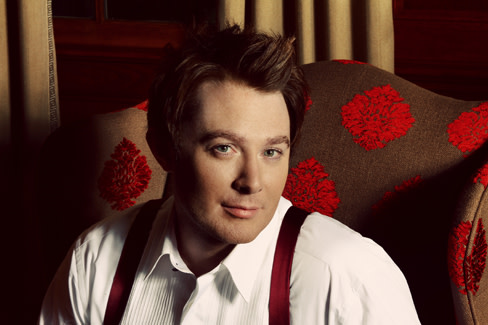 You probably recognize Clay Aiken from his stint on American Idol almost a decade ago; though Aiken was the runner-up to season two's Ruben Studdard, he quickly developed an intensely dedicated legion of fans known as "Claymates." And Idol was only the beginning for Aiken; since the show, his career has taken off: He's released several albums, authored a memoir and starred in Broadway's hit Monty Python's Spamalot.
This Saturday, November 24, Aiken visits Sarasota and the Van Wezel Performing Arts Hall as part of his Joyful Noise 2012 tour; we spoke with him by phone.
What can concert-goers expect from this tour?
Lots of Christmas cheer! It's a reincarnation of a show we've done several times, but we try to vary things quite a bit from year to year. We've done a show that's just me and the band, but we've also gone all the way with dancers and villagers and snow falling in the theater. This falls somewhere in between; for this tour we've got a full orchestra. I think there's something about French horns that makes it feel like Christmas.
What's your favorite song to perform?
It changes all the time, but O Come, O Come Emmanuel is one that I used to sing in church all the time growing up, but for this show we put a different spin on it. I think it's the prettiest. And we do a song called Don't Save It All for Christmas Day that stays in the same spot every year no matter what year it is; I think that one puts the cherry on top of the holiday cheer.
What do you think of Sarasota?
We've been to Sarasota on many of the tours I've done, so this isn't our first time here. And the entire Florida Gulf Coast is gorgeous. That said, it's always very interesting to me to do a Christmas show and be wearing shorts all day. It's a shock to the system, but it's nice.
How do you look back on your American Idol days—fondly? Glad they're over?
Well, I look back with binoculars, since it's been almost 10 years! In many ways Idol was like high school—you need your education, and if I hadn't finished high school, I wouldn't have been able to get a job or really do any of this. But I certainly don't go back to my high school football games.
However, Idol opened a door for me that I never would have been able to open on my own, and I've said before that if I could do that show for the rest of my life—without having to worry about getting cut—I would.
Does it bother you when people like me ask you about American Idol after so long?
[Laughs.] No comment!
What's in the near future for you after this tour—are you looking into doing any more Broadway?
I loved [doing Monty Python's Spamalot on Broadway], and I would do it again in a heartbeat—it was easily one of the most fun things I've ever done. I'd want it to be a show where I could sing, though. But I think the reason we've been able to stick around as long as we have—and I say "we" because I don't do very much of this all by myself—is because we've stayed open to all different possibilities. Almost everything that I've had the opportunity to do has been something that's come my way rather than me seeking it out.
What's your favorite part of the job?
What's that quote—if you pick a job you love, you never have to work a day in your life? There aren't many people who can say that they get paid to do their hobby. Singing was always going to be a hobby for me; I never intended to get paid to do it as my job.