Article
Mr. Chatterbox Hangs Out at Senior Friendship Center
Chatting, dancing, exercising, flirting—you name it; it's all going on at Senior Friendship Center.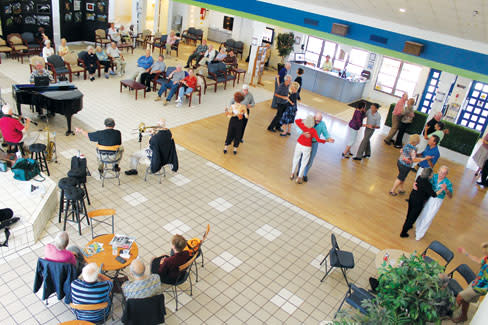 Forget those rumors you've heard—I have not become socially isolated. My life is wonderful, very full and satisfying. I've got my bed, which I love and can rarely be coaxed out of; then I've got my chair in front of the TV; and then I've got the refrigerator. There's a little path worn in the carpet between these three places. Maybe once a day the phone rings. I hobble over to answer it, very excited, but it's always the guy trying to sell me a cemetery plot.
Still, several of the people who work here at the magazine claim to have noticed a narrowing of my world, perhaps because I once wore my carpet slippers down to the office. In fact, the editor recently took me aside and whispered three words in my ear: Senior Friendship Center. This is ridiculous, as I am much too young for such a place. It's a great organization, to be sure, famous all over the country, but I'm a good five or 10 years away from needing its services.
Or am I?
The Friendship Centers, just in case you don't know, is a sort of "drop-in" place where older people, much older than I, can find companionship, programs, a hot meal, classes, legal help, you name it. (They recently dropped the "Senior" in their name because it turns out that boomers, the wave of the future in aging, don't like it; and they're called "centers" because although they started in Sarasota, they've since branched out to Lee and Collier counties.) The centers were founded by a man named Brother William Geenen. He was called "Brother" by all who knew him and was perhaps the only Sarasotan to whom the adjective "saintly" could be applied without half the people in town rolling their eyes. This is the guy they should have canonized, instead of those popes. (Not that they weren't wonderful, the popes. But they were popes. Think how much better it would have been to choose a modest servant of the needy, like Brother Geenen.)
So the least I thought I could do is give it a little visit. It's located in a group of buildings, a little campus, really, at the corner of U.S. 41 and U.S. 301, right on the southern edge of downtown. The main space, its heart and soul, is a large, two-story room, very bright and cheerful. The floor is tiled and there are comfy chairs, and—very important—large and well-marked bathrooms. You check in at the front door and pay a small fee ($3). But if you're a little short that day, they'll let you in anyway.
They have a second-floor balcony from which you can survey the action, so that's the first place I went. They were having an exercise class down below, with about 20 people in attendance. The best part was that you got to exercise sitting down. And they didn't yell at you if you did it wrong. It looked like something even I could probably handle.
Not everybody was exercising. A group of ladies was kibitzing with the exercisers, and several men were ignoring everything and playing pool. I noticed two couples, sitting side by side. One couple, I immediately surmised, was courting. You could just tell, by the way she coyly flicked a speck of dust off his walker. The other couple had to be married. He was reading the sports section and she was doing a Sudoku puzzle.
I snuck a look at upcoming activities. There certainly was a lot to choose from—intermediate Italian, beginning watercolor, Caribbean dominoes. The list went on and on. They even offered creative writing, something people are always telling me I should take a class in.
Fortunately, I was there in time for lunch. Volunteers cook the food, and they usually have somebody really good playing the piano, like Betty Comora or Lillette Jenkins Wisner, who used to play all over the world. The food was good and of the home-cooking variety—baked chicken with mashed potatoes and mixed vegetables. You're encouraged to donate $3, but I think they'll let you make a deal.
I sat at a table with a group of ladies and heard their stories about the center. The place is a bit like high school. Although it aims for middle- and low-income clients, people come over from Longboat Key, and there's a very democratic atmosphere. But there's also a definite first-day-of-school feeling about newcomers. It can be a bit intimidating until you get acclimated. At the next table I could see an old man and a younger man—a son had come with his father and stayed with him all day to get him used to things, which I thought was kind of sweet.
But over dessert of applesauce, a couple of the women opened up more about the center and told me how it literally saved their lives. One lost her husband and became very depressed. Now, at age 93, she has a whole new attitude toward life. Another had a stroke and couldn't get around without a walker. Now she's dancing again.
Dancing! They're all mad for dancing. Every afternoon after lunch they have a different live band, and pretty soon at least 10 couples are out on the floor. When I was there, one lady was even dancing with her service dog. Retired musicians love the place. It gives them a chance to keep playing for a receptive audience without worrying about schedules, late nights, etc.
It turns out that a lot of the people at the centers are not older than I am. Most of the volunteers are in their 60s, and there are all kinds of ways to help. People are always needed to make coffee, run the snack bar and manage the library. But it's also a great place to show off your own special skills and put them to good use. You could teach a class, or if you're a doctor or dentist, help out in the low-cost health clinic. I'm thinking of offering a workshop in gossip column writing.
And what happens when you get too old for the center? Well, that's impossible. Next door they have a place called the Living Room, and it offers day care for people with Alzheimer's and dementia. The cost is $11 per hour and includes lunch. They have a ratio of one staff for each six clients. The feeling was warm and contented, and I must say, they must be doing it right. One woman there, Elizabeth Delany, is 111 years old. She gets up every morning at 7 a.m., rides the bus to the center, then makes it home in time to watch Judge Judy. She packs more into each day than I do. I don't know if I want to keep going until I'm 111, but it's good to know the Friendship Centers will be there to help out if I do.
Read past Mr. Chatterbox columns here. >>
This article appears in the September 2014 issue of Saraosta Magazine. Click here to subscribe. >>