Article
Cat Depot Provides Shelter for Thousands of Homeless Cats
At Sarasota's Cat Depot, cats wait in state-of-the-art comfort for you to adopt them.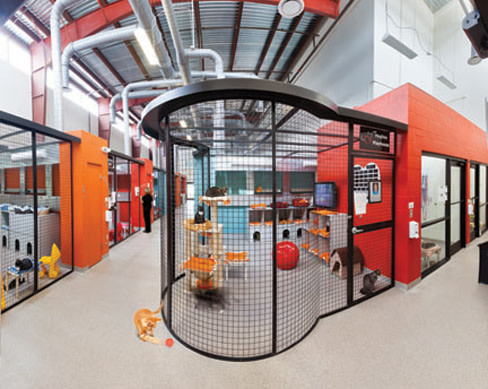 Sarasota's Cat Depot formed in 2003 after founder Ken Slavin made it his mission to find a home for a stray cat that wandered into his yard. Today the no-kill feline rescue organization boasts a state-of-the-art 10,000-square-foot "green" facility on 17th Street in Sarasota that is home to some 125 adoptable cats and kittens on any given day and also houses a surgical center and an education and activity center. This year, Cat Depot is one of just 30 participants in the 2013 American Humane Association Cat Health & Welfare Forum—proving that important work for animals is indeed being done right in our own back yard.
Factoids
In 2012, Cat Depot rescued 1,000 homeless cats and kittens and found homes for 896. The goal for 2013 is to find homes for 1,000.
Cat Depot's double-filtration system is the only design of its kind in the nation —it minimizes cat dander, hair and odor, leaving the place amazingly scent-free.
The Cat Depot uses 60,000 pounds of cat litter and 2,500 pounds of Science Diet dry food and 12,000 cans of Friskies every year.
More than 1,400 volunteers average 1,499 hours a month at Cat Depot; in 2012, volunteer hours totaled 18,158. A roster of 19 veterinarians also volunteers their service to Cat Depot.
Every two seconds an animal is euthanized in the U.S. 75% are cats.
One pair of cats and their kittens can produce 420,000 offspring in 20 years.
Operation Red, White and Mew allows for immediate acceptance of cats from deploying military personnel.
The facility is built to withstand hurricane-force winds of up to 165 mph, but if animals ever needed to evacuate, they have a 24-foot emergency response rescue trailer.
CPI day-lighting panels allow artificial lighting to be turned off on sunny days.
Cats roam freely in their own spacious pods, some of which include outdoor spaces, or "catios." There are pods for adult cats, kittens and chubby cats that get special diet food. Sometimes you'll even find cats being walked on leashes.