Article
Your Guide to Florida Road Trips
Our Authentic Florida blogger Robin Draper highlights her favorite destinations.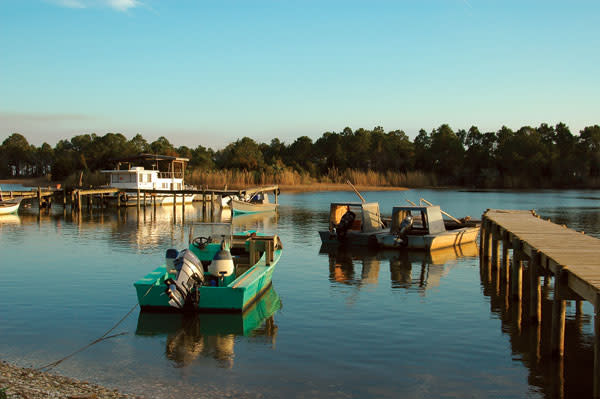 Photo by Michael Donovan
I am a Florida native. I grew up playing in the Gulf of Mexico, building sandcastles in powdery white Siesta Key sand, and spending summers crisscrossing the state on family trips. Those road trips intensified my love of Florida, a love that now inspires my Authentic Florida blog, which reports on the unique and memorable experiences and places that can still be found in our fast-changing state.
In the past few years, I've traveled to many different Florida destinations, seeking out the flavors, sights and activities that reflect the history and soul of our state. Summer, when the crowds are gone and prices drop, is my favorite time to explore the Sunshine State. To inspire your own summer of discovering Florida, I've chosen my four favorite Florida destinations, offering a range of delightfully authentic Florida activities, including history, family fun, scrumptious food, romance and island beaches.

Authentic History
South of Jacksonville on Florida's northeast coast, the "oldest U.S. city" wears its 450-year-old heritage proudly. Six historical occupations, from the 1565 First Spanish Period to the 1862 Confederate Period, are brought to life through landmarks and an array of activities and attractions. And don't be surprised if you chance upon an archaeological dig or a ghost tour while listening to cannon fire from the nearby fort.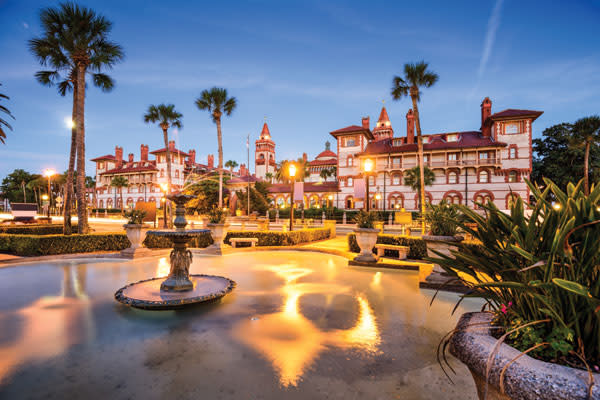 ESB Professional/Shutterstock
To Do
This is a walking town, so park your car and unpack your walking shoes. An on/off local trolley pass is an alternative, or you may want to bike it.
Begin at the Fountain of Youth Archaeological Park, (11 Magnolia Drive), the location of St. Augustine's first settlement in 1565. Watch costumed re-enactors at the original "spring" or mythical fountain of youth, a Timucuan (early indigenous natives) village, the reconstructed thatched first mission church and the rustic lookout tower.
Next, visit Old Town. Stroll St. George Street with shops featuring wares from kitsch to candles. Admire the oldest U.S. wooden schoolhouse and home, both dating from the 1700s. Enjoy a glass of sangria and authentic Spanish tapas at Michael's Tasting Room (25 Cuna St.).
Everybody should visit the Castillo de San Marcos (1 S. Castillo Drive). The Spanish fortress, made of porous limestone called coquina, is considered the best-preserved and oldest masonry fort from the Spanish colonial period in the U.S. Climb the steps for sweeping views of Matanzas Bay and the iconic Bridge of Lions.
Visit Flagler College (74 King St.), built in 1988 by railroad baron Henry Flagler as the luxurious Hotel Ponce de Leon. The student-led legacy tour is considered the best in St. Augustine, and you'll love the Hogwarts-style dining room with stained-glass Tiffany windows.
Accommodations
This town is filled with historic inns. The elegant Victorian Cedar House Inn (79 Cedar St.) is within walking distance of almost everything. And don't even think about missing breakfast at Blueberry Cheesecake, where French toast is the specialty. Another favorite, and St. Augustine's oldest inn, is the charming St. Francis Inn (279 St. George St.).
Shopping
For historical memorabilia and souvenirs, try the Colonial Quarter Museum (33 St. George St.) and Columbia Restaurant Shop (98 St. George St.)
Food & Drink
The Ice Plant Bar & Restaurant (110 Riberia St.) was once a Depression-era ice manufacturing plant. Half restaurant, half distillery, the trendy new restaurant offers a farm-to-table menu plus homemade vodka and gin.
O'Steens (205 Anastasia Blvd.). Crowds line up outside for the delicious fried shrimp at this diner.
Saltwater Cowboys (299 Dondanville Road). Gnarled floors and bentwood chairs and tables overlooking a stunning salt marsh give this fish-camp-style eatery great character. Items vary from fresh catch of the day to barbecue, plus deep-fried gator tail and frog legs.
Barnacle Bill's (14 W. Castillo Drive). Renowned for its spicy Minorcan clam chowder (a St. Augustine signature dish), this is a local favorite, and the menu offers other delectable fresh seafood as well.
Catch 27 (17 Hypolita St.) is a 20-seat restaurant specializing in seasonal local seafood.
Active Fun
Hike up the historic St. Augustine Lighthouse (100 Red Cox Road), a 165-foot tower of spiraling black and white stripes. The payoff: a 360-degree view of the blue Atlantic Ocean, the barrier islands and the Matanzas River with the city of St. Augustine beyond.
Bike Anastasia State Park (300 Anastasia Road). Where else can you find four miles of flat, uninterrupted riding with a view of the vast blue sea? Access to the beach is over wooden walkways extending across sand dunes and tidal marshes.

Authentic Romance
"Apalach" to locals, this quaint and friendly fishing village is located 80 miles southwest of Tallahassee on Florida's Panhandle and boasts a history rooted in fishing, shipping and trade. It is known as Florida's oyster capital for a reason. Apalachicola Bay is one of the most productive and least polluted estuarine systems in the Northern Hemisphere. Here freshwater rivers mix with the salty Gulf to create prime conditions for oysters at any time of year. Some 60 percent of the residents earn a living from the oyster industry.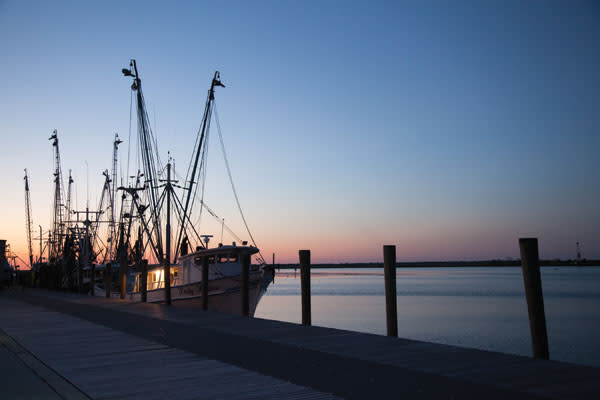 Amy Mikler 
To Do
Oysters are the town's tastiest attraction. But you'll be pleasantly surprised by many other things to do here, too. It's a walkable town, so get a historic walking map from the Apalachicola Visitors Center on Commerce Street.
Breathe in the salt air and meander to the waterfront, where rows of weathered shrimp boats are docked and fishing boats motor to Apalachicola Bay. Notice the red brick buildings that once served as sponge warehouses, ship stores and net factories, but now form an eclectic collection of shops, restaurants and museums. Wander through the neighborhoods of 18th- and 19th-century homes of sea captains and river pilots built along wide, shady streets. Walk along Market and Commerce streets for eclectic art galleries and artisan cooperatives. And for true romance, visit Riverfront Park at sunset.
Accommodations 
I love the 1907 Gibson Inn (51 Ave. C), with antique furnishings and wraparound porches, centrally located downtown, and the 1905 Queen Anne-style Coombs House Inn (80 Sixth St.), with elegant European antiques and hardwood floors.
Food & Drink
Hole in the Wall (23 Ave. D). Listen to fishing tales from the oyster shucker while awaiting your fresh dozen on the half-shell, then enjoy dining in this tiny, casual restaurant and raw bar.
Boss Oyster (125 Water St.). The motto is "shut up and shuck" in this open-air, waterfront place to go for a true oyster binge. Even oyster tacos are on the menu.
Gormley's (51 Ave. C). Apalachicola native Brett Gormley expertly prepares sumptuous local dishes. Try the delectable oyster bisque and Key lime mousse. Located in the Old World Gibson Inn.
The Owl Café (15 Ave. D). Once a 1919 boarding house and brothel, this two-story old wood building near the waterfront is ideal for romantic fine dining. Grouper and flan are menu favorites.
Oyster City Brewing Company (17 Ave. D) has lots of craft beers; try the Hooter brown Tupelo honey ale.
Shopping
Tin Shed (170 Water St.). A cornucopia of maritime treasures including pirate and mermaid statues, buoys, ship wheels, shells, nets and crab traps.
Green Door (48 Ave. D). Eclectic artistic home décor, shell art, oyster mirrors.
Charming Comforts (87 Market St.). Elegant beach décor and home furnishings.
Tupelo honey. At many shops, you can pick up a jar of Tupelo honey, produced along the Apalachicola River bank wetlands and prized for its light golden color and delicate taste.
Nearby Attractions
St. George Island State Park (190 E. Gulf Beach Drive, Eastpoint) is one of Florida's most pristine state parks with nine miles of beaches amidst towering sand dunes surrounded by pine forests, scrub and oak hammocks. The picturesque St. George Lighthouse is worth a stop, not only for the view from atop its 92-step tower, but also to learn how the light once toppled into the Gulf and was retrieved and restored, brick by brick.
Indian Pass Raw Bar (8391 C.R. 30A, Port St. Joe) Once the site of a turpentine commissary, this come-as-you-are eatery serves fresh oysters, steamed shrimp and hearty gumbo.

Authentic Beach Time
Southwest of Fort Myers, Sanibel Island boasts pristine beaches, world-class shelling, and exceptional fishing, making it an ideal beach getaway. The island has maintained its low-key character with strict restrictions on building heights and development. Add quaint lodging, delicious restaurants and a renowned wildlife refuge and you have the perfect island vacation. Summer is a quiet time on the island, and you'll love the budget-friendly prices. If you didn't do anything but relax on the beach and in the Gulf, you'd have a wonderful time, but Sanibel offers other attractions as well.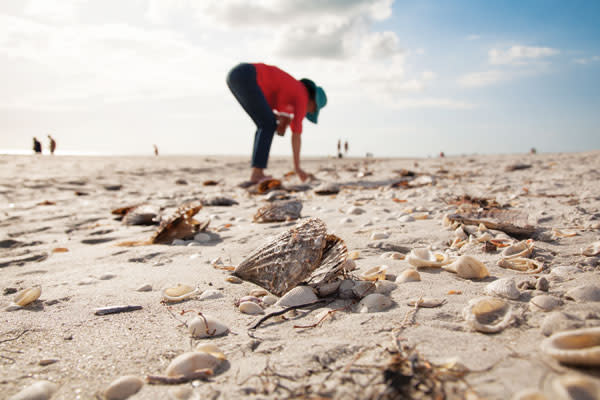 Amy Mikler 
To Do
Go shelling. Sanibel is known as the shell capital of the world because its unique geography forms a ladle that scoops millions of shells from the Gulf of Mexico. Beachcombers are often hunched over, doing the "Sanibel Stoop" as they comb the beaches for prized shells. Locals say that the best shelling is at Blind Pass (San Cap Road), Gulfside City Park (2001 Algiers) and Lighthouse (112 Periwinkle Way) beaches. Or go with an expert: Pam Rambo, owner of ILoveShelling.com, hosts summer half-day shelling trips to the unpopulated Cayo Costa State Park, aboard Captiva Cruises.
Bailey-Matthews Shell Museum (3075 Sanibel Captiva Road) is known far and wide for its colorful and informative displays of shells from around the world.
On the east end of the island you'll discover the historic Sanibel Lighthouse (Point Ybel, Perwinkle Way), beach and fishing pier.
The Ding Darling Wildlife Preserve (1 Wildlife Drive) is one of the nation's top nature preserves. Begin your morning on the informative one-hour tram tour. Keep your eyes on the tidal mud flats, where you are likely to see pink roseate spoonbills, herons, and egrets; and if you look up, you often see ospreys wheeling in the wind.
Accommodations
For an Old Florida feeling, the Island Inn (3111 W. Gulf Drive) is a good choice. Or try Mitchell's Sand Castle (3951 W. Gulf Drive), which has adorable cottages on the beach. For luxury accommodations, stay at the historic, first-class Casa Ybel Resort (2255 W. Gulf Drive), nestled on 23 acres of lush tropical foliage, manicured lawns and Gulf beaches.
Food & Drink
Doc Ford's (975 Rabbit Road). Sit under the umbrellas outdoors and enjoy fish tacos with a thirst-quenching island mojito at this restaurant owned by best-selling mystery author and area resident Randy Wayne White (and named after his marine biologist protagonist).
Thistle Lodge (2255 W. Gulf Drive, Casa Ybel Resort). Overlooking the azure Gulf of Mexico, this restaurant features gourmet cuisine with a fusion of Floridian, European and Asian flavors.
Timbers Restaurant & Fish Market (703 Tarpon Bay Road). Enjoy tropical island dining and ultra-fresh seafood while seated under giant umbrellas.
Overeasy Café (630 Tarpon Bay Road). Here's where the locals go, especially for breakfast. Try the stuffed coconut pancakes and mimosas.
Bailey's General Store (2477 Periwinkle Way). One of Sanibel's original families has been serving guests since 1899. Go for the fresh coffee bar and special food items, or grab a picnic lunch.
Traditions on the Beach (3111 W. Gulf Drive) for live music and dancing nightly. For dinner, Italian and Mediterranean cuisine with a beachfront view.
Shopping
Two shopping centers, Periwinkle Place (2075 Periwinkle Way) and Village Shops (2340 Periwinkle Way) have specialty boutiques with chic coastal apparel, home décor and more. And no visit to Sanibel would be complete without a purchase in the shell shops. Two favorites are Seashells.com (1544 Periwinkle Way) and She Sells Sea Shells (1157 Periwinkle Way).
Nearby Attractions
Just north of Sanibel is charming Captiva Island. Drive across the bridge and have lunch at the Bubble Room (15001 Captiva Drive), decorated with zany Hollywood and Christmas kitsch. Then meander to the equally famous watering hole and favorite sunset spot, the Mucky Duck Neighborhood Pub (11546 Andy Posse Lane). The food is good here, too. I always love to visit the Chapel-by-the-Sea (11580 Chapin Lane), which served as both a quaint schoolhouse and church, and is surrounded by sea grapes and gumbo limbo trees.

Authentic Family Time
When we think of Florida's Space Coast, we picture launch pad and rocket ships. But there is much more to discover along the 72 miles of Brevard County's Atlantic shoreline. The Space Coast is anchored by Titusville to the north, Melbourne Beach to the south, with Port Canaveral and Cocoa Beach in between. Its beaches stretch for miles. And there is a major wildlife refuge along the shore, making this an ideal family destination.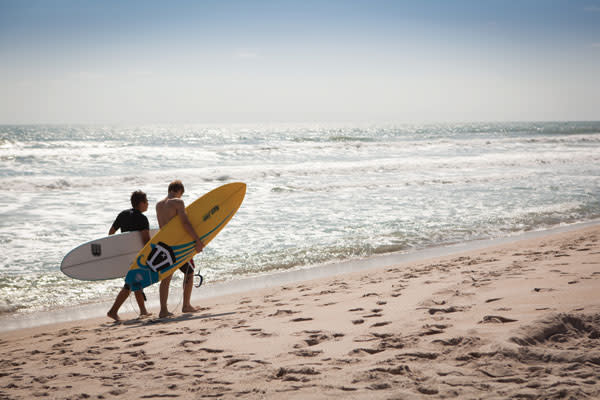 Amy Mikler 
To Do
I recommend staying in Cocoa Beach, which is centrally located and filled with family activities. The beach is home to the historic ­Cocoa Beach Pier (401 Meade Ave.), an iconic backdrop to Florida's east coast surfing capital. You'll want to visit the world-famous Ron Jon Surf Shop (4151 N. Atlantic Ave.), where you can learn to ride the waves at the acclaimed surfing school.
Accommodations
Enjoy the charming Sea Esta Villas (686 S. Atlantic Ave.), equipped with all the essential amenities for a beach vacation, or the historic Parrish Grove Inn (536 Delannoy Ave.), left, in Cocoa Village. This elegant, refurbished 1885 bed and breakfast has antique furnishings and polished pinewood floors.
Food & Drink
Fat Kahunas Beachside Grill (8 Minutemen Causeway). Family-friendly fun with a Hawaiian twist in Cocoa Beach; it's known for its coconut shrimp.
Ryan's Village Pizza (405 Delannoy Ave.). A locally owned Irish pizzeria that's a favorite in the heart of historic Cocoa Village.
Fat Snook (2464 S. Atlantic Ave.). Heralded by Cocoa Beach locals for fresh-off-the-boat seafood. Serving upscale food, but with a small, casual beachside vibe. Don't miss the she-crab soup.
Just north of Cocoa Beach, in Port Canaveral, you can dine on dock-fresh seafood while watching the enormous cruise ships pass in and out of the port. There are many local restaurants on the waterfront including Seafood Atlantic (520 Glen Cheek Drive, Cape Canaveral) or Fishlips (610 Glen Cheek Drive, Cape Canaveral). After a meal you can check out the nearby Port Exploration Tower with a commanding view of the entire harbor.
Shopping
Mango's Fashion Boutique (319 Brevard Ave.) offers casual jewelry, shoes and handbags.
Mint Mermaid (405 Brevard Ave.) has interesting accessories, gifts and home items.
At Frankly My Dear (404 Brevard Ave., #A) you'll find unique artistic apparel.
Family Fun
Plan a full day at the Kennedy Space Center (S.R. 405, Kennedy Space Center) in Titusville. Experience more than 50 years of space history through historical exhibits, astronaut encounters, Space Shuttle Atlantis and the Apollo/Saturn V Center. And if you are in the area during a daytime rocket launch (check spacecoastlaunches.com for a schedule), enjoy the unforgettable experience at the Canaveral National Seashore Playalinda Beach.
Sea Turtle Walk. Florida's east coast is one of the most important refuges in the Western Hemisphere for nesting loggerhead sea turtles. Visitors can observe a sea turtle laying her eggs on a summer evening walk at Canaveral National Seashore (212 S. Washington Ave., Titusville). Reserve space early by calling (386) 428-3384 ext. 0.
Take a night kayak ride through waters that dance with light at the Merritt Island National Wildlife Refuge. The lagoon sparkles with emerald-green flashes called bioluminescence, caused by tiny organisms that glow when stirred up by a paddle. You can book your tour with A Day Away Kayak Tours.
Titusville's North Brevard Historical Museum (301 S. Washington Ave.) chronicles the experiences of the area's pioneers. Follow up with a meal on the Indian River Lagoon at Cracker Jack's Seafood & Tiki Bar (2 A. Max Brewer Memorial Parkway).
Sarasota's Robin Draper is the creator of Authentic Florida, a blog (read it on our website here) devoted to the simple pleasures of Florida living and named "Best Travel Blog" and "Blog of the Year" at the 2015 Orlando Sunshine Awards.