Article
The Christmas Express
Visitors can jump aboard a full-size train pulled by a lovingly restored bright red locomotive festooned with twinkling lights that tows three passenger cars jammed with giddy, happy children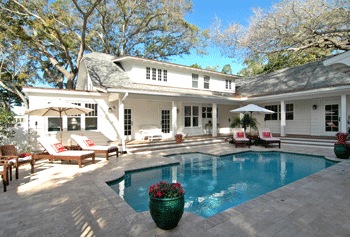 It's an iconic American Christmas scene. A tree decorated with shiny ornaments and lights, wrapped packages beneath its boughs, with a train running on a track circling the scene.
The nostalgia of that thought creates a feeling of warmth and joy and can make anyone smile. Now, what if that scene could come to life? Well, that's exactly what has happened for visitors to Central Florida's Kirby Family Farm.
Not far from some of Florida's most prestigious thoroughbred horse farms, northwest of Ocala and southwest of Gainesville, sits the town of Williston, home to the Kirby Farm. It's a small farming community best known for being near some of Florida's best cave-diving destinations. But the farms and pastures are also a perfect pastoral setting for a unique holiday attraction.
Getting there you drive on scenic country roads meandering through the fields, farms and forests. At night, away from city lights, the vast Williston country sky glows with a full display of twinkling lights, unless a thick December fog rolls in, ushering a quiet and surreal calm. But the stars are not the only twinkling lights you'll see on this journey. When you arrive to Kirby Family Farms you will discover a special treat for kids and families this holiday season.
While the farm's 173-acres support a real working farm producing cotton, peanuts and sorghum (a plant that is often a base for a sweet molasses-like syrup), it is the Kirby's private railroad that is drawing holiday crowds.
Throughout the month of December, the Kirby family operates the Christmas Express. Visitors can jump aboard a full-size train pulled by a lovingly restored bright red locomotive festooned with twinkling lights that tows three passenger cars jammed with giddy, happy children around a large cleared field through displays of colorful Christmas lights. And you'll love this--the price is only $9.99, a real holiday bargain.
It may seem like a dream, but it really is true. As a child, Daryl Kirby spent much of his time trailing behind his grandfather, who was a railroad engineer, and listening to many stories of railroad life. He always dreamed of having his own railroad.
Years later, Daryl Kirby discovered a train that was destined for salvage. With the help of his family, friends and many volunteers, he refurbished the engine, laid some tracks around the property and fulfilled his dream.
Building his own railroad became a passion, and ultimately a mission, for Daryl and his wife, a teacher committed to children and learning. This would be an educational railroad, just as they had made their farm an educational one for kids.
They operate all year long, but at Christmas the farm becomes almost like a holiday fair, with the train as the main attraction. As you pass through the front gate, volunteers collect tickets and offer chili, hot chocolate and fudge.
Not far away is a homemade, live nativity scene complete with human actors and animals. Kids dressed in pajamas decorate real Florida Christmas trees as generators power the lights. Even Santa shows up. A classic Christmas movie plays on a large outdoor screen and across the pasture you'll see the train on a nearby hillside lit with hundreds of tiny holiday lights.
When the whistle blows and the engine starts, you'll be clickity-clacking into the night through a Florida pasture rimmed with Christmas lights. You'll probably get that warm fuzzy nostalgic feeling. And it does feel like a dream – a wonderful Christmas dream.
For more on the Christmas Express and authentic travel, go to Authentic Florida and be sure to sign up for Authentic Florida's free E-News, a bi-monthly newsletter featuring the latest Florida travel, food and living ideas.