Article
Voyages of a Lifetime
Voyages of a lifetime: The five luxury cruises every Sarasota traveler must take.
By Carol Tisch
Baltic Sea
White nights and midnight sun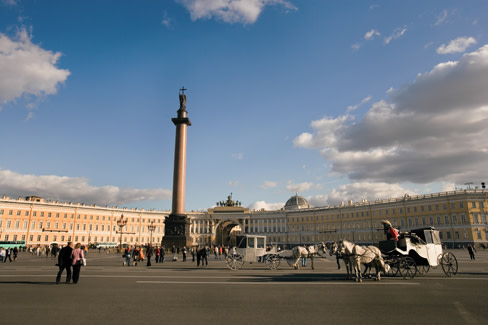 Each port of call on a Baltic Sea cruise is instant immersion into history, art and architecture largely unfamiliar to American travelers. A dreamy sojourn in St. Petersburg is often the impetus for signing up. But once you're sure you'll be in Czarist Russia's pièce de résistance for at least two nights (and three full days), the rest of the itinerary depends on the cruise length, line and ship you prefer.
With 28 intriguing Northern European port possibilities, begin by determining your stops. Most guide books will tick off five absolute musts in this order: St. Petersburg, Copenhagen, Stockholm, Tallinn (Estonia) and Helsinki. These alone easily fill a seven-day cruise, so if your heart is set on seeing Berlin's Brandenburg Gate or Oslo's Viking Museum, a longer trip is in order.
One way to whittle down the options is to decide if (and where) you'd want to book a land extension and whether you'd prefer pre- or post-cruise touring. Like the ultra-luxurious Regent Seven Seas, most lines begin or end their Baltic itineraries in Stockholm or Copenhagen—and either port is worth an extra couple of days' visit. The all-suites Seven Seas Voyager, ranked highest by most critics for Baltic luxury cruises, does 10-night Stockholm to Copenhagen trips in July from $9,249 per person for an opening-price cabin (a deluxe suite with balcony). Seven-night cruises (about $6,500) from June to mid-August alternate departures between the two cities.
Also top-rated by the pamper-me set are luxury lines Silversea, SeaDream, Seabourn and Crystal. For amenity-rich cruising in the less expensive upmarket category, check out Celebrity's 12- and 14-night Amsterdam round trips, from $2,649 for a Veranda stateroom.
Don't miss The Winter Palace and Hermitage Museum in St Petersburg, the Tivoli Gardens and Little Mermaid in Copenhagen, Helsinki's Temppeliaukio Rock Church, a canal tour and visit to the Royal Palace in Stockholm.
What's new Crystal just added Baltic cruises to its new short-stay European "Getaways" series designed for younger professionals with less time or travelers who want to combine cruises with longer vacations in cities like St. Petersburg. Eight five-day itineraries, each from $1,850.
When to go Time your visit during St. Petersburg's White Nights (Beliye Nochi) in mid-June when the city's pearly all-night glow is brightest. Get tickets (they sell out quickly) to The Stars of the White Nights International Ballet and Opera Festival at the Mariinsky (Kirov) Ballet and Opera Theater, May 24-July 14.
The Galapagos
Virtually unchanged since Darwin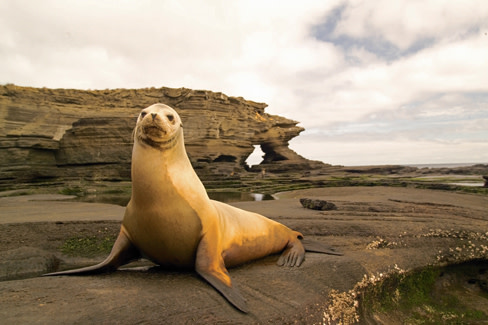 Explore the Galapagos Islands and you'll walk in the footsteps of Charles Darwin, who reached the archipelago in 1835. While Darwin had five weeks in the Galapagos, you'll most likely want a seven to 10-day cruise. You'll see much the same wildlife—unique, spectacular, and geographically protected from predators. It's the only place on earth that could have sparked Darwin's science-based theory of evolution.
Don't let anyone talk you into using a hotel as a base for day sailings to the islands. This is a once-in-a-lifetime adventure that should be experienced day and night from the sea. Time is wasted commuting from hotel to port. Cruise lines abound, but the top two for both luxury and education are Celebrity and National Geographic/Lindblad Expeditions.
You'll have naturalist/expedition leaders aboard the 96-passenger National Geographic Endeavor or its more intimate 46-passenger National Geographic Islander. With specialties from ornithology to geology to undersea life, they join you on hikes, Zodiac rides and on-deck wildlife encounters. It's tough deciding between the two ships, but Endeavor has a glass bottom boat for marine life viewing that scores high with non-snorkelers. A 10-day round-trip from Guayaquil, Ecuador, on Islander with an April sailing is $6,250 for category 1 with window and $8,080 for category 4 with terrace. Prices on Endeavor were about $500 more for each category.
Celebrity was the first of the luxury upmarket brands to operate in the Galapagos year-round, with the 96-passenger Xpedition. Xpedition combines the adventure experience with award-winning service and amenities. For 2013, only a few ocean view rooms, starting at $5,749 for the 10-day round-trip departing from Baltra (Galapagos), remain.
Don't miss Must-see islands include Espanola, the nesting site of waved albatrosses and blue-footed boobies; Bartolome with its penguins and volcanic Pinnacle Rock; Santa Cruz, with wild giant tortoises; and Fernandina for marine iguanas, sea lions and flightless cormorants. Check out Kicker Rock, the Galapagos' 500-foot landmark off the coast of San Cristobal.
What's new Silversea is upping the luxury competition in the region with its all-suite Silver Galapagos. The line will operate year-round beginning Sept. 12, with seven-day cruises round-trip from Baltra, starting at $5,450.
When to go The weather is beautiful all year, but to see waved albatrosses, visit between April and December. Breeding and nesting grounds for almost the entire world population of these amazing birds with eight-foot wing spans are on Espanola Island.
Norway's Fjords
Spectacular scenery and remote villages.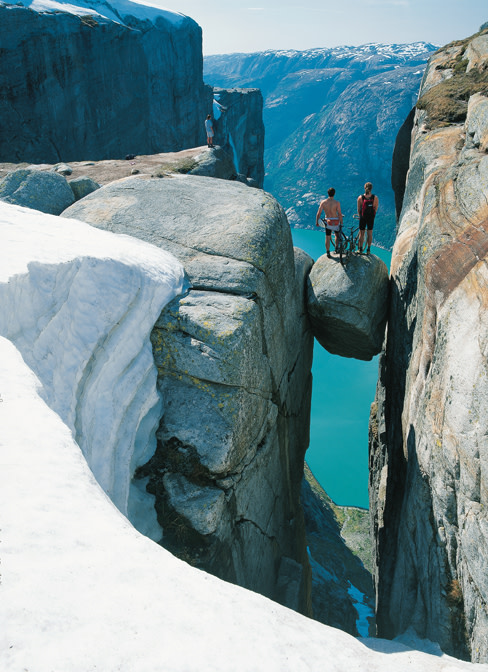 Carved during a succession of Ice Ages at the rate of 40 inches every thousand years, the majestic fjords of Norway are hauntingly beautiful. In 2005 two of Norway's fjords (Geirangerfjord and Nærøyfjord) were designated World Heritage sites, unspoiled jewels to be forever preserved.
Access is key in choosing a fjord cruise. On nearly every Norwegian cruise you can witness the pristine beauty and magnificent waterfalls of Geirangerfjord. But Nærøyfjord, perhaps the most spectacular arm of the Sognefjord and the narrowest fjord in the world, is not universally accessible. In the luxury category, only the small-draft yachts of Seabourn offer Sognefjord cruising. And yet Sognefjord is considered the most beautiful in all of Norway.
To get where the big ships don't, many Americans are traveling the way Norwegians do: on the Hurtigruten line's coastal steamers. Hurtigruten's ships have ferried passengers and cargo along Norway's fjord-studded 1,250-mile west coast since 1893. The classic Norwegian Coastal Voyage between Bergen in the south and Kirkenes high above the Arctic Circle visits 34 ports, many reachable only by ship. Most Americans book either the seven-day northbound, six-day southbound or the 12-day round-trip voyage, brimming with sightseeing trips to mountains, glaciers, and remote fishing villages and farms.
Hurtigruten is the only line that can get you to the North Cape (the "end of the world," as the ancient Vikings called it) in winter to see the spectacular Aurora Borealis. For comfort and amenities familiar to a Cunard-level cruiser, book one of the newer 600-berth "Millennium ships": Trollfjord, Midnatsol and Finnmarken. Pricing for Hurtigruten's northbound Classic Voyage starts at $1,582 per person, double, for spring and autumn journeys; $1,403 for winter travels; and $2,143 for summer visits.
Don't miss The Art Nouveau town of Alesund, the Lofoten Islands across the Arctic Circle, the Hanseatic wharf of Bergen, meeting Sami tribes, and charming Trondheim, the Viking capital of Norway.
What's new A 21-day North Cape cruise into the Arctic Ocean on Seabourn Pride that calls on Longyearbyen and the Spitsbergen islands, skirting the polar ice pack. Hutigruten will add the unspoiled Hjorundfjorden to its Classic Voyage itineraries cruises starting in 2013 in September.
When to go Spring and summer are best for all-around cruising. If you want to see Lovund, a major nesting site for puffins, plan your trip between the time they arrive (around April 14) through August. For snow safaris, dog-sledding and the Northern Lights or Aurora Borealis, go between November and March.
The Riviera
Cinematic romance and glamour.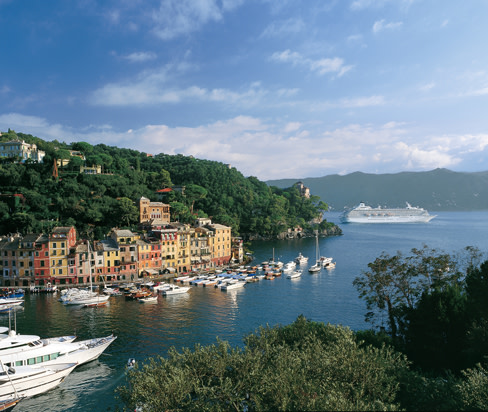 For one blissful week, you can be young Liz Taylor dodging paparazzi in Portofino, Bardot strutting her stuff on St. Tropez, James Bond on a winning streak at Monte Carlo's Grand Casino. To play like the rich and famous, choose an über-luxury line (Crystal, the Yachts of Seabourn, Regent Seven Seas, Silversea Expeditions). For a less expensive but pricelessly romantic option, try a sailing ship like those of the Windstar line (no one has to know the sails are computerized).
The big news is the Azamara and Oceana lines, positioned between the top-tier, mentioned above, and the larger but still intimate lines like Celebrity. Cruise connoisseurs are abuzz over the quality of food, service, facilities and experiences at much lower prices than the luxury superstars. One example: a seven-night Provence and Cote D'Azur voyage on the Azamara Journey starts at $2,899 for an ocean view room on July 21 in peak season.
The entire Riviera can be covered in cruises that begin or end in either Civitavecchia (the port for Rome) or Barcelona. For repeat visitors, lines that focus on French ports, with stops in breathtaking Portofino, Italy, allow you to explore beaches, bustling markets and medieval villages you've missed before.
Look for itineraries that include overnight stays in glamorous ports like Cannes and Monte Carlo. If you want to dine and party like a European, you'll be frustrated to have to cut your evening short Cinderella-style for an embarkation before midnight.
What's new Crystal Cruises is launching exclusive "Boutique Adventures" accommodating only 1-15 guests. Check out A Day of Polo at the Polo Club St. Tropez or a behind-the-scenes tour of the Monte Carlo Ballet. Seven Seas offers a free estate tour and wine tasting of local Côtes de Provence wines.
Don't miss Mas Provençal restaurant in Eze, France (with walls and ceilings literally growing lush flowing vines), lunch at the Splendide Hotel in Portofino, Monaco's Grand Casino and Oceanographic Museum, renowned cheese shop Fromagerie Ceneri in Cannes.
When to go Cinema buffs can choose a cruise with a stop in Cannes during the film festival (May 15-26). The event is closed to tourists, but get tickets to beach screenings at Cannes de la Plage through the Cannes tourism office. If your bucket list includes Monaco's Grand Prix auto race (May 23-26), book early for Windstar's annual sell-out seven-night Yachting the Rivera cruise (from $2,299) with Grand Prix add-on package ($2,599).
Antarctica
The last frontier.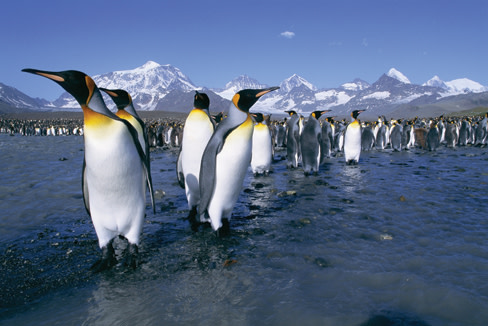 How you tour the frosty white wilderness of Antarctica is a measure of your seaworthiness and chutzpah. You can cautiously cruise on 500-plus-passenger ships like Holland America's Prinsendam, which leaves from Fort Lauderdale in January 2014 on a 36-day South America and Antarctica grand voyage (from $9,591, ocean view). Even more luxurious is a Dec. 21 18-day Antarctic Holiday from Buenos Aires to Valparaíso on Crystal Symphony (from $9,640).
But the International Maritime Organization recently banned heavy fuels in Antarctic waters, and only a few large ships still go. Though big-ship visits are typically brief detours on South American itineraries, that's just fine for travelers who simply want bragging rights to Antarctica.
To do the continent justice, your best bet is a smaller expedition ship. These offer multiple sailings in season, and better still, they're they only way to get up close to marvel at calving glaciers, natural ice sculptures and amazing wildlife.
Silversea's Silver Explorer does myriad 10-day round trips from Ushuaia, Argentina (from $10,550 this December). And Lindblad Expeditions continues to lead the luxury adventure travel market with its National Geographic Explorer.
On its December 2013 sailings, a 14-day sea Journey from Buenos Aires to Antarctica disembarking in Ushuaia starts at $12,890 for a stateroom with window (as opposed to a porthole, which is cheaper). Airfare from Ushuaia to Miami is included. The ship carries a fleet of Zodiacs and kayaks for exploring remote wilderness. And while most cruise lines have naturalists on board, the Explorer's staff is incomparable, with naturalists, ornithologists, marine biologists, a National Geographic photographer and more.
What's new Skiing Antarctica's glaciers and mountain slopes with Doug Stoup on his Ice Axe Expeditions on Sea Adventurer, a 128-passenger ice-breaker in the Quark Expeditions fleet. Norwegian line Hurtigruten just introduced overnight camping adventure on the ice (everything but your pajamas is supplied for $500).
Don't miss The Gentoo penguins on Cuverville Island, Adelie penguins covering nearly all of Paulet Island, cruising Paradise Harbor, the giant icebergs in Iceberg Alley in the Antarctic Sound and the beautiful Lemaire Channel. If time permits, be sure to choose a cruise that includes the fantastic wildlife on South Georgia Island.
When to go November through early March corresponds to the summer in Antarctica. Lindblad captains sometimes "park" the Explorer on the ice packs in early season, enabling guests to walk right ashore instead of using zodiacs.
Our style and travel editor, Carol Tisch, is currently cruising from Singapore to Hong Kong (with a detour to Angkor Wat). An indefatigable traveler, she's touched down on six continents, with Antarctica still on her bucket list.
Click here to see more stunning cruise photos.