Sponsored Content
How to be Timeless But Still Try the Latest Trends
Sarasota interior design firm Chic on the Cheap shares ideas for how to be timeless in your home design, but still try the latest trends.

There is cool new interior design stuff everywhere! I get distracted by shiny things all the time at the plumbing and lighting stores. Oh my goodness, Franklin Lighting just got in this really cool chrome fan; I've never seen anything like it! See, it just happened… I got sidetracked thinking of bling!
Anyway, seeing new trends creates a big dilemma (although there are worse problems to have) for us at Chic on the Cheap. As interior designers, we want our clients to stay true to their personal style, but we also want to show them what's new and fresh since they last remodeled or redecorated. After all, no one would hire us if they wanted to repeat exactly what they did 20 years ago. Try out the trends below if you're feeling like it's time for an update.
Patterns
Well, chevron was all the rage last year. Plaid is fall's hottest fashion trend (yes, I have started following fashion blogs…my bank account is not going to be happy about this). But patterns come and go so unless you like replacing your sofa every year, don't go mad for plaid there. Instead, use it as an accent pillow.
Other great current patterns are hexagon and herringbone. To me, herringbone is one of those patterns that remind me of a sophisticated suit. Use this if you want lasting style and are risk adverse. One current client wants to be a little more trendy, so we're featuring the Daltile hexagon pictured at the top of the blog. We're keeping the rest of the finishes simple and neutral, so if she wants to change just the backsplash in five years, she'll have a lot of options.
Midcentury Modern
What's old is new again. This is not a joke—when I remodeled my house last year, my grandma offered me her dining set and I seriously considered taking the midcentury gem off her hands. You could scour yard sales and the Internet for an original Eames lounge chair (pictured above), or you could be a little less trendy and opt for a lesser-known piece. Some furniture manufacturers are reviving old designs in their archives to capitalize on the popularity of this style right now.
If the Shoe Fits…
Sometimes you have an immediate, gut reaction to an item, and you don't care, you just go for it. You might know you won't like it in five years but if you keep going back to it while shopping, get it. Who cares if bird wallpaper isn't your guests' cup of tea? Wallpaper is quite in vogue right now, and I'm a big fan if it fits your personality. So are cement tile, gold metals and acrylic furniture. If you just can't live without it, use it in your powder bath; it's the perfect place to be trendy. Powder baths are small rooms that can exude big style. After all, good things come in small packages. Why not have rich kelly green walls? You can always repaint!  Why not have a brass faucet? That can be changed easily. The list goes on...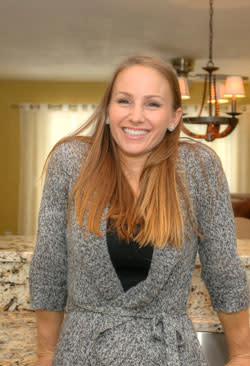 Tastefully yours,
Jill Geisdorf, RID, LEED AP
Interior Designer at Chic on the Cheap